HearWear , developed by Younghui Kim and Milena Iossifova, is a skirt that reacts to urban noise with moving light patterns, enabling you to express your experience of the noise levels when wandering in the city.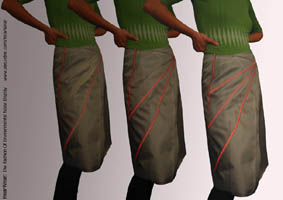 The noise perception is translated into colourful light patterns.
The electronics are seamlessly integrated in the wearable design.
A sound recognition module is being driven by a micro-controller to perceive and qualify varying characteristics of noise patterns. The microcontroller is programmed to activate a number of LEDs and electroluminescent wire.
The system can be applied to any wearable items – be it skirt, bags, T-shirts, jackets, pants and belts.
A couple of years ago, Fionnuala Conway and Katherine Moriwaki created something similar: Urban Chameleon is comprised of 3 reactive skirts that influence and change perceptions of one's surroundings.
"Touch" changes visual properties upon contact. "Speak" reacts to urban noise, and "Breathe" visualizes pollution and urban exhaust as it travels through the garment.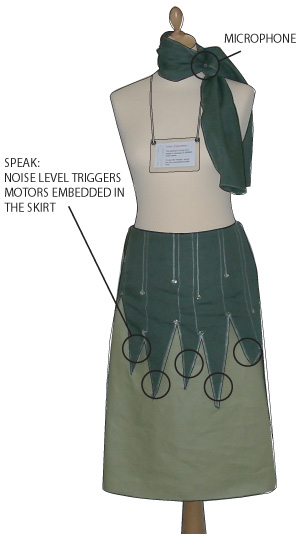 Urban Chameleon is part of an ongoing research about how environmental stimuli displayed on the body can affect urban behavior and communication.
Via Personal Debris.