If you're coming to Berlin for Transmediale, i'd recommend that you swing by The Berlinische Galerie, the State Museum of Modern Art, Photography, and Architecture. I briefly mentioned Mutations III yesterday, but the museum has also a Nan Goldin show and a retrospective of Arno Fischer's wonderful b&w photos. My favourite exhibition however is People, Things, Human Works which presents some of the most iconic photos of Emil Otto Hoppé. I was particularly fascinated by his documentation of industrial complexes and technical buildings. I could not find many photos of the Deutsche Arbeit ("German Work") series online but i received this one in the press material: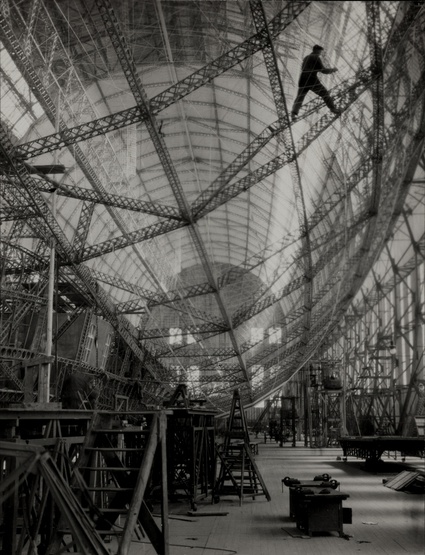 Emil Otto Hoppé, Skeleton of Graf Zeppelin, Friedrichshafen, 1928. © The E.O. Hoppé Estate Collection at Curatorial Assistance, Inc., Pasadena, California
LZ 127 Graf Zeppelin was a large German passenger-carrying hydrogen-filled rigid airship which operated commercially from 1928 to 1937.
People, Things, Human Works remains open at the Berlinische Galerie until February 28, 2011.