I'm not going to write down Agnes Meyer-Brandis's presentation at Biorama 2 as her talks are performances that i would only dumb down by trying to blog them. Instead, i'll just post this witty short video that documents the Moon Goose Experiment.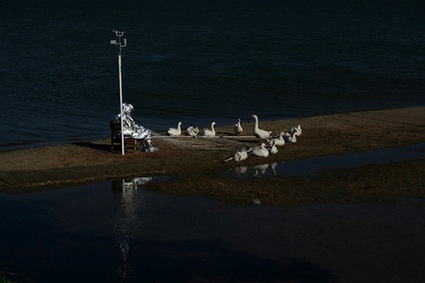 After the first touch, contact of moon and sun at 16.45, the geese stayed calm and Luba, the parachutist got in position. Photo: Agnes Meyer-Brandis
The artist set up a space expedition on a sand island in the Siberian river Ob and observed the effect of the total eclipse of the Sun (1st August, 2008) on the behaviour of the moon geese. Watch the space carriage take off!
The Moon Goose Experiment (MGE) is based on an excerpt from a book which is often regarded as the first science fiction short story in English. In The Man in the Moone, Francis Godwin described weightlessness for the first time ever (1603) – long before Newton's theory of gravity. The protagonist in the book flies to the moon in a chariot towed by geese. These special moon geese migrate every year from the earth to the Moon.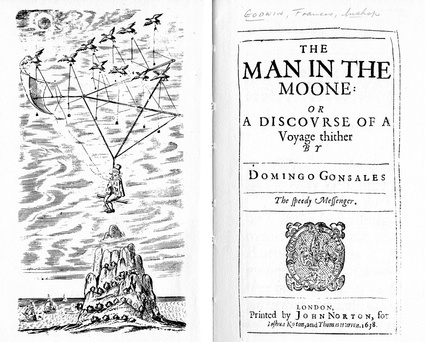 Title Page of Godwin's 'The Man in the Moon' (image)
The Moon Goose Experiment is a part of Curated Expedition by curatorial research group Capsula.
Previously: Interview with Ulla Taipale from Capsula.