Scientists led by Professor David Bell from Queen's University in Belfast have developed a mobile robot system that can reason about change and adapt.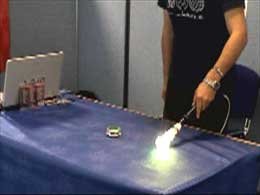 The robot, named Ifomind, combines learning and reasoning to decide the best way to interact with objects, a bit like an animal may react to another it has not previously seen.
Initially reacting in a "fearful" manner when encountering a new object, Ifomind has also been equipped with inquisitiveness. The robot recognises it can react in different ways and does not have to be scared of something which may not be harmful to it.
"The Ifomind mobile robot system is equipped to wait and watch in order to see if it can get some new information," said Bell. "It can then retain this information as it carries on and meets more objects."
The techniques can be used in devices such as household equipment or cars, large scale production control systems or complex adaptive software systems.
Via BBC news and robot gossip.