RRRIPP!! Paper Fashion, an exhibition conceived by ATOPOS in Athens, is the outcome of an investigation on paper clothing, a long-forgotten but very popular phenomenon in the United States at the end of the '60s.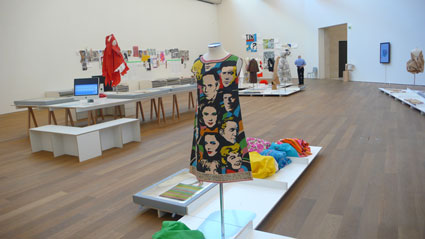 The fad can be traced back to 1966 when manufacturing company Scott Paper Company used the paper dress to promote their toilet paper and paper tissues. In exchange of $1.25, happy housewives would be mailed a paisley or op-art 'Paper Caper' dress and some coupons to buy napkins and toilet rolls. Demand exceeded the 500,000 garments produced and other manufacturers soon followed with designs to promote their own goods.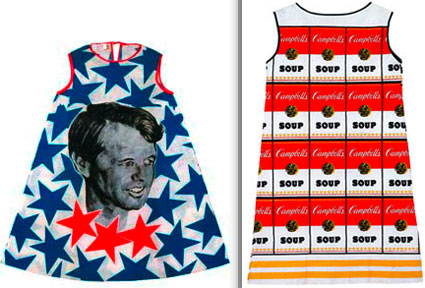 Paper dress, USA 1966-1968, ATOPOS collection. Phot. Panos Davios, © ATOPOS and The Souper dress (After Warhol), USA, 1968. Cellulose-cotton mixture dress, By Campbell's Soup Company, Atopos Collection, Athens. Photo: Panos Davios
It didn't take long for designers to grab the idea and launch a proper 'Paper Fashion'. In pure '60s Pop culture, you could find one-off paper dresses adorned with portraits of the Presidential candidates and flower-power paper bikinis. Disposable clothing had a very futuristic, 'space age' appeal. As one textile designer stated for Life Magazine, "Who is going to do laundry in space?"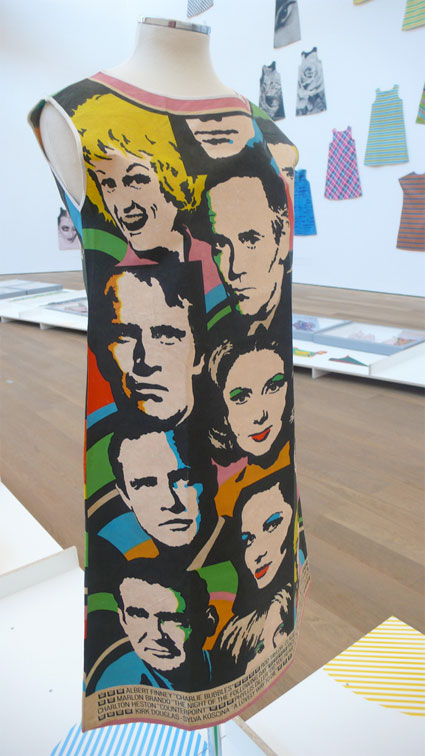 Promotional paper dress of Universal Studios with portraits of its stars, USA 1968
The curator of the exhibition and director of ATOPOS, Vassilis Zidianakis, asked today's fashion designers and artists to create something of their own inspired by the over 100 authentic paper dresses that form part of its collection. The show puts side by side dozens of authentic sixties paper dresses, and the creations by the likes of Sophia Kokosalaki, Michael Cepress, Yiorgos Eleftheriades, Johanna Trudzinski, Takashi Murakami, Bas Kosters, Angelos Bratis, Deux Hommes, Marcus Tomlinson etc.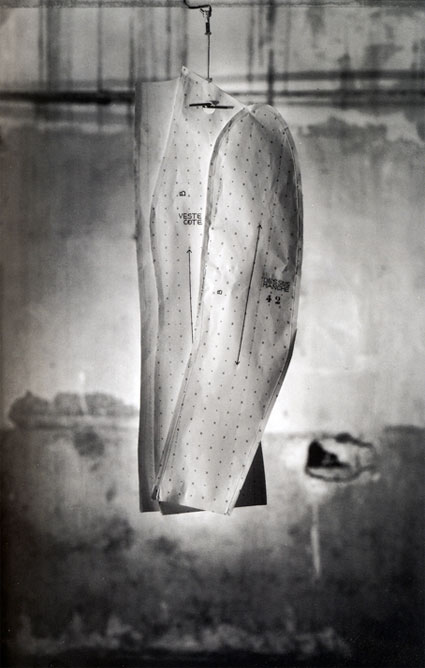 Martin Margiela, F/W 97-98, Photo: Marina Faust
Besides, the exhibition has extended its scope to the study of the use of paper in the history of garments and in contemporary fashion: paper kimonos of the Edo period in Japan, paper shirts burn with the deads in China, prisoner's of war waistcoat from WW2, made from paper sacksgarments for hygienic and industrial use, early 20th century men's collars, cuffs and ties made of paper as a cheaper alternative to fabric, etc. The exhibition is also displaying samples of paper creations by famous designers, such as John Galliano, Issey Miyake, Hussein Chalayan, Kosuke Tsumura, Walter Van Beirendonck, Ann Demeulemeester and many more. Far from being one-offs to be thrown away, a number of these paper garments can be worn several times thanks to the use of sturdier paper materials such as tyvek, a synthetic paper material.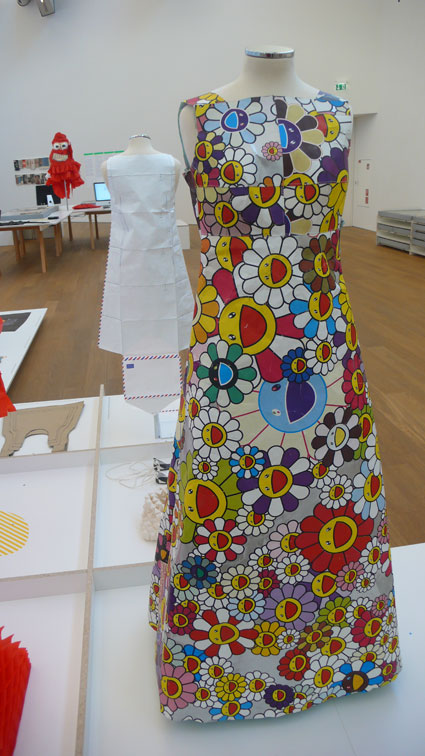 Karim Bonnet/Takashi Murakami, Paper dress for the Impasse de la Defense on a flower pattern by Murakami, 2002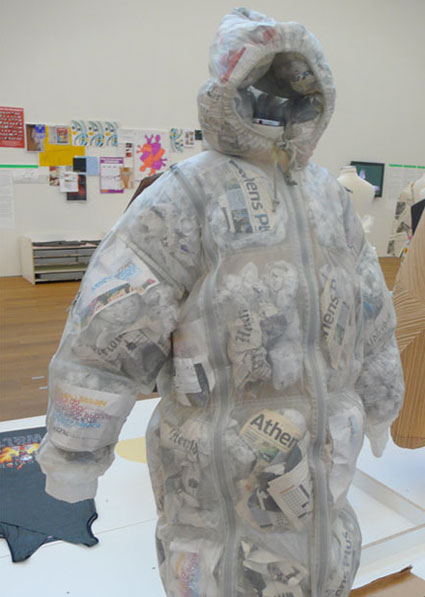 Kosuke Tsumura, Final Home, 1994. Nylon parka with dozens of pockets to fill with paper when the weather gets cold, ATOPOS Collection, Athens
Paper is not the only material used as an alternative to textile. Suzanne Lee's BioCouture project explores the possibility of growing garments from bacterial cellulose.
Lee, a Senior Research fellow at Central Saint Martins in London and the author of the book Fashioning the Future: tomorrow's wardrobe, has been experimenting with cellulose bacteria and yeast in a bid to bring forward sustainable techniques for manufacturing clothes.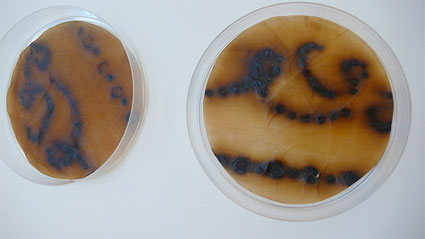 Examples of 'fabrics' created with the BioCouture project
The material is cultivated in a sweet tea-solution, allowing the bacteria to produce a material half-way between papyrus and leather with a color that can be altered through the choice of tea. The end product looks like leather (here's a bad photo).
(not featured in the exhibition but worth mentioning: the Victimless Leather Jacket and BioJewellery.)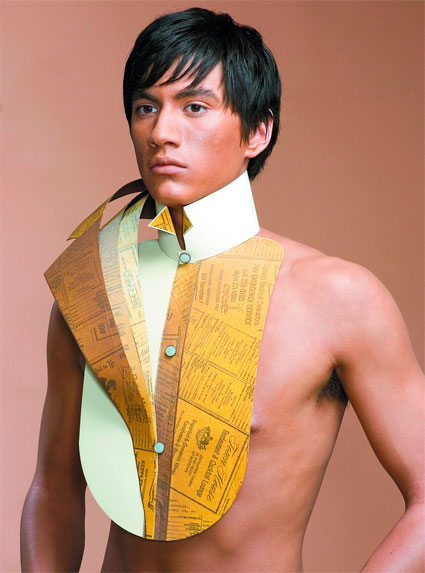 Michael Cepress, Collars for the modern Gentleman with a Yellow Pages dress, 2006
Commissioned by ATOPOS. Photo: Michelle Moore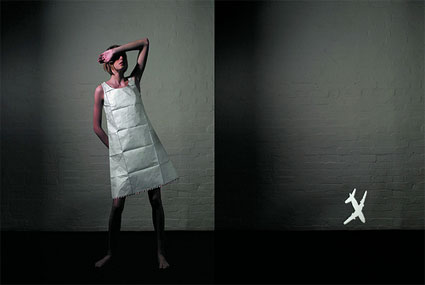 Hussein Chalayan, Airmail Dress, 1999. Tyvek dress. Photo: Marcus Tomlinson
The show is splendidly designed by Normal Studio.
The exhibition closes on February 2, 2009. It will then tour to the Mode Museum in the Province of Antwerp from 05/03/2009 until 16/08/2009 and to the Design Museum in London from 10/2009 until 01/2010.