Had the chance (cheers, Emma!) to visit London's Frieze Art Fair in beautiful Regent's Park this weekend. A huge tent, where many of the big galleries showcase their freshly signed-up artists (who were using a surprising amount of film-projectors) or classic pieces by Warhol and the likes. Sometimes to strange effect since multiple versions of one piece would appear with different vendors or just the general feeling of standing inside a mashup of a museum and the museum-shop. Far too many works to cover them individually. However, Roni Horn delivered an interesting talk on her latest project in Iceland.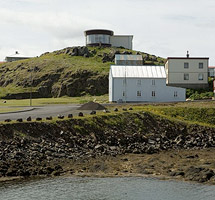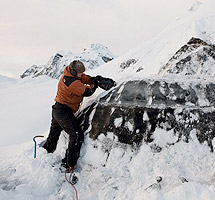 The site above Stykkishólmur, collecting the ice
She has been going back and forth between New York City and Iceland for about 30 years, because she enjoyed the culture, the climate and most of all the outlandish landscapes which for her almost have a sexual quality. An important piece of her body of work is about water, which she tried to approach in many ways, through language, photography and even portraits of the people of Iceland through who to her the water shows. Recently, Horn was been given a possibility by Artangel to formalize this research in the form of Vatnasafn, The Library of Water. This library and community-center is located in a beautiful art-deco building at the highest point of Stykkishólmur, a small town north of Reykjavik.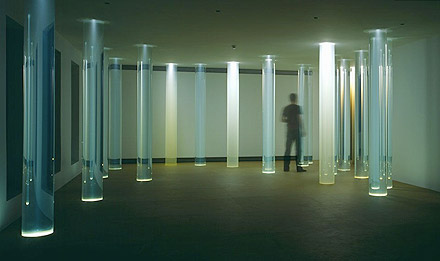 Vatnasafn at night
For the main piece, Horn has replaced stacks of books with a constellation of glass columns containing glacial water from around Iceland, gathered from the glacial tongues of Vatnajökull, the glaciers of Hofsjökull, Langökull, Snaefellsjökull, and glacial rivers such as Skaftá, Hvitá and Pjósá. Through the watery columns natural light is refracted and reflected onto the floor, creating what Horn describes as a "kind of lighthouse in which the viewer becomes the lighthouse in which the view becomes the light." This effect is especially beautiful at night, when the sparse lights of the town get bent in the water and a visitor can see just how different water can be and what landscapes of precipitation form at each column's base.
The rubber floor is inscribed with both Icelandic and English words describing the state of the weather which all tend to be rather ambiguous since they can also describe human moods. Vatnasafn also hosts "Weather Reports You", an ongoing collection of testimonies from people living in the locality, an alternative kind of weather reporting inspired by the Library's site being the place where the recording of meteorological conditions in Iceland was first initiated and a residency program for writers.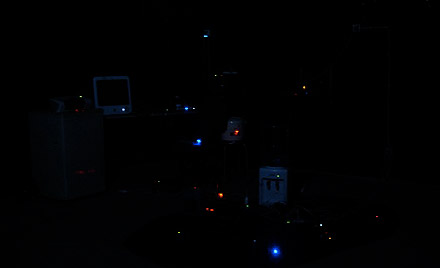 Constellation by Chu Yun
Another piece which stuck in my mind for its beauty was "Constellation" by Chinese artist Chu Yun: "You walk into a dark room. When you stand there you will see a great number of flashing lights. As your eyes get accustomed to the darkness, you will become aware that they all come from domestic electrical appliances. They are all either in Pause or Error mode."