Robotic dolls that behave like babies addicted to drugs and alcohol are being used to teach teenagers on Teesside (England) the dangers of drink and drugs.
The dolls shake and scream as they go through withdrawal and teenagers will be asked to look after them single handedly for two nights.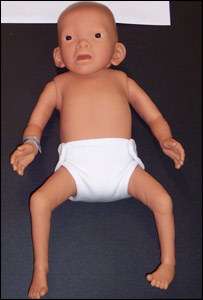 You can tell immediately that they are not normal as they are thinner than a normal baby doll, the chest is caved in and internal organs are a lot smaller.
"The teenagers beg quite often but the dolls can't be turned off," explains Linda Porter, from the charity on Teesside which runs the scheme. "You can tell young people many times about the effects of drugs and drink and then they are given these babies and see the effects for themselves."
Via BBC news.
Last month in Wales, robot babies, normally given to young people to care for to reduce the number of teen pregnancies, were given to Cardiff councillors to stretch their parenting skills when under the pressure to shop.
The community representatives were told to make their way into the city centre from County Hall by public transport with their simulator babies and cope with tears, burps and nappies.
The initiative was part of an inquiry into how family friendly Cardiff is.
Via icWales.