Japanese researchers have turned a humanoid industrial machine into a master of Japanese traditional dance in a bid to use a robot as a guardian of cultural heritage.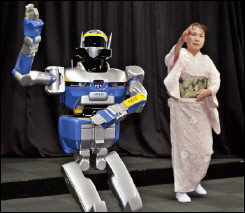 "It is also important for us to digitally record intangible things such as traditional Japanese dancing," explains Katsushi Ikeuchi, from Tokyo University.
Ikeuchi programmed HRP-2 Promet to replicate human movements. Now the robot can shuffle its metal feet and wave its hands in the air in synch with a woman in a kimono, at the sound of lutes and other Japanese instruments.
Via IOL.
Robots dancing and wrestling: Robots in video.