A police station in Fukuoka, Japan, appointed a high-performance security robot its chief for a day this April 6 as part of a campaign to promote safe driving.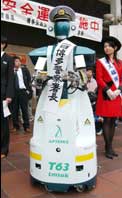 T63 Artemis is equipped with light and sound sensors and can throw colored balls at those acting suspiciously. In a ceremony at the Station, police chief Kikuo Mori handed a letter of assignment to the robot, which donned a police hat and a campaign banner.
The robot had previously been used to patrol a shopping arcade in Fukuoka.
Via Japan Today.
Details about the robot in Gizmag.