Rhizome has just publishes a list of six Game Art Commissions. The proposal asked artists to come with projects that contribute to the art game genre, or reflect on broad interpretations of "game."
Among the selected works is Misplaced Reliquary, by Paul Catanese (already author of the Digital Cornell Boxes), a handheld curiosity cabinet of relics collected by an eccentric curator. The relics are contained within a virtual repository taking the form of a gameboy advance ROM that can be "played" online or downloaded to any gameboy advance. An artist's edition of five game cartridges has also been created.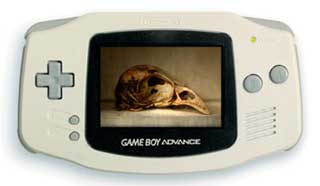 Another winner is Kabir Carter's Listen, a game that consists of modules that each focus on the soundscape of a physical environment. Beginning with the first module, a sealed room, one encounters objects and architectural spaces that may or may not generate, activate, or alter a variety of sounds.
Other selected works: Agonostics, Average Shoveler, Farklempt!, Media Blackout and Oversaturation.
Via Selectparks.