Researchers in the Department of Communication Systems, Lancaster University (UK), have developed a game which can be played by up to five players on mobile phones.
Pac-Lan enables players to keep track of one another's position through images on their mobile phones as they chase one another round campus.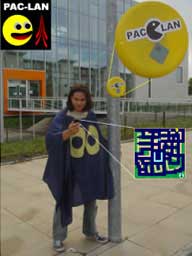 Each phone has been programmed with a maze, which is based on a map of the University Campus. Players have to collect points from RFID tags, which have been attached to yellow disks on lampposts around the University.
When a player collects their points by holding their mobile phone against the disc the virtual reality maze on each mobile phone is updated with the player's position. Each player shows up as an animated character (Pac-Lan or Ghost) moving round the screen. This enables a team of "ghosts" to track the player down and catch them.
I do hope that wearing the gown is compulsory for players.
More in LU News, The Engineer.
More pacman in the streets games: Pac-Manhattan, Human Pacman.
List of Location-based mobile phone games.