Although Sascha had written an excellent post about it before, i've never been very excited by the rapid prototyping craze… until yesterday when i saw the 70 objects created by Ron Arad's students of Design Product at RCA in London.
Rapid prototyping was developed as a way of producing prototypes for intricate medical and automotive components. A more accurate name for it is 3D printing, as it builds up objects layer by layer, working in the same way as an inkjet printer but creating solid forms out of liquid or powdered polymers, rather than just 2D patterns. The advantages of the technique are that it does not require expensive tooling and any conceivable shape can be produced. Also, by tweaking the computer files, each object can be made to be unique, spelling the end of the concept of mass production. (ICON .)
The students have had two weeks to take a project from concept to finished product using 3D Systems' stereolithography construction process.
Some highlights: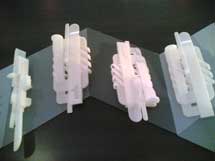 Mathias Hahn's Pirate Light has been given the "frightful" face through various wall thickness; Martin Postler translated music into 3D graphical objects;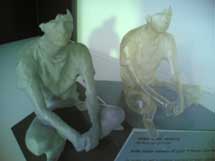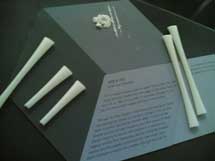 Markus Bergstrom imagined that the technique could be used to make scale models of your family and friends; Sarah Van Gameren's Kate and Pete refers to a tabloid story. She made a cocaine pipe that can be broken in two parts to make two pipes: a hole inside morphs from the shape of the word "Kate" at one end, at the other end, the word is Pete;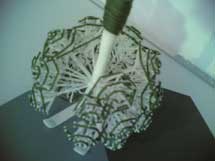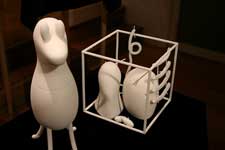 Shay Alcalay gave the kids' game "Connect the Dots" a 3D presence and Andrew Haythornthwaite did something similar with children's doodles (the resulting character is called a Doodle Dude!).
Also at the Salone del Mobile this year, Materialise.MGX's amazing collection of light systems made with a similar rapid prototyping system.
I frantically photographed the show. But i stole some of Sascha's pics for this post. Big thanks to Peter for having told me that the RCA show was a must see.
Related:
Max sent me a link to OGLE. Developed by eyebeam, OGLE (the OpenGLExtractor) is a software package that allows for the capture and re-use of 3D geometry data from 3D graphics applications running on Microsoft Windows.

Video gamers could make tangible characters from their favorite games; animators may wish to reuse environments or objects from other applications or animations which don't provide data-level access; architects could use this to bring 3D forms into their proposals and renderings; and digital fabrication technologies make it possible to automatically instantiate 3D objects in the real world.