Yesterday i went to a very exciting show at Museum of Arts & Design in New York. Pricked: Extreme Embroidery has invited 48 artists to demonstrate the diversity of new approaches to needleworking technique.
As they did with their previous show Radical Lace & Subversive Knitting, the Museum demonstrates that contemporary artists are exploring new ways to bring centuries-old handcraft traditions into the 21st century.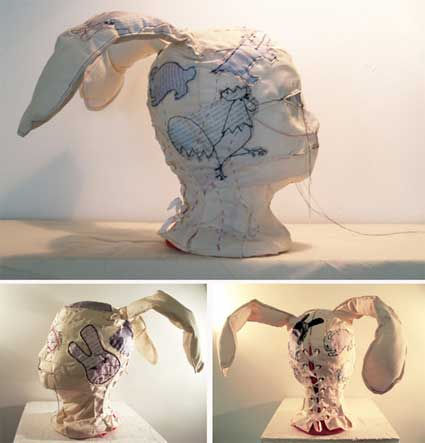 Phrenology III (child)
One of the works that most impressed me was Morwenna Catt Phrenology Heads. Phrenology, developed by German physician Franz Joseph Gall around 1800, and very popular in the 19th century, is a discipline which claims to be able to determine character, personality traits and criminality on the basis of the shape of the head (i.e., by reading "bumps" and "fissures"). Catt's soft sculptures of heads have long animal ears, Frankenstein-like stitches all over their face, one eye is shut by a patch and a needle is stuck in their head as if the work was unfinished.
The heads are embroidered with fragments of texts: the Mother one has "You will need eyes at the back of your head". The Father has "The gloom and the silence, i am terrified when i realise i am alone", etc.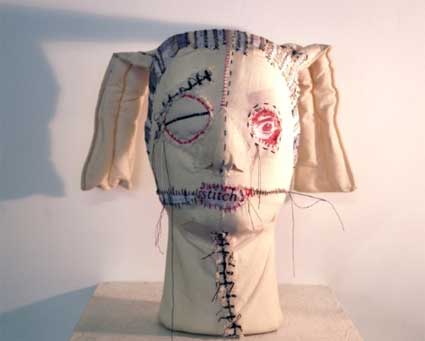 Phrenology head II, 2007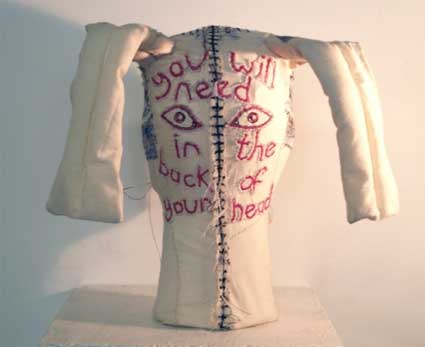 Phrenology head II, 2007
Words and images have been combined in traditional embroidered samplers for more than 500 years, and many contemporary artists give their own twist to the convention. Tilleke Schwarz, for example, embroiders texts and images she finds in her daily life from letters to editors that have caught her attention to images from television.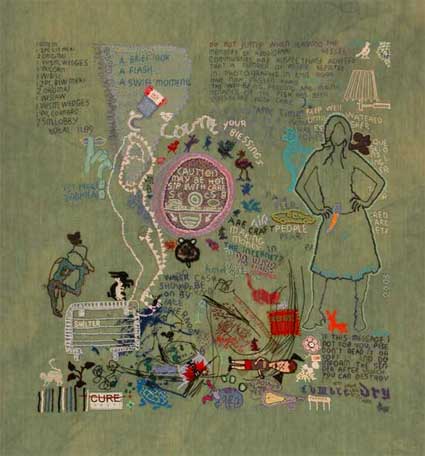 Tilleke Schwarz, Count your Blessings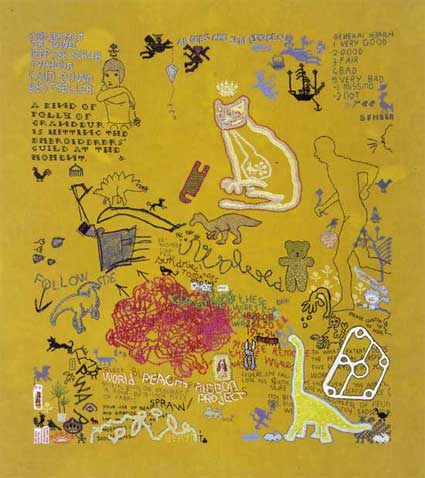 Tilleke Schwarz, Into the Woods
Elaine Reichek embroidered an 80-foot long transparent curtain with dots and dashes that spell out the first telegraph message sent by Samuel F. B. Morse on May 24, 1844: "What hath God wrought".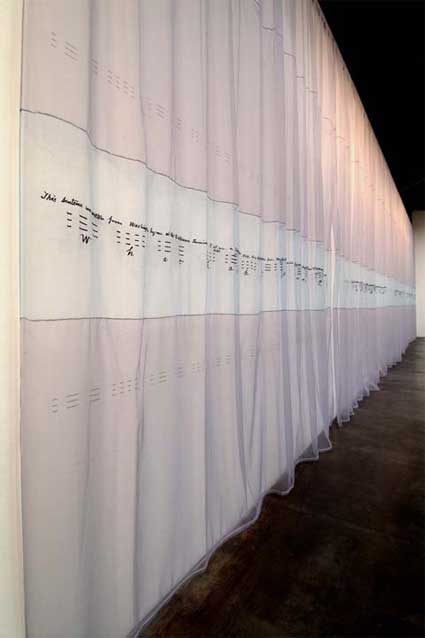 Elaine Reichek, First Morse Message
Andrea Dezsö records aphorisms and warnings received from her Transylvania mother in the Lessons from My Mother series. 48 cotton squares are embroidered with illustrated bits of folk wisdom passed down from her mother: "My Mother Claimed That A Woman's Legs Are So Strong That No Man Can Spread Them If She Doesn't Let Him", "My Mother Claimed That You can get hepatitis from a handshake," "My Mother Claimed That Men will like me more if I pretend to be less smart," etc.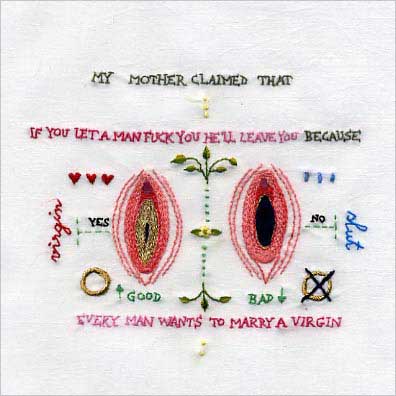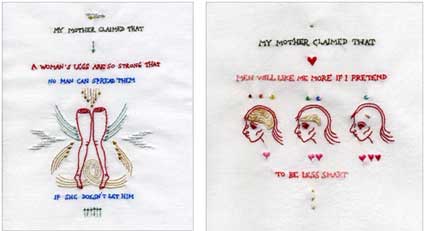 Andrea Dezsö, Lessons From My Mother
While embroidery traditionally connotes safety and domestic security, some of the artists in Pricked use the medium to explore and reflect on political and social issues.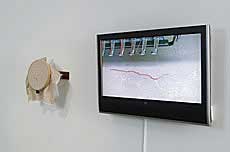 Mexican artist Ana de la Cueva's video shows a digital embroidery machine stitching the contours of the United States and Mexico highlighting the planned wall to keep out illegal aliens in bright red thread, all to the tunes of Mexican and American popular music.
Ana de la Cueva's video "Maquila" shows a commercial sewing machine stitching a white-on-white outline of the United States on plain cotton fabric, with a bold red line demarcating the Mexican border. Maquila refers also to the use by American manufacturers of cheap labor embroidery shops scattered along the border.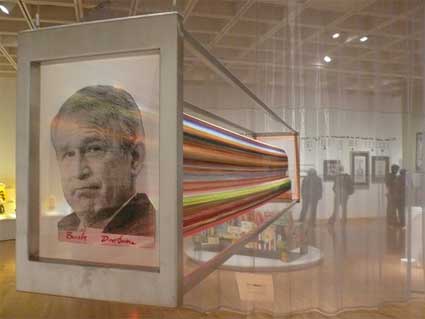 Xiang Yang, The Truth that People Are Not Willing To Face — Bushism vs Saddamism
Xiang Yang's The Truth that People Are Not Willing To Face — Bushism vs Saddamism are portraits of President Bush and Saddam Hussein linked by a rainbow of threads. The threads are continuous between the 2 visages, giving the impression that the faces have morphed into one another.
Peter Hellsing used embroidery as a channel for communication with the immigrants who live in Flemingsburg, the suburb where he lives in Stockholm. He documented their stories of dislocation, alienation and longing for home on household furniture. The body of works, called A Little Cabin In the Woods, tells the story of these migrants, how they grew up in Sarajevo, or their fate during the Turkish-Armenian war.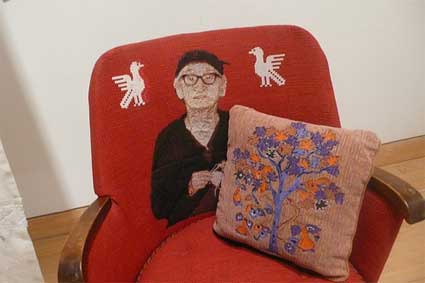 Peter Hellsing, A Little Cabin In The Wood (detail)
Sonya Clark's $5 bill celebrates the connection between the president and the Afro-American community by giving him an afro hairdo.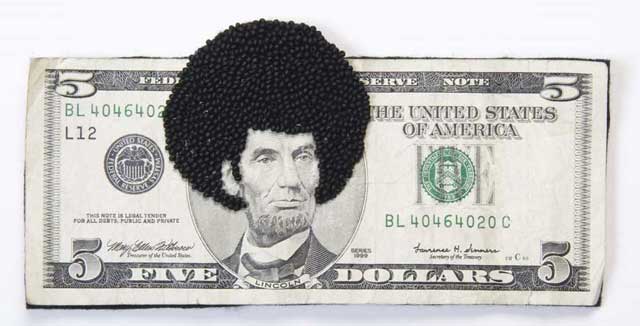 Afro Abe II, Sonya Clark
A section of the exhibition explores the work of artists who adopt, appropriate or quote images and ideas from other sources, including art history and popular culture, in their embroidered works.
Los Angeles-based artist Maria E. Piñeres embroiders portraits of celebrities who have been arrested, such as Mel Gibson and Robert Downey, Jr. Mark Newport has created a full-sized bed spread of embroidered comic books heroes as a way of exploring masculinity and identity.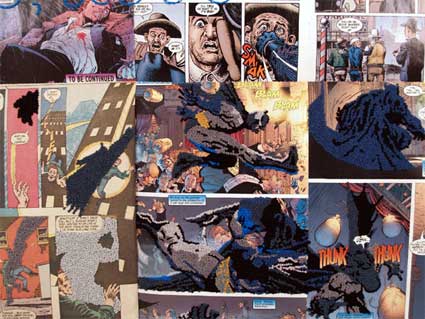 Mark Newport, Freedom Bedcover: Zachary
Paddy Hartley uses his research into the lives and families of disfigured World War I soldiers as the basis for his reconstructed military uniforms that are embroidered with texts and images related to the specific soldier.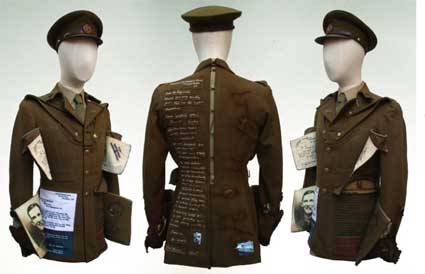 Paddy Hartley, Lumley
German artist Sybille Hotz created large-scale stuffed human figures drawn from first-aid manuals and medical books.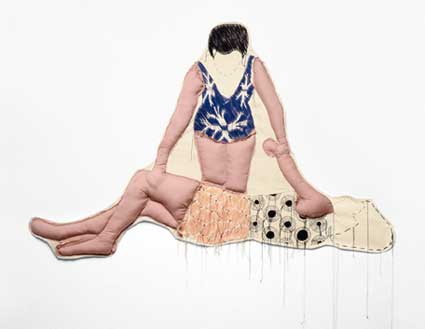 Sybille Hotz, Wenden
Orly Cogan embroiders found linens that have been previously embroidered with flowers, animals, and hearts with nude self-portraits and animal fantasies.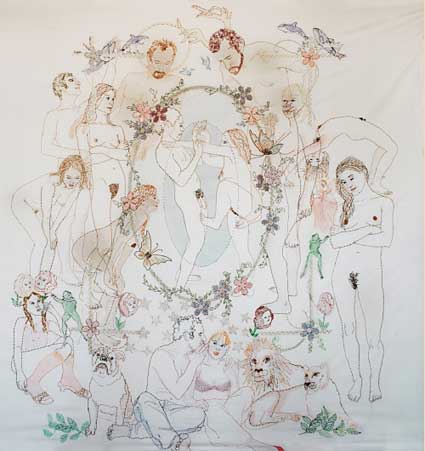 Orly Cogan, Second Nature
Laura Splan, whose work is at the crossroad between medicine and art, is showing Trousseau, an embroidered nightdress created from a transparent plastic-like material that results from a drugstore facial peel-off mask which picks up and retains the detailed impression of texture and hairs on one's skin. She covered her entire body with the product, let it dry, peeled it off in one large "hide" so that she could have large sheets of "fabric" to work with. The sculptures are embellished with computerized machine embroidery.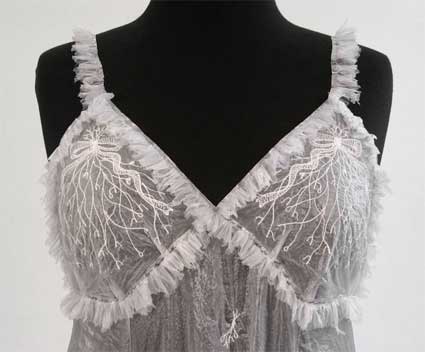 Trousseau (Negligee #1)
Splan has also turned the cellular formation of scary viruses such as SARS, herpes, HIV, and flu into doilies. They generate both a feeling of repulsion and one of attraction. Would we be willing to pass these dollies from mother to daughters as tradition would require?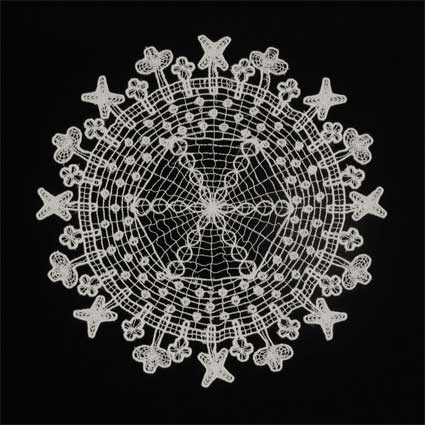 Laura Splan, Doily (Herpes)
Italian artist Angelo Filomeno, who learned embroidery as a child and today is a master in the form, has created a wide panel titled Death of Blinded Philosopher. It depicts a skeleton whose eye sockets have been violated by alaws, facing a blood red explosion of tendrils and blossoms attacked by flies and cockroaches.

Angelo Filomeno, Death of Blinded Philosopher
Paul Villinski's wall sculpture Lament is made up of hundreds of abandoned or lost gloves collected from New York Streets, assembled as a massive pair of black bird's wings which would perfectly suit Icarus.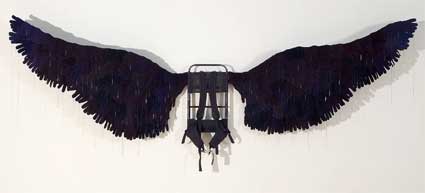 Paul Villinski, Lament
On view at the Museum of Arts & Design through April 27, 2008.
More embroidery: Subversive Knitting, Sandrine Pelletier, Divine Deviltries, Gales and Gasps, etc.