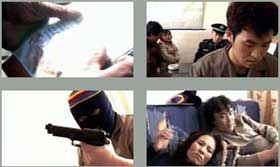 Ars electronica symposium "Goodbye Privacy" ended yesterday afternoon. I only attended the last day of the talk but from what i've heard both in the room and in bar discussions, this edition, curated by Ina Zwerger and Armin Medosch, was really good. I'll come back with more notes from the talks but in the meantime, here's the torrent of Pirated Copy, a movie directed by He Jianjun and mentioned by Jaromil during his talk.
First a few words about Jaromil. The artist/activist/programmer/hacker gave a presentation about piracy and privacy.
He talked about IP monopoly, piracy of objects and contents, the IPRED2 Intellectual Property EU directive and the rather alarming analysis of it by Italian magistrate Giuseppe Corasaniti, and ended by presenting dyne:bolic, a tool that allows media activists, artists and creatives to manipulate and broadcast sound and video with instruments to record, edit, encode and stream, having automatically recognized most device and peripherals: audio, video, TV, network cards, firewire, usb and more; all using only free software!
Somewhere among all those facts and reflections, Jaromil showed an extract of the movie Pirated Copy.
The docu-like movie follows several characters involved in selling or buying illegal discs. and looks at the pervasive influence pirated DVDs have on these "ordinary" people in Beijing. They are never going to make a dent when the cops themselves aren't busting the dealers — unless they've got porn. And if He Jianjun's raw DV feature is anything to go by, all these pirated discs have created a remarkably well-educated society of cinephiles.