Scandinavian Design (via dezain) has snapshots and reports from Stockholm Furniture Fair 2005.
In their selection, I spotted Peekaboo, a wing chair in moulded felt which comes with a Plexiglass cover/visor. The chair was designed by Stefan Borselius so that in a time when we are pulling down existing barriers to promote encounters and a sense of community, a separation can be easily created.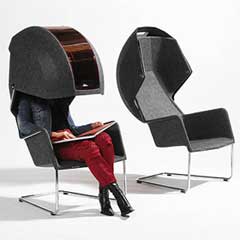 Reminds me of other chairs inspired by our modern time.
Dunne and Raby's Faraday Chair is a daybed into which you can slip to escape electromagnetic fields.
The duo also made the Nipple Chair fitted with electric field sensor and antenna. When the chair is placed in an electromagnetic field, the nipples set into the back vibrate and the sitter is then aware of the radio waves penetrating their torso (via Design Noir: The Secret Life of Electronic Objects).
La complice, by Cul de sac, Andreu World and Stijn Ossevoort, investigates technodependency. The chair can host your mobile phone while you chat with friends but it also blocks signal so that the device becomes unusable.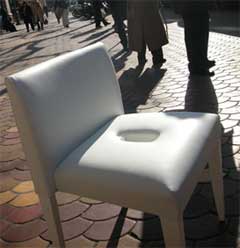 Silence is an easy chair designed in 2002 by Antti Evävaara "for the undisturbed use of your mobile phone."
The side panes are transparent, but the user's privacy is respected as the sound enters and leaves the "phone box" reduced (via textually and angermann2.)