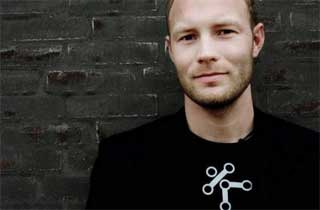 Peder Burgaard is 28 years old and I met him last Winter when he invited me to NEXT2005, an amazing conference + exhibition in Copenhagen. It was like having a walk into my own blog, i got to see gadgets and installations i had only written about so far (from the transparent concrete to the Fabric Keyboard, from the E-book to Relax To Win); but i also discovered many new products and the speakers at the conference blew everyone's mind.
Peder is currently studying for a master's degree in Information Studies at the University of Aarhus, Denmark. Along with his studies he has held a position as Gadgethunter (!!!) and since last summer he's Event Manager at Innovation Lab where he's been responsible for conferences, exhibitions and acquiring new prototypes for their Demo Lab.
Innovation Lab is a consultancy business helping companies integrate new technologies into its work routines but also help with product development from prototype stage to completion. Besides, Innovation Lab have a "technology insights division" to give CEO's, innovators and entrepreneurs an insight into what to expect in the coming future of new technologies and possibilities.
Innovation Lab is the creation of three entities from the public and the private sector: the County of Aarhus and the Municipality of Aarhus and the telco TDC. The Lab is located within the IT City of Katrinebjerg.
Innovation Lab organizes four major conferences every year accompanied by a matching exhibition showcasing prototypes. The next conference is called CustomerMade – Consumers are taking over and is all about the R&D democracy of the prosumer initiatives that are pushing forward among the developing communities.
Can you briefly describe your role for NEXT2005 – EXIT HABIT?
My role in this event is to organize all the practicalities and select which technologies to exhibit. NEXT is the main and only annual event in the Innovation Lab calendar and is short for Nordic Exceptional Trendshop eg. NEXT, which is held at the IT-University of Copenhagen and has a truly international perspective.
How do you pick out the projects shown at NEXT?
The selection of which prototypes are to be exhibited at NEXT was mainly based on my desire to show new forms of human-machine/computer interaction as compared to showing better specifications in mainstream products. I believe that the general public has only seen a tiny bit of all new interaction opportunities that are to come in the future, so I try and introduce that to a broader audience.
Some of the prototypes displayed at NEXT2005 were the interactive couch where you could play a videogame just by moving your behind around the cushions – very fun in two player mode. And the Bean Counter from MIT Media Lab where you would get a different colored bean depending on which priority the incoming emails in your outlook have. Or the toothbrush connected to the mirror – the mirror displays feedback to the user patterns and hence can be used to educated small children on how to use a toothbrush correctly.
The very few mainstream exhibits we had on NEXT2005 were items with such great specifications like the mobile phone with a 6 mega pixel camera and DVD recording capabilities which was leaps from what could been seen at the present time. It had a really jaw dropping experience to most audiences. And the European premiere of the XboX 360 which have such a news value and had been a much awaited product, so we just couldn't turn the offer from Microsoft down.


The Digiwall
Can you name some of your favorite projects/objects/applications from next2005 exhibition?
I had many favorites among the prototypes if I have to name some from NEXT2005 I would say that the GameRunner treadmill (FP GameRunner) which really blew me away – it combines excises with computer gamming a perfect item for the battling obesity. I also liked the DigiWall (Interactive Institute, Sweden) which is a perfect example of how sensor technology is going to be implemented to so many aspects of our future life from the children's playground equipment to soccer balls for near perfect measures if your favorite striker have scored a goal or not!
How do you select the speakers for the NEXT conference?
The selection of speakers is not influenced by me to the same degree as the selections of prototypes but it's an on-going discussion between numerous Lab Agents and reflects the theme of each year's conference. NEXT2005 had the subtitle EXIT HABIT, so we focused on inviting speakers that are doing something innovative or has contributed with some very unorthodox ideas to the field of technology research like Aubrey de Grey who is an autodidact researcher age longitivity. He boldly proclaims that humans at some point in time will acquire the ability to live for 1000 years. If this statement is only 20% true you would have to redefine lots of technological innovations so it will sustain the same longitivity as a human being (article).

From one edition of Next to the other, do you see that technology is moving at a rapid pace? Or is it a slow continuum with, here and there, too many repetitions?
Technology will be moving even faster and among others will the convergence of established disciplines in the future contribute to this increased pace. Convergence in research fields will be more common because we are increasingly looking to apply the construction work of Mother Nature for creation of advanced technology. So the biologist will need more mathematics and vice versa. Also the merging of biotechnology and nanotechnology will create a demand for researchers which interdisciplinary skills. A forerunner of this trend is Stanford University's Bio-X Lab of interdisciplinary research connected to engineering, computer science, physics, chemistry, biology, math and medicine (Bio-X Lab).
A future ability to reverse engineer the human organs and other advances in technology will keep the pace of new discoveries at an exponential level of unheard dimensions if compared to past rates of discoveries. Some predicts that the next 50-100 years will yield advances in technology equivalent to 14.000 years of previous discoveries. So modern society will experiencing even more rapid changes in the future.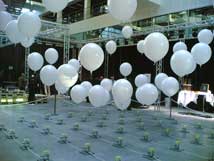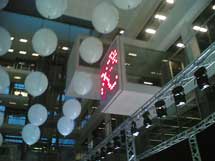 electric moOns
I saw several art projects at NEXT. What do you think about the role of artists leading the way to innovation or to different scenarios for the future?
The interaction art projects at NEXT are to be seen as an emerging trend where involvement of artists and designers in the finishing touch of consumer products will increase. So the gab between pure consumer development and artist esthetic expressions will be winding and eventually join forces. Research studies have shown that more esthetic products have a correlated improvement on user interaction. And the ever increasing demand on technology for ease of use will have artist leading the way of innovation in the future. Perfects example of this is the iPod which have a beautiful design and just feels nice and intuitive to operate.
Examples of this decreasing gab between pure technology and pure art at NEXT2005 where projects like the electric moOns which is 100 helium filled balloons lain out in a 10X10 square that can be individually controlled by a central computer. This enables the central computer to create complex images with the balloons then viewed from above.
Another artistic project was the heavy industrial robot arms from RobotLab (Juke_Bots). They really represents technology in its purest and coldest form and putting those two robots in a human context flipping vinyl's at a DJ table is a good preview of how pure technology will transform into more human shapes and contexts in the future.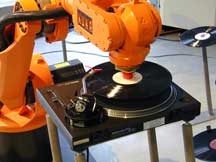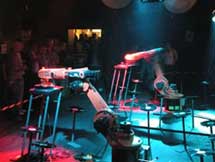 The Juke_bots
You're also an intern at the Institute for the Future. Can you explain us what you're working on there?
After my part in NEXT2005 I finished some exams before leaving for San Francisco February 5 – where I'm currently servicing as an intern at the Institute for the Future (IFTF) and will be here the next 5 months as part of my studies. The Institute for the Future is a Palo Alto based non-profit think tank that is mapping the future for large companies in the Silicon Valley but also for governments and companies around the world.
IFTF has three main programs – the Ten-Year Forecast, Tech Horizon and Health Horizon – each of which are accompanied by an annual two day conference. Some of the work being done by IFTF is confidential as they work closely with companies like Intel, HP, IBM and Vodafone on strategic investments in new technologies for their present products or advise on new potential product lines. And even if I could tell in more detail about the work at IFTF I am still learning about the organization, so there wouldn't be much to tell except it's a very exciting place to be working. Though, the work done in the programs does become public after a year and is all available on the IFTF Web site.
In regards to my work at the IFTF I will be rotating within the organization, so I can give feedback and work with multiple programs. I will not have a mission critical role as with Innovation Lab. You can differentiate my work I three segments; Regular involvement on IFTF projects helping with future forecasts etc., an organizational analysis of IFTF and lastly mapping IFTF competences compared to Innovation Lab as a preparation for future corporations with between the two of us.
Two areas of work that I am going to do is; to help Jason Tester with his "Artifacts from the future" which is part of the Ten-Year Forecast program and also give feedback to a new research project called Virtual China which is about the internet behavior and usage in China. The latter project is a public research project and can be followed on the weblog: Virtual China.
The other thing I'll be working on during my stay will be an organizational analysis of IFTF about how they are performing as a learning organization. The macro focus will in particular be how knowledge within IFTF is passed on to new employers as the divers and very complex structure of crisscrossing programs and affiliates often makes it very difficult for newcomers to comprehend the scope of the entire organization. As Research Director Alex Pang explains that I shouldn't be sorry for not keeping up with all the research being done at IFTF since he needed almost a year to get the full detailed insights of the organization. I can only acknowledge that statement as I remember how starting at Innovation Lab two years ago and now IFTF was – both companies have always new projects going on.
The IftF internship seems like a logical continuation of what you're doing for NEXT (I think). How does your role in NEXT feeds your internship and vice-versa?
My IFTF internship is landing me right in the beating heart of technological innovations and therefore I have a much better chance of learning about new prototypes and being a part of an established network that knows the right people. I have already visited some small start-up companies in regards of having them display their prototypes at NEXT2006.

I have the feeling that Copenhagen is a place which offers many opportunities for young talents. Is that so? Is the relatively small size of the city a plus or a minus?
You are absolutely correct the new developments in the Orestad region of Copenhagen are really all about innovation and technological progressions and many new centers of innovation are established annually. And it's not just the Copenhagen area where the buzz is. The Aarhus region has its own surge toward more technical innovation like the establishments of the IT City and all the design companies that are within reach of the downtown area. They are all part of Danish desire to establish the country as a cluster of design and creativity.
Numerous tests among European schoolchildren shows that we are lacking behind in math, spelling and reading but are in the top 3 for creativity, independent thinking and social awareness. These skills are vital in the paradigm shift from the engineering developing approach to the user centered design of products where mapping of social structures and having the ability the creatively transform those mappings into new products are important features in the current development trend.
Thanks so much Peder!
My flickr pics from Next.