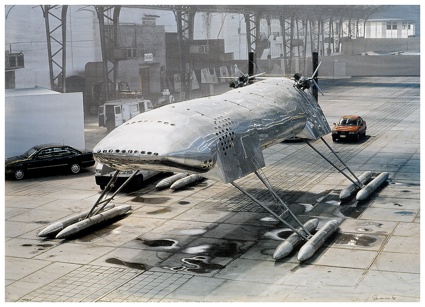 Panamarenko, Scotch Gambit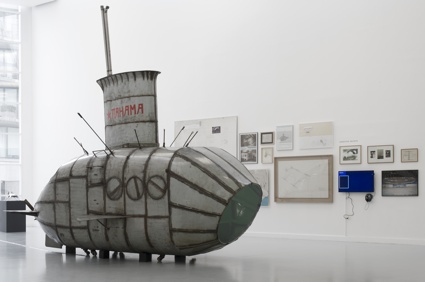 Panamarenko, Pahama, Spitsbergen, Nova Zemblaya, 1996 courtesy Collection Fondation Cartier, Paris photo M HKA
Panamarenko, the artist and inventor who builds zeppelins, mechanical chickens, flying backpacks, flying saucers, robots, submarines and other machines designed to travel over land, under water and in outer space, is having a big and rather wonderful retrospective at the M HKA, in his home town of Antwerp.
As its name suggests, Panamarenko Universum attempts to cover the full spectrum of his artistic production and mental landscape. Along with many of the vehicles and devices Panamarenko has created ​​between 1965 and 2005, M HKA is also exhibiting drawings, objects, documentations of tv interviews, scientific experiments and performances, models and editions.
It's difficult not to be seduced by Panamarenko's childlike enthusiasm for movement and science, by his inventiveness and by machines which are successful as artworks but often hopeless as vehicles for ocean and space expeditions.
Some of the works i (re)discovered in Antwerp: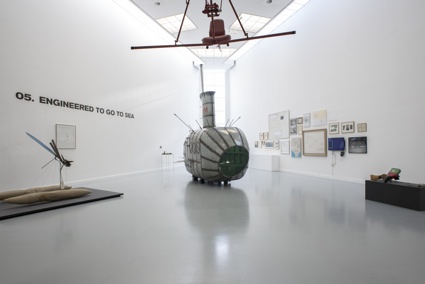 Exhibition view Panamarenko Universum, 2014. Photo M HKA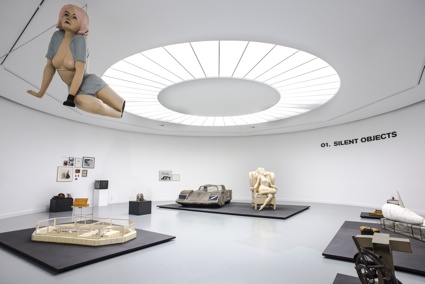 Exhibition view Panamarenko Universum, 2014. Photo M HKA
Panamarenko had always wanted to build a submarine to take to the open seas and defy any storm. His ultimate purpose was to use this craft to journey to the Far North. Nonetheless, it took until the middle of the 19990s before the project really got under way.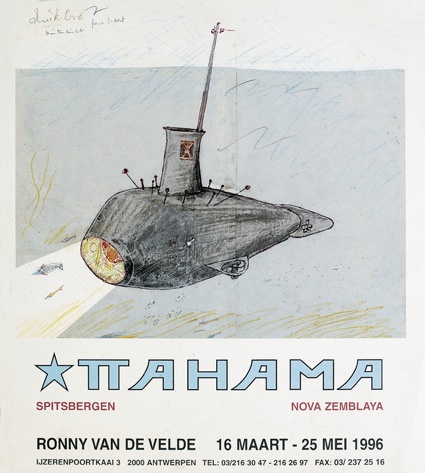 PAHAMA, Spitsbergen, Nova Zemblaya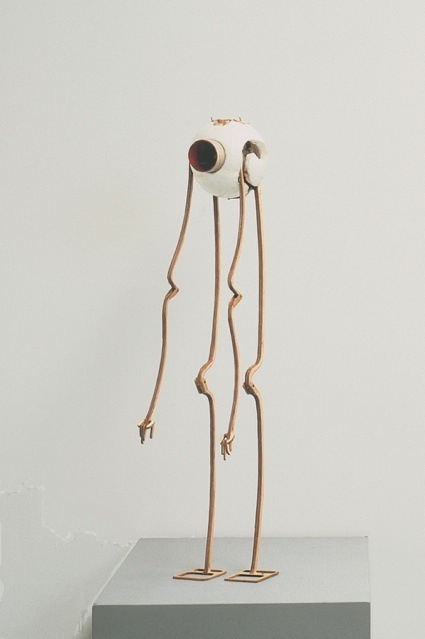 Arlikoop, 2004
A one-man aircraft which construction is based on the flapping movements of birds.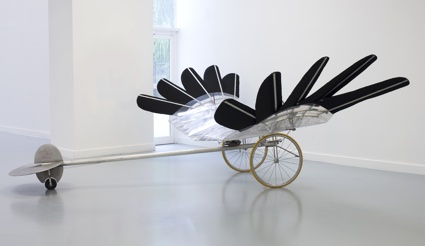 Raven's variable matrix, 2000
An advanced deep-sea diving apparatus engineered to dive faster. It consisted of a shaft attached to a screw-propeller and two pedals with belts. The device was strapped around the diver's hips, leaving the arms and torso completely free.
'You just have to peddle away with your legs, and it's just like you have a tail. That moved you forward fast, much faster than a swimmer…' – Panamarenko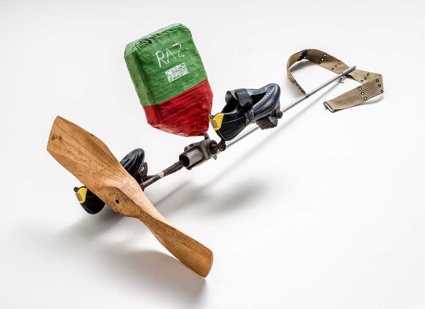 Big Elbow (Razmo Special), 1990-1992
Panamarenko testing one of his diving contraptions: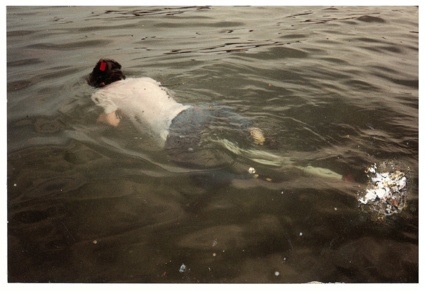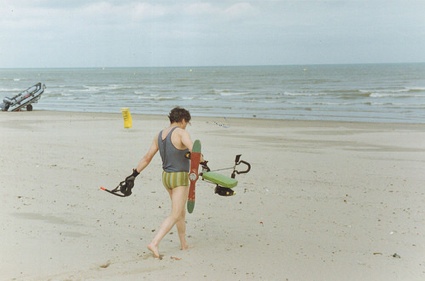 Panamarenko Archive, M HKA, Antwerp, 2014
A diving suit for walking over the gentle slopes of the seabed. The diving suit has a plastic dome helmet and a small cylinder pump, ten centimetres in diameter, to be worn on the back. The helmet is supplied with oxygen by a cylinder with a piston that goes up and down, a four-litre bladder that serves as an extra lung, and a flexible hose that floats on the water surface.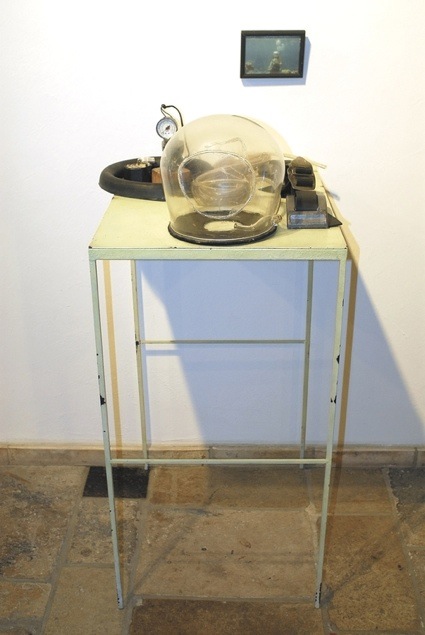 Portuguese Man of War, 1990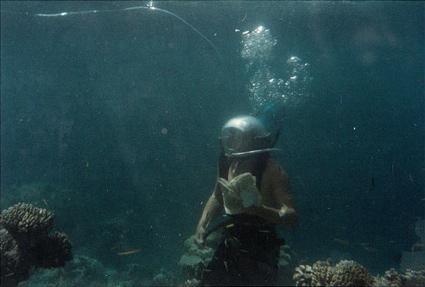 Panamareko testing the Portuguese Man of War in the Maldives. Panamarenko Archive, M HKA, Antwerp, 2014
In the 1970s, to create devices that take off vertically, Panamarenko concentrated his research on rotation speed and lifting power. The artist developed a series of compact but powerful Pastille Motors to power his rucksack helicopters. The name Pastille Motor refers to the round, flat shape reminiscent of a large aspirin. The engine must not weigh more than twelve kg, while five kilos of fuel should be sufficient for twenty minutes' flying.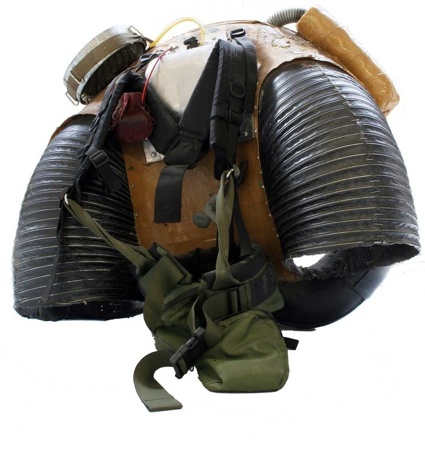 R.p.M. (Revolutions per Minute)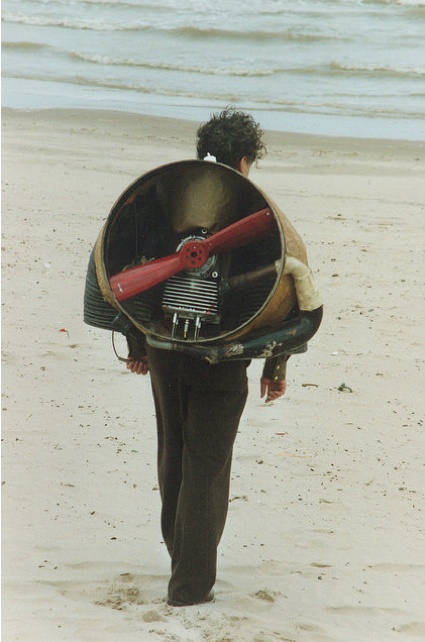 Panamarenko Archive, M HKA, Antwerp, 2014
The propulsion for the Pepto Bismo is powered by short rotor-propellers, each driven by its own motor. The helicopter principal allows the pilot to take-off vertically, controlling the apparatus by body movement.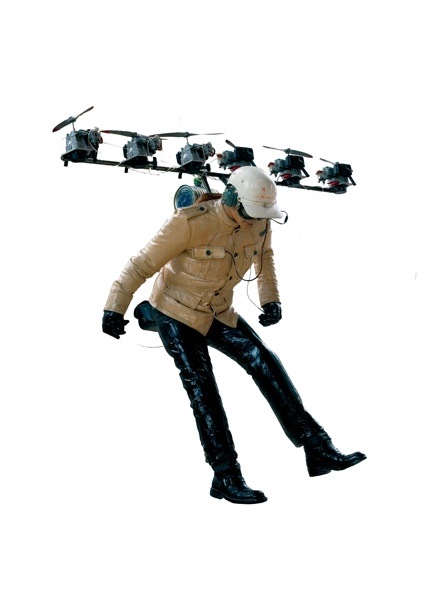 Panamarenko, Pepto Bismo, 2003 courtesy Private Collection photo M HKA
Panamarenko built flying saucers and other spacecraft, he also researched into the various possibilities of using existing magnetic fields as cosmic highways to travel the solar system. In 1997 his fascination for the cosmos resulted in the final project Ferro Lusto that he describes as a spaceship of 800 meters in length and fit for a crew of 4000. Ferro Lusto would act as the mother ship that carres various smaller crafts, which he calls Bings.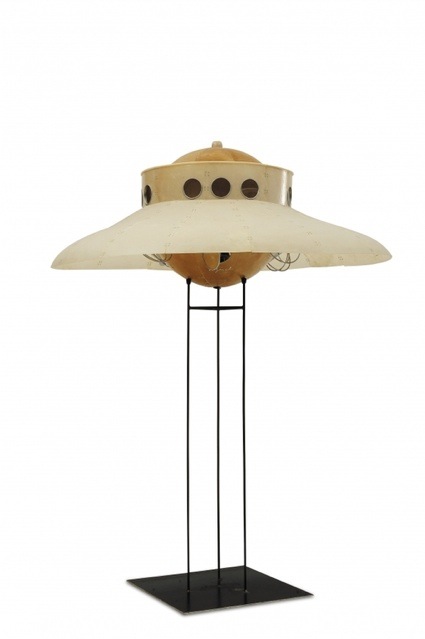 Bing of the Ferro Lusto (model), 2002
Panamarenko developed Bing of the Ferro Lusto and Bing II as hybrid machines suitable for flying through both the atmosphere and outer space. Bing II was powered using air and has three 4D booster engines developed on the basis of the Toymodel of Space theory. The engine consists of two cylinders set in parallel in a metal block. Four pistons make alternate upward and sideways movements. The drive power develops on the basis of the difference in speed and mass in contrast with the direction of movement of the earth and solar system, boosted by centrifugal force. '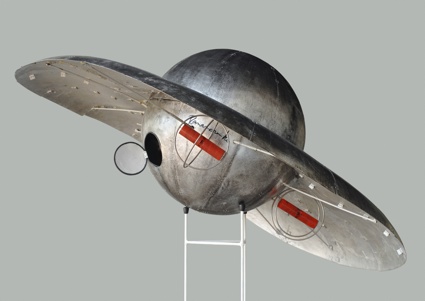 Panamarenko, Bing of the Ferro Lusto (model) , 2002 Courtesy Mulier Mulier Gallery
Panamarenko built The Aeromodeller between 1969 and 1971. The basketwork gondola was designed as a living space. Two aircraft engines on top of it are used to steer the imposing airship, which is held aloft by a cigar-shaped balloon, thirty metres long.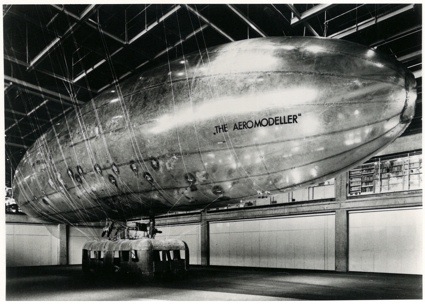 The Aeromodeller (Zeppelin), 1969-1971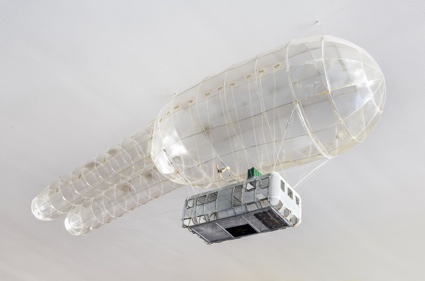 Dubbele zeppelin, 1990
Panamarenko designed this machine on insect-like aluminium legs, to enable him to walk around the Swiss mountains more easily. Crooked Leg is powered by a boat engine and is operated using two vertical levers on either side of the device.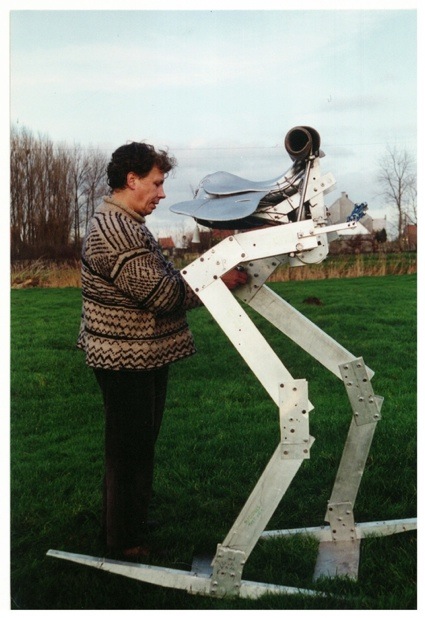 Knikkebeen [Crooked Leg], 1994
The Magnetic Shoes are made with military boots from the former East Block and copper stator coils taken apart from electric motors. He would weld the coils' magnets to a rod and then trapped an electrical charge. The result was amazing! If you then touched a piece of metal to it, you couldn't get it off no matter how hard you pulled! In a green rucksack (where military personnel would keep their walkie-talkies) are the lead batteries to provide the current. By alternatingly turning the current in the magnets on and off, I could hang upside down from a ceiling and walk around. I thought: well, that's a start… a little bit like flying…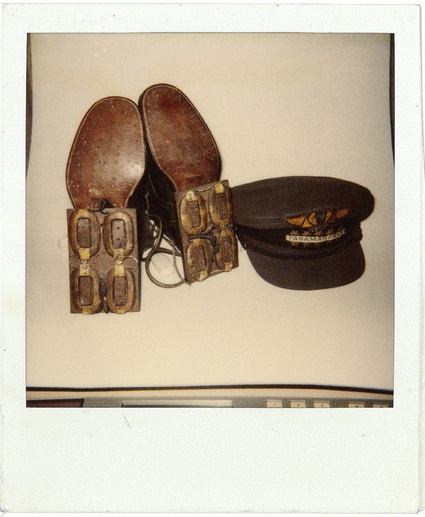 Magnetic Shoes, 1966-1967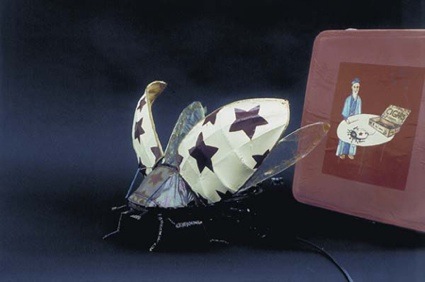 May-bug (Salto Arte), 1972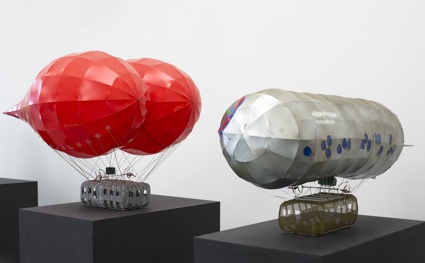 Exhibition view Panamarenko Universum, 2014. Photo M HKA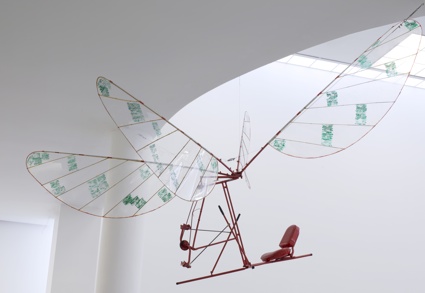 Exhibition view Panamarenko Universum, 2014. Photo M HKA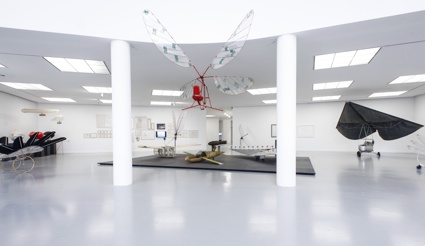 Exhibition view Panamarenko Universum, 2014. Photo M HKA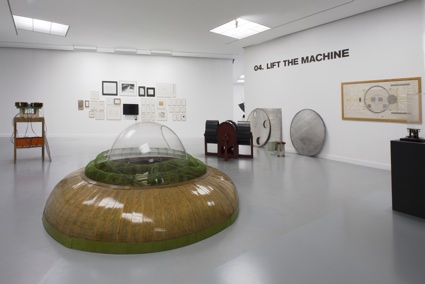 Exhibition view Panamarenko Universum, 2014. Photo M HKA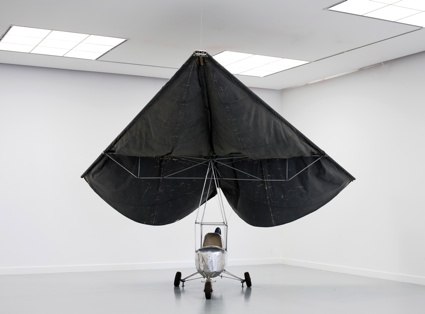 Panamarenko, Donderwolk, 1970-1971. Collectie Koninklijke Musea voor Schone Kunsten van België photo M HKA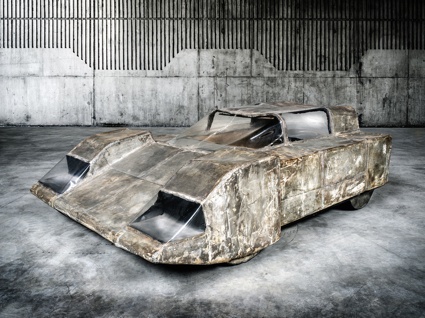 Panamarenko, Prova Car, courtesy collection M HKA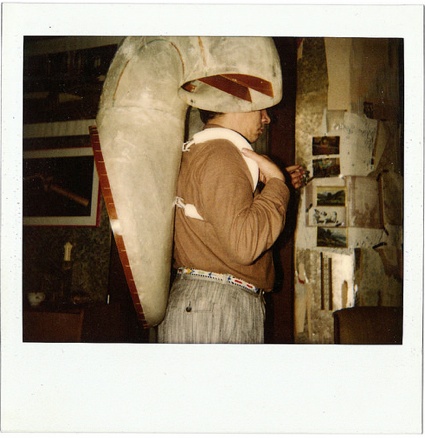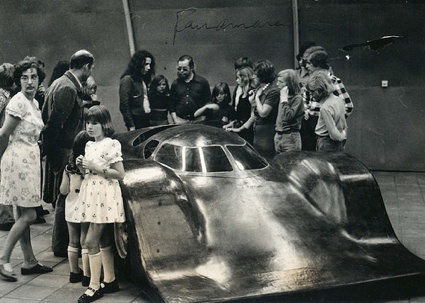 Panamarenko Archive, M HKA, Antwerp, 2014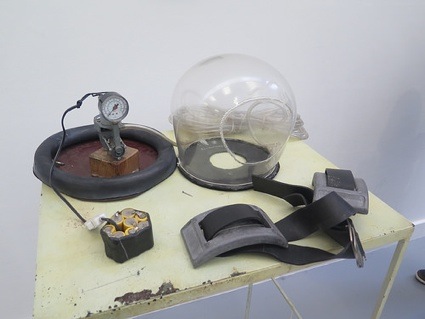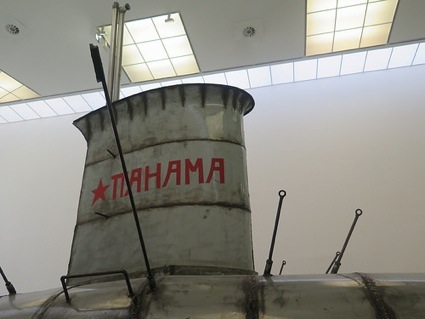 PAHAMA (detail)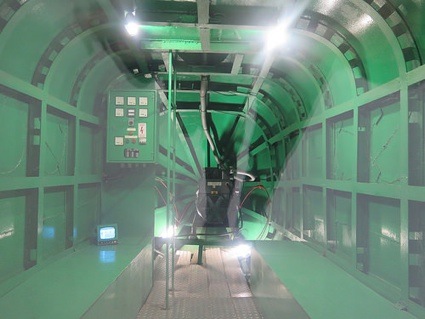 Inside the PAHAMA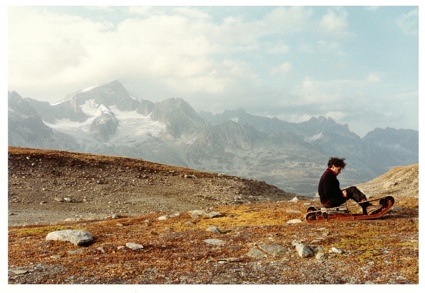 Panamarenko testing his electronic tank. Location: Furkapas. ©image: Panamarenko Archive
Panamarenko Universum is on view at the M HKA in Antwerp until Sunday 29 March 2015.