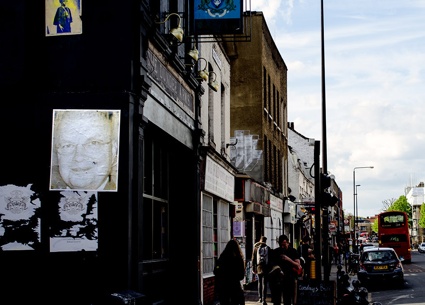 Paolo Cirio, Overexposed (Michael Hayden), 2015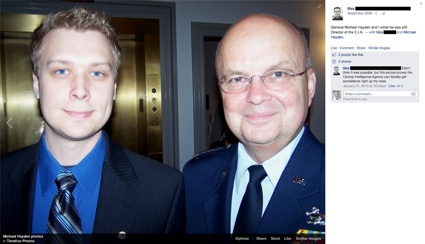 Paolo Cirio, Overexposed (Michael Hayden), 2015
Over the past few months, artist Paolo Cirio has been quietly collecting pictures of high-ranking U.S. intelligence officials on social media. He then blew the photos up using High Definition Stencils (an OS graffiti technique he invented), spray-painted the reproductions of the misappropriated photos and plastered the copies onto the streets of cities like New York, Paris or London.
The individuals targeted in the Overexposed series are some of the officials responsible for programs of mass surveillance or for misleading the public about them. Their names are: Keith Alexander (NSA), John Brennan (CIA), Michael Hayden (NSA), Michael Rogers (NSA), James Comey (FBI), James Clapper (NSA), David Petraeus (CIA), Caitlin Hayden (NSC), and Avril Haines (NSA).
Cirio tracked down these portraits through open-source intelligence (OSINT), an information-gathering method that uses the internet, including social media, as an investigative tool. OSINT is used by government agencies, law enforcement, corporations and people involved in marketing. But activists and journalists are also routinely relying on it for their research. The portraits brought to light by Cirio are photographs and selfies of government officials taken in informal situations by civilians or lower ranking officers.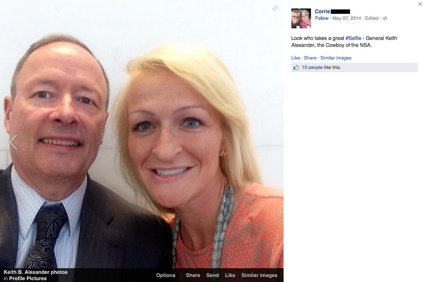 Paolo Cirio, Overexposed (Keith Alexander), 2015
By making private portraits of members of the CIA and NSA part of the public domain, both through his street interventions and the detailed documentation of the research he published on his website, the artist invaded the private life of these government officials (though not as much as they might invade ours) and literally gave a face to U.S. intelligence services. The work holds a satirizing mirror to the people participating to operations of mass surveillance, commenting on the need for public accountability and pushing to its most uncomfortable limits the trends for 'overly mediated political personas.'
Cirio's political satire reverses the contemporary means of propaganda, exposing the extent to which a public image can be captured on camera and exploited by the very same systems that intelligence officials seek to control. Overexposed derides the watchers with embarrassing pictures over which they have lost control, effectively turning the tables on them and their advocacy of mass surveillance and lax privacy practices.
An exhibition of Overexposed is opening tomorrow at the NOME gallery in Berlin (keep your eyes peeled for their programme in the future because they work with some of the most thought-provoking artists engaging with digital technologies) so i contacted the artist to get more details about the series: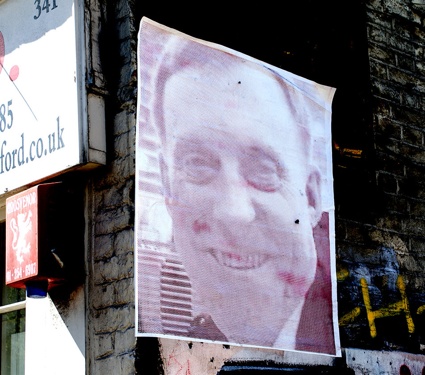 Paolo Cirio, Overexposed, (Michael Rogers), 2015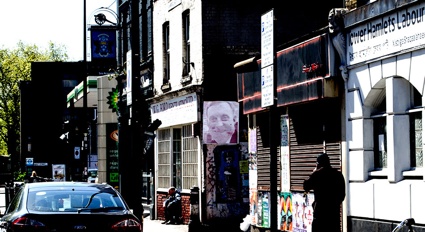 Paolo Cirio, Overexposed, (Michael Rogers), 2015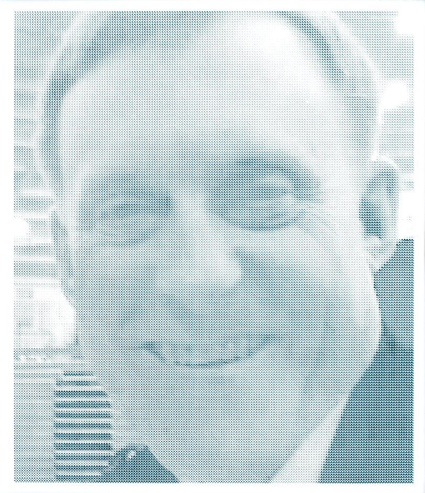 Paolo Cirio, Overexposed, (Michael Rogers), 2015
Paolo Cirio, Overexposed, (Michael Rogers), 2015
Hi Paolo! To be honest, when i first read the description of the project, i was expecting some blurry portraits and no name at all. But in the series you go full on: the individuals are very recognizable and their identity is given. Do you expect to get into trouble with this work?
The legal question is not really about the officials because they are public figure, so the use of their photos fall under parody laws and free expression. The controversy is actually about the ownership of those photos and from where they were obtained, in most of the cases the selfies were taken by civilians, random people or acquaintances of the intelligence officials. On my website you can find the original photos where you have the individuals together with officials in the snapshot taken with smartphones and uploaded directly on the social media. I think so far they still don't know that their pictures ended up on public walls around the world. I don't know how they will react yet, the project was published just a few weeks ago.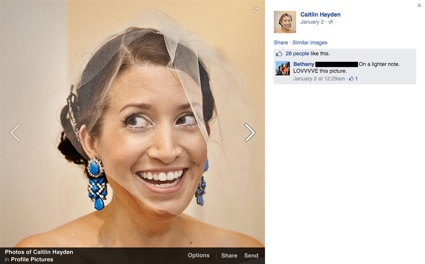 Paolo Cirio, Overexposed (Caitlin Hayden), 2015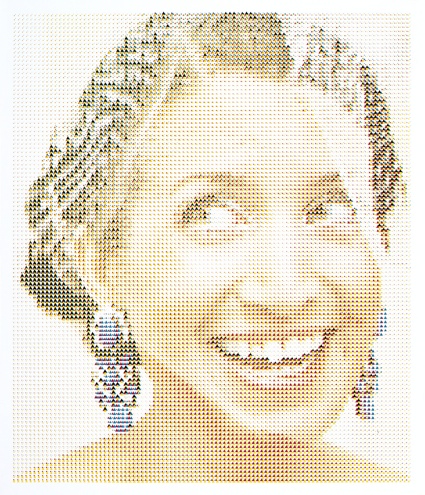 Paolo Cirio, Overexposed (Caitlin Hayden), 2015
And since you actually have a history of getting into trouble with your work, could you explain us which part these (mis)adventures, legal threats, cease & desist play into your work?
It's not just about getting in troubles, instead it's about generating legal reactions that reveal contradictions on the inadequacy or abuse of the laws that I want to criticize. In same cases, confronting the subjects of my performances on the legal terrain lets everyone understand which are the actual power structures that generate particular social conditions.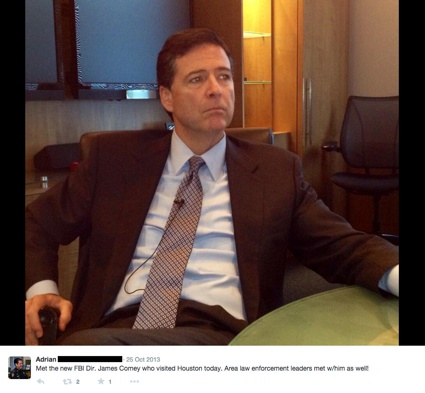 Paolo Cirio, Overexposed (James Comey), 2015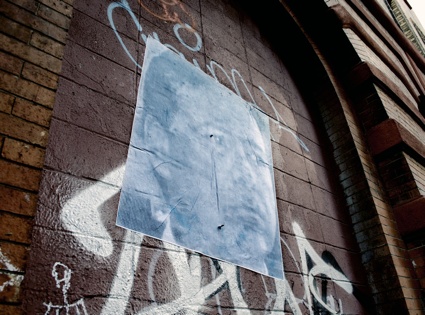 Paolo Cirio, Overexposed (James Comey), 2015
According to the press release, you used your HD Stencils graffiti technique and spray-painted hi-re reproductions of the photos onto public walls. How do you select the locations for these street interventions?
I paste these reproduction of photos mainly in popular street art locations, where people often take pictures that end up on the social media again. This exposes these officials even more through having their pictures in recirculation on the social network with the glamour of the street art.
And how do you go from street graffiti to art gallery? Do you feel that your work, and these stencils in particular, gets another meaning or has to be framed in another way when you change the exhibition context from public space to white wall space?
Beyond the public art interventions made for a wider public, I'm interested in formalizing the pieces as pop art and appropriation art, bringing them in the realm of the art world, which for me it is also a distribution system. Eventually they became historical portraits of figures that mark our time of expansion of cyber-warfare and astonishing programs of mass surveillance, which hopefully we will only remember as an awful war against civil society of the past. Also my technique HD Stencils offers very particular aesthetic qualities that can be fully appreciated with maximum perfection of the works made for the art gallery.
Thanks Paolo!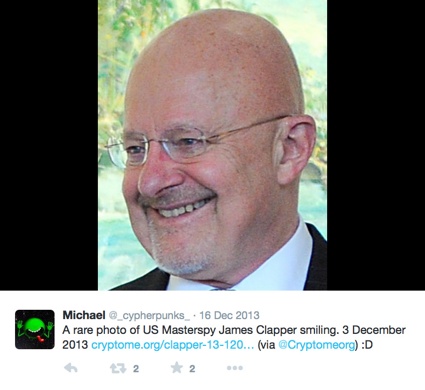 Paolo Cirio, Overexposed (James Clapper), 2015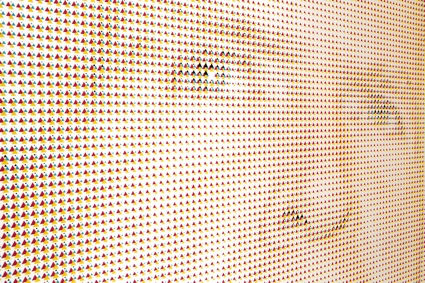 Paolo Cirio, Overexposed (John Brennan), 2015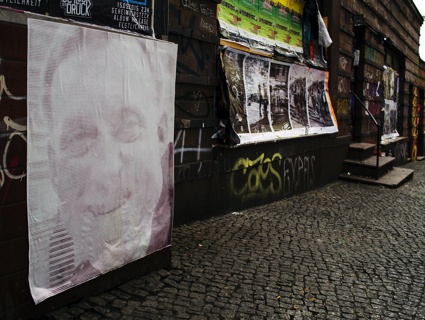 Paolo Cirio, Overexposed, 2015
The exhibition Overexposed opens at the NOME gallery in Berlin on 22 May and remains on view until 20 July.
A detailed catalogue of the show is available for download (PDF.)
Previous mentions of Paolo Cirio's work on the blog: Unstable Territory. Borders and identity in contemporary art, Cultural Hijack, Notes from WJ-Spots Brussels, History and future of artistic creation on the Internet and The Digital Now – 'Drones / Birds: Princes of Ubiquity'.