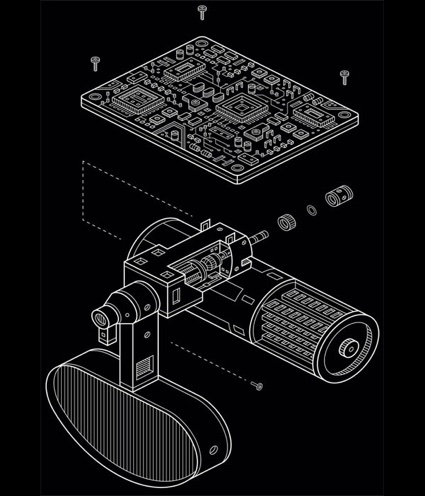 Malik Thomas, Football Engineering Images
This Friday, the National Football Museum in Manchester is opening a new season of commissions, artists residencies and artefacts. One of the highlights of the programme is Out of Play: Technology & Football, an exhibition that explores the impact that new technologies have in the development of the game but also on the way it is experienced by fans around the world.
Out of Play: Technology & Football brings together works by designers, artists, scientists and fans who explore and demonstrate how football and new technology overlap in today's society.
The works on show range from a robotic soccer robot to the Soccket energy generating football, from the ever irresistible and painful Leg Shocker to the world premier of Jer Thorp's immersive installation The Time of the Game. The result is an interactive exhibition that brings into a highly popular museum an entertaining but also critical and provocative view of the impact that technology has on 'the beautiful game.'
The show opens tomorrow and i'm looking forward to visiting it in a couple of weeks. But in the meantime i caught up with curator John O'Shea. You might remember John from his work as an artist. When he isn't busy growing Pigs Bladder Football from living animal cells and developing his other artworks, John is the Art Curator and Head of visual art programme at the NFM. He has spent the past two years embedded in the museum with the goal of establishing an art and technology exhibiting and learning programme from scratch.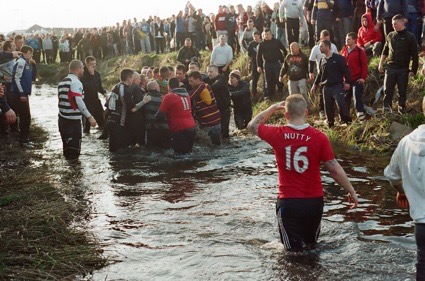 Uppies and Downies. Image credit ©stuartroyclarke @homesoffootball
Hi John! First of all what can technology do for football? How does it impact the game itself on the football pitch? Excuse my very boring remark but it's always the same game of men running after a ball after all…
Over the past few years, some interesting questions related to technology and football have emerged. For example, during last year's world cup, goal-line technology was introduced following many debates around whether or not football should remain this 'primitive' game or whether technology should intervene on the field.
Connecting with these concerns, last year, the National Football Museum commissioned James Bridle to write a piece about it. In his essay, Spectacular Sports Visualisations, Bridle analyzes football and computer vision technology.
We also collaborated with the festival FutureEverything on a body of works that looks at the intersection of data and football. The commissioned work was the Winning Formula futuristic newspaper by the Near Future Laboratory.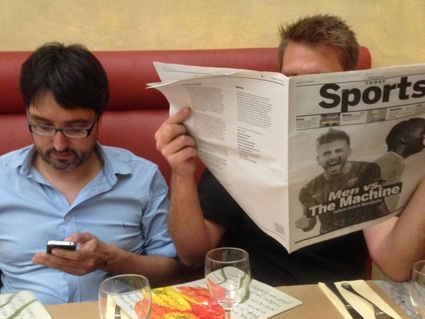 Near Future Laboratory, Winning Formula newspaper. Photo by Fabien Girardin
But even data and computer vision fit a conventional story of technology, it's about control, about making the game more consistent.
The exhibition Out of Play is different, it's not about showcasing the latest advances of technology but about looking at the more unusual points where technology and football are intersecting. And the outcomes are often weird, unfamiliar.
The Time of The Game is the major new commission which will be presented within the museum's immersive, 180 degree wrap-around, cinema space. Developed by Jer Thorp with Teju Cole and Mario Klingemann, the work brings together almost 2000 photos made by football fans at the same time as they were watching last year's World Cup. The images show private spaces, public spaces, pubs, etc. Most were taken inside people's homes. What they show is a communal moment shared by people from Nigeria, Brazil, England…. Smartphones equipped with cameras are now almost ubiquitous, you find them everywhere even in poorer countries and it's that technology that makes it possible to represent this moment shared globally by football fans.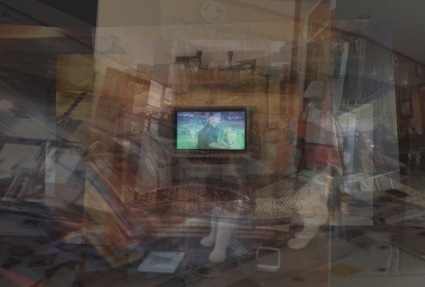 Teju Cole, Jer Thorp & Mario Klingemann, The Time of the Game – a synchronized global view of the World Cup final
There is also a lot of humor in the show. We sometimes forget that football is fun. During our exchange of emails you mentioned the rather unpleasant coverage that FIFA is having at the moment. Do you think this will somehow reflect on the exhibition? (no need to answer this one if you feel the question is irrelevant)
The National Football Museum is an independent museum that tells the story of football in England from the perspective of the fans. The scrutiny FIFA is coming under is not really a surprise for fans as many have been dissatisfied with the federation for years. And this crisis only highlights the poignancy of a work like The Time of the Game.
The reason for this title is that we are looking for a common ground between art and football. (There aren't many!) But one of them is that both football and art have origins in play, they're both about introducing play into something. And in football, just like in art, it is important sometimes to remember not to take things too seriously.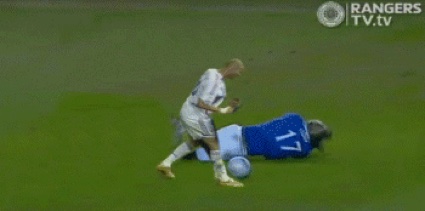 Jason Eppink, We Tripped El Hadji Diouf (Yabanjin, Feb 06, 2011 07:46)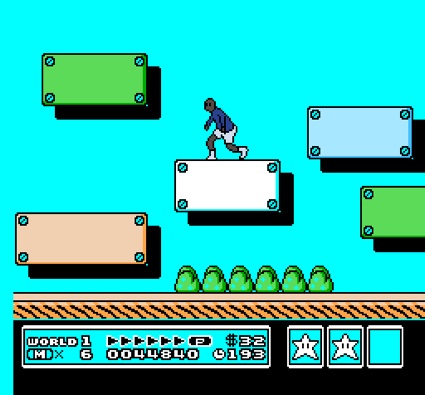 Jason Eppink, We Tripped El Hadji Diouf (Shmorky, Feb 07, 2011 23:17)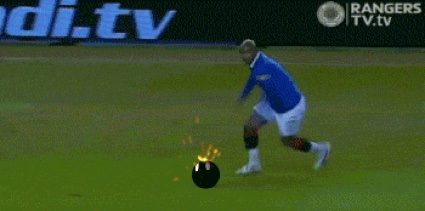 Jason Eppink, We Tripped El Hadji Diouf (Kieselguhr Kid, Feb 06, 2011 06:28)
The Humanoid Soccer Robots?! You're going to show them? a whole team? Will they be playing?
With the art programme, we want to broaden the scope of what the museum displays and collects so we've been developing new collaborations and partnerships for the future. Plymouth University is one of those partners. They are the leader in the UK in humanoid soccer robots and participate to the competition organised by the Federation of International Robot-soccer Association (FIRA) since 1997. The robots might look a bit basic but the ultimate goal of the competition is to have them challenge a team of human football champions by 2050. This might sound outlandish but if you think about it, Deep Blue defeated Garry Kasparov in 1997. No one would have imagine it was possible 35 years before the chess match.
For the exhibition, we will have one of the robots on display and the Plymouth robotic team will come and do a demo (no precise date yet.)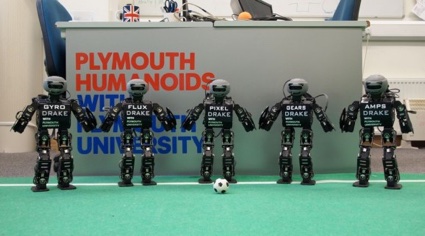 Humanoid robot team made by Plymouth University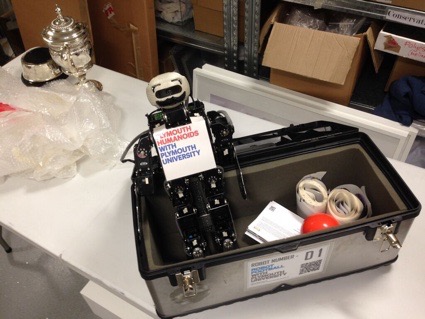 Humanoid robot footballer made by Plymouth University. Image courtesy the National Football Museum
The robot will actually be shown in the same display as Soccket and Leg Shocker. So that's science, art and design, all in the same display. The energy generating ball might look a bit silly but the premise is interesting. Imagine it used in refugee camps for example. Children would play and generate electricity through kinetic action. The third work in the display is Fur's art piece. By new media standards, Leg Shocker is almost an antique. As a museum, we want to be able to collect new media works related to football. As we go along with the art programme, the team here is learning a lot: how to maintain these media works, what role they play as provocative objects, etc.
Fur, Legshocker. Enhanced PlayStation2 Controller, 2002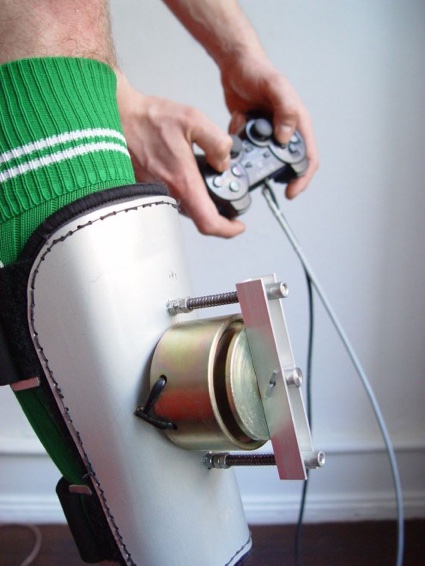 Fur, Legshocker. Enhanced PlayStation2 Controller, 2002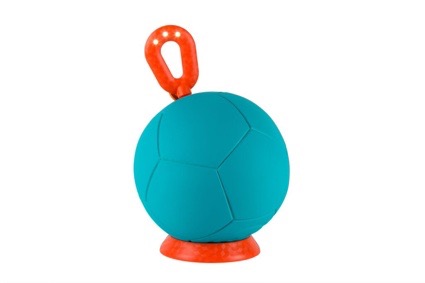 Uncharted Play, Soccket
Could you talk to us about World Scratch day, a series of football-based computing activities aimed at introducing children to code. How does it work? How exactly do kids use football to learn code?
Scratch is a programming language developed by MIT. We used the World Scratch Day to enable visitors and communities to get hands-on with technology and make computer games.
Over the course of the day, 80 children in groups of 6 or 7 came to the museum and were able to create simple animation works related to football, make simple games or work with Sonic Pi software to make their own version of the match of the day theme song. It was like a little hackathon for kinds. Ultimately, what we'd like to do is see groups come and use the museum over the weekends to learn some coding.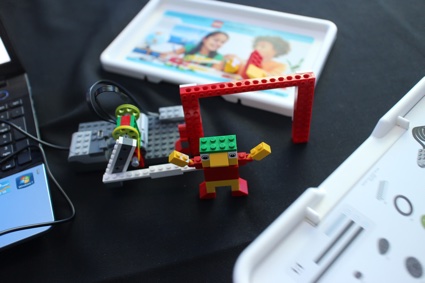 World Scratch Day at NFM. Photo National Football Museum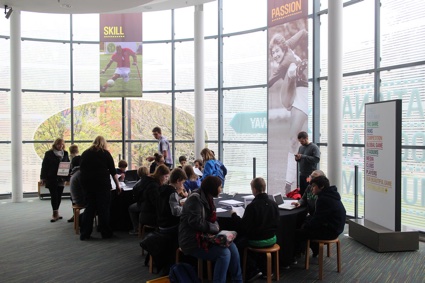 World Scratch Day at NFM. Photo National Football Museum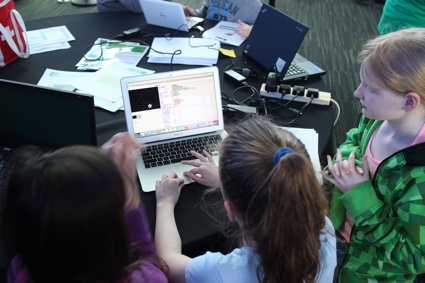 World Scratch Day at NFM. Photo National Football Museum
Next, i saw that artists are in residency at the NFM. Can you already tell us about their work there? What makes the robot lawnmower an artwork rather than just a robot lawnmower, for example?
We commissioned 4 artistic residencies that enable artists to develop works related to football clubs or to the communities around football. So far, artists were (unsurprisingly) more interested in working with more unusual communities than with football clubs.
Matthew Plummer Fernandez was curious about lawn mowers with computerized systems to design patterns on football pitches. Forest Green FC already has a robotic lawnmower which has its own algorithm for cutting the grass, it 'decides' which areas need to be cut more, which ones need to be cut less. It creates its own version of a field. Matthew wants to understand better the algorithm on board o the lawnmower and then create an online identity for this lawnmower and make it 'the 12th man' of the team.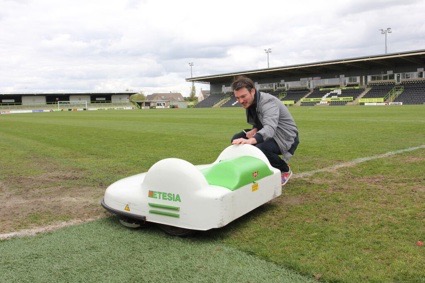 Matthew Plummer Fernandez with robot lawnmower. Image courtesy of the National Football Museum
The other residency has Jen Southern and Chris Speed were interested work with Workington Uppies and Downies. Uppies and Downies is an ancient version of football – a game with no rules. Thousands of men try to move the ball in a scrum up the hill or down to the harbour. The artists placed GPS trackers on some of the men and will be making work based on the data obtained.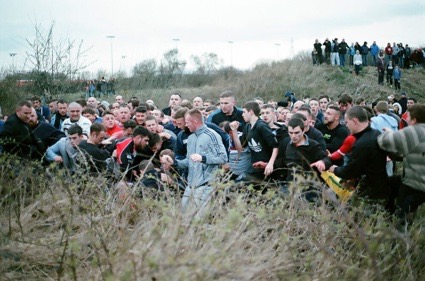 Uppies and Downies. Image credit ©stuartroyclarke @homesoffootball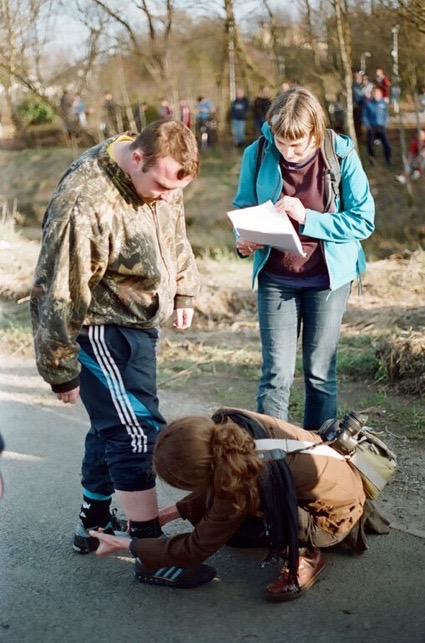 Uppies and Downies. Image credit ©stuartroyclarke @homesoffootball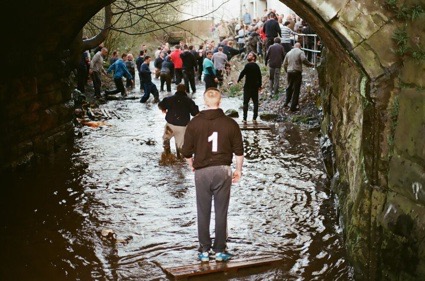 Uppies and Downies. Image credit ©stuartroyclarke @homesoffootball
Now i'm also curious about your own work at the museum. You head a rather edgy art program in an institution that doesn't usually cater for the traditional art crowd. I think this is a great opportunity you have there! i'm quite jealous. But how do you navigate the desire to show good art and the need to please the 30,000 visitors the museum welcomes each month?
Certain languages, certain conventions are used in established art institutions. At the National Football Museum we have our own etiquette: Interactivity is a given, for example. You can touch things. And the museum is not a white wall space. So the question for me was "How should art fit into this environment?" The challenge here is to exhibit art in a way that is sensitive to both the work and the environment.
The National Football Museum has some challenging displays such as one dedicated to the weapons of hooligans, or football disasters. It also raises critical questions, like the Football Association ban of women playing football on its premises until 1971.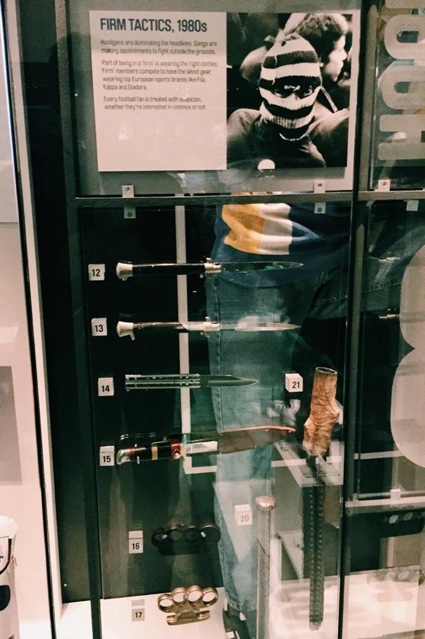 Hooligan knives at the NFM. Photo by Zachary Kaplan
There is sometimes this assumption that making bold statements in an art museum context is going to have a huge impact but often artists are just making a gestures to people already informed about the issue they're trying to address. Basically, the established art community is often just talking to itself. The National Football Museum, I feel belongs more to the public realm and the works in the show have the potential to influence anyone among our visitors, not just a self-selected audience.
Thanks John!
Out of Play opens on 19 June at the National Football Museum, Manchester, UK. It remains open until 19 July 2015.