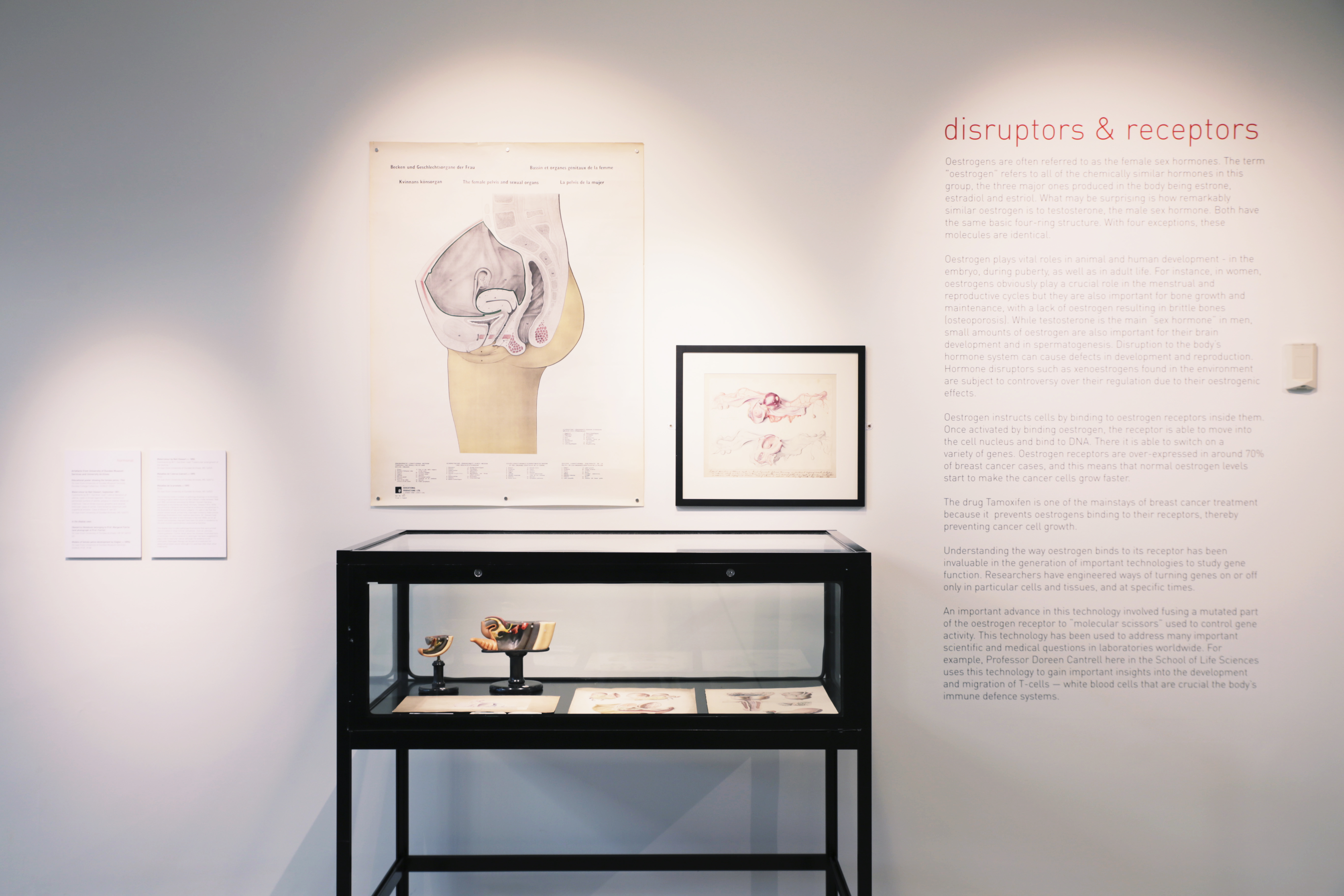 Artefacts from the University of Dundee's Collections

Egstrogen Farms, 2015
The term 'hormonal' is sometimes used as an insult. It is always (ALWAYS!) hurled at women to criticize any behaviour deemed 'hysterical' or irrational. Hormones, however, aren't women's monopoly. They are chemical messengers that regulate most major bodily functions, from breathing to digesting, to sleeping, reproducing or controlling the mood.
Oestrogen, the primary female sex hormone, is one of the most prescribed hormones. Mostly for contraception and in hormone replacement therapy to alleviate unpleasant symptoms associated with the menopause.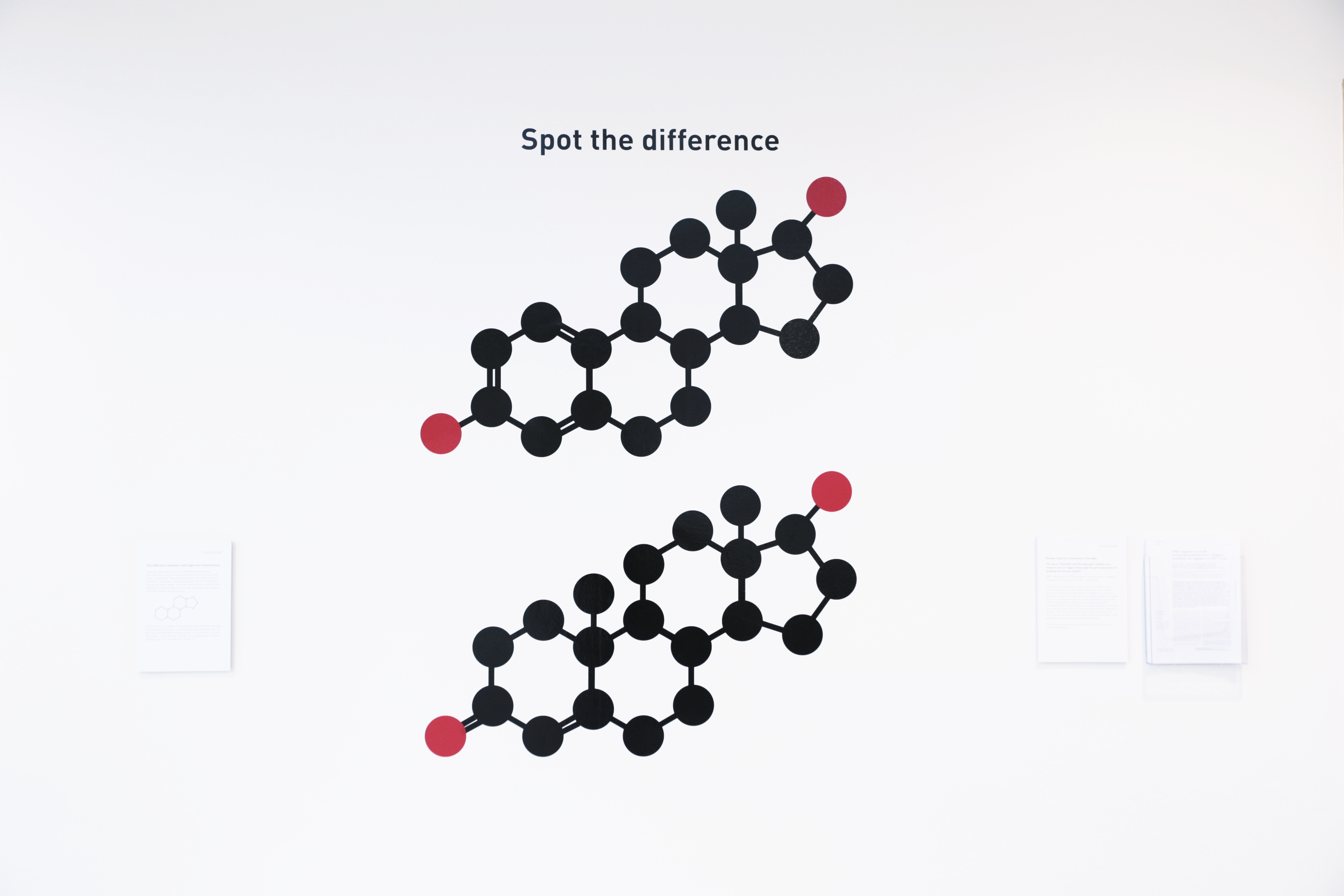 The difference between oestrogen (top) and testosterone (bottom). Courtesy of the School of Life
As the drawing above shows, estrogen is not very different, at the molecular scale, from testosterone, the so-called male sex hormone. The amounts our bodies produce naturally is different, at various stages in our lives, and they also play different roles in our development.
The exhibition Hormonal at LifeSpace Gallery at the University of Dundee brings together work by three women artists who, each in their own witty way, reflect on the hormone oestrogen and how it is understood socially, politically, technologically and environmentally.
The show is not only informative (there is after all so much misunderstanding about hormones around), it also offers a chance to open up a discussion about chemical compounds found in our environment and the impact they have on gender and on behaviour. But it also offered a moment to reflect on the way women are perceived in art and in science, the role they play, the discrimination they still face.
The exhibition closes today but LifeSpace's curator Sarah Cook has some great exhibitions lined up so keep your eyes peeled as i intend to go and visit the space again in the near future. But back to the current one…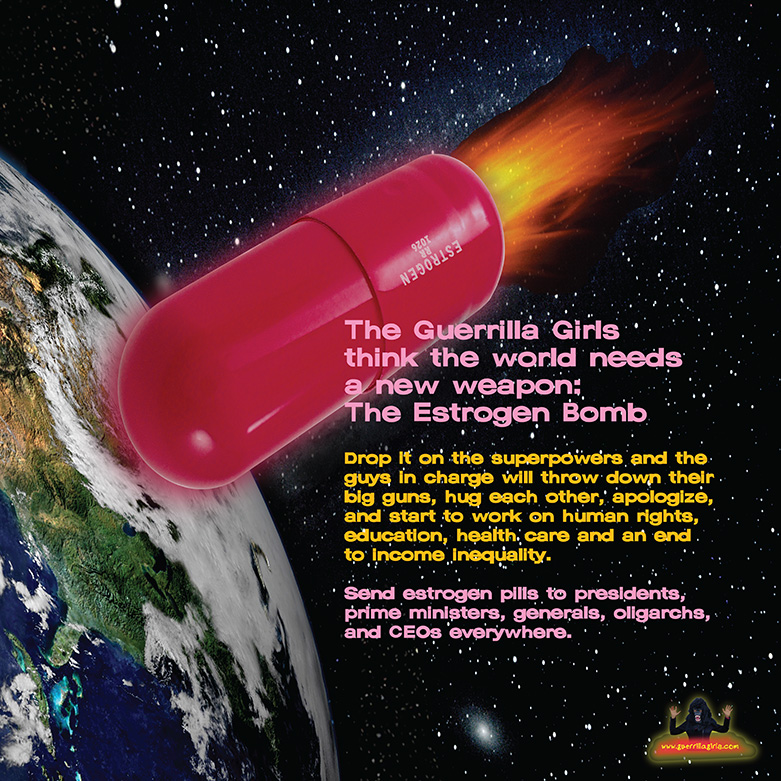 The Guerrilla Girls, the Estrogen Bomb poster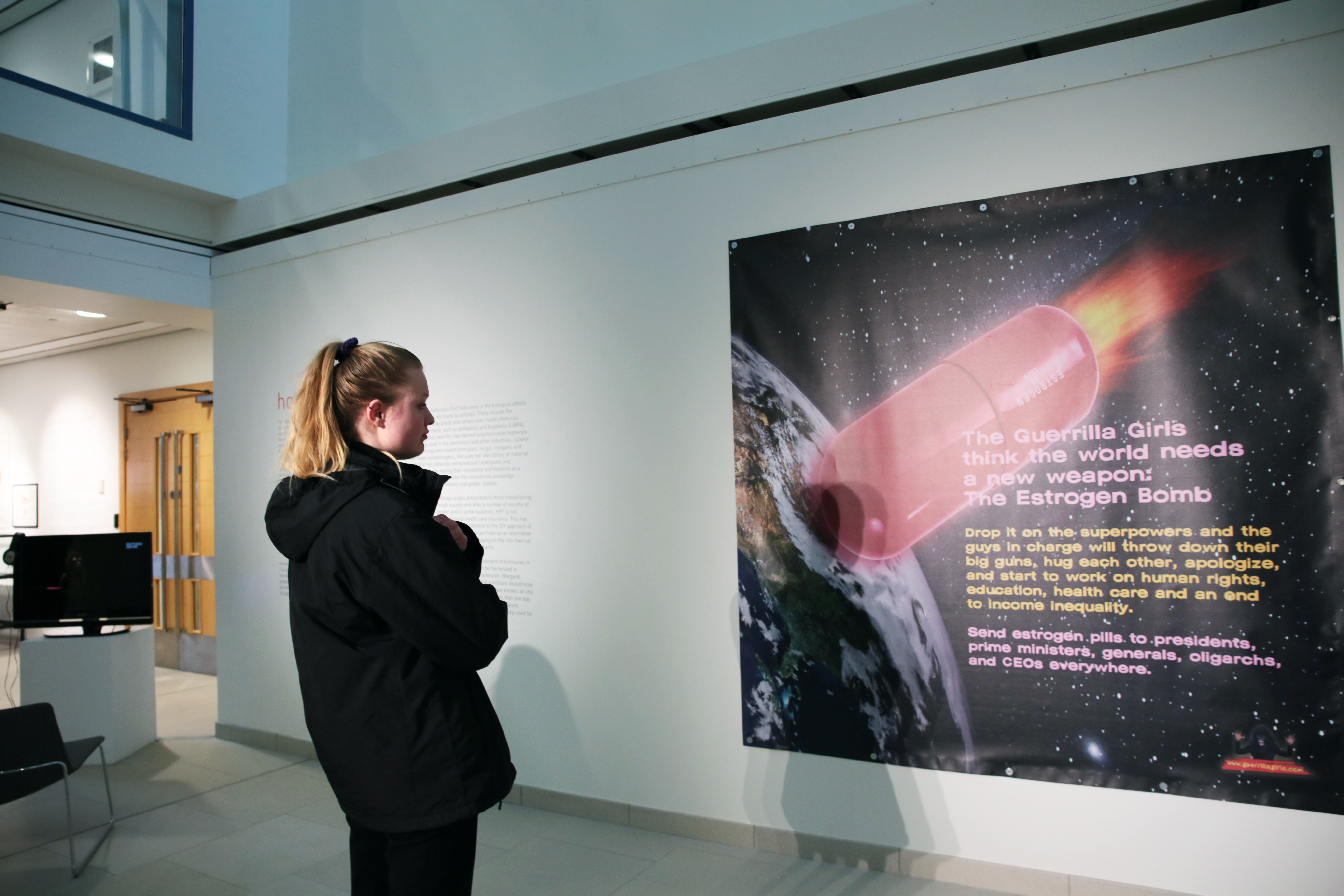 Guerrilla Girls, Oestrogen Bomb, 2008/2016. Photo: Kathryn Rattray
Screened at the exhibition: The Guerrilla Girls's lecture titled 'Estrogen Bombing'
The Guerrilla Girls have been fighting gender and race discrimination since the 1980s.
Their Estrogen Bomb stickers and posters invites those on hormone replacement therapy to send any extra oestrogen pills to world leaders as a way of getting them to tone down their testosterone-fuelled foreign policy.
Their first campaign was launched in 2002 and targeted George W. Bush and Dick Cheney, as the group felt that the politicians' aggressive interventions in Iraq were in need of a bit of feminization.
The background of the work was the scandal related to the possible toxicity of the synthetic estrogens prescribed for post menopausal women. The number of prescriptions dropped, women stopped taking the pills or turned to alternatives and suddenly there were lots of estrogen no one wanted to take anymore.
The project was updated in 2008 for "the 1% trying to take over the world".
Mary Maggic & Byron Rich, Open Source Estrogen: Housewives Making Drugs, 2015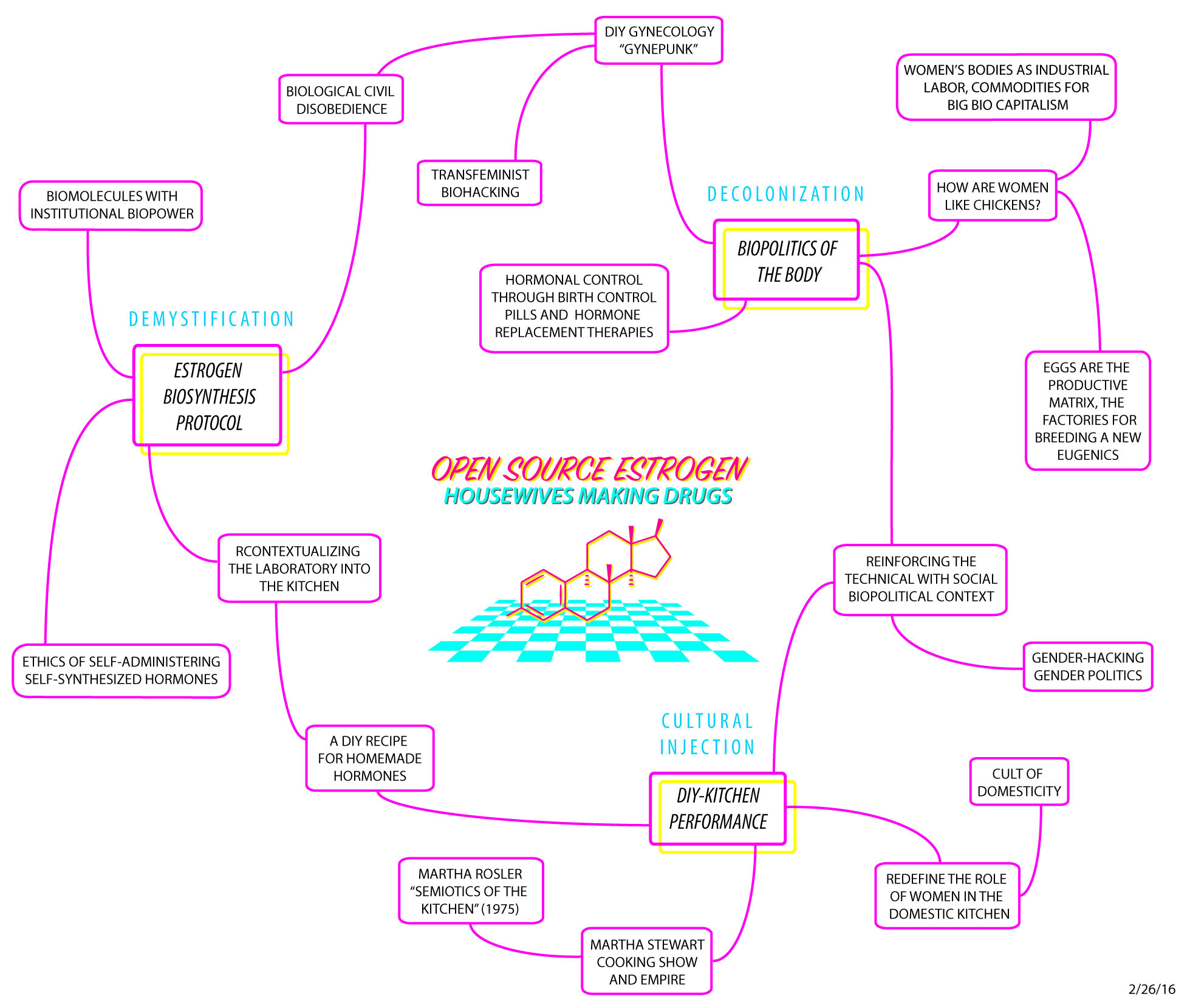 Mary Maggic & Byron Rich, Open Source Estrogen
Artist and biological scientist Mary 'Maggic' Tsang proposed that women (including those transitioning from male to female) start to DIY their own oestrogen drugs in their kitchen. Open Source Estrogen (Housewives Making Drugs) explores not only the possibility of establishing a DIY estrogen protocol that could be replicated by women 'in the comfort of their own home,' it also aims to question how access to hormonal estrogen is currently controlled by governments and by the pharmaceutical industry.
Egstrogen Farms, 2015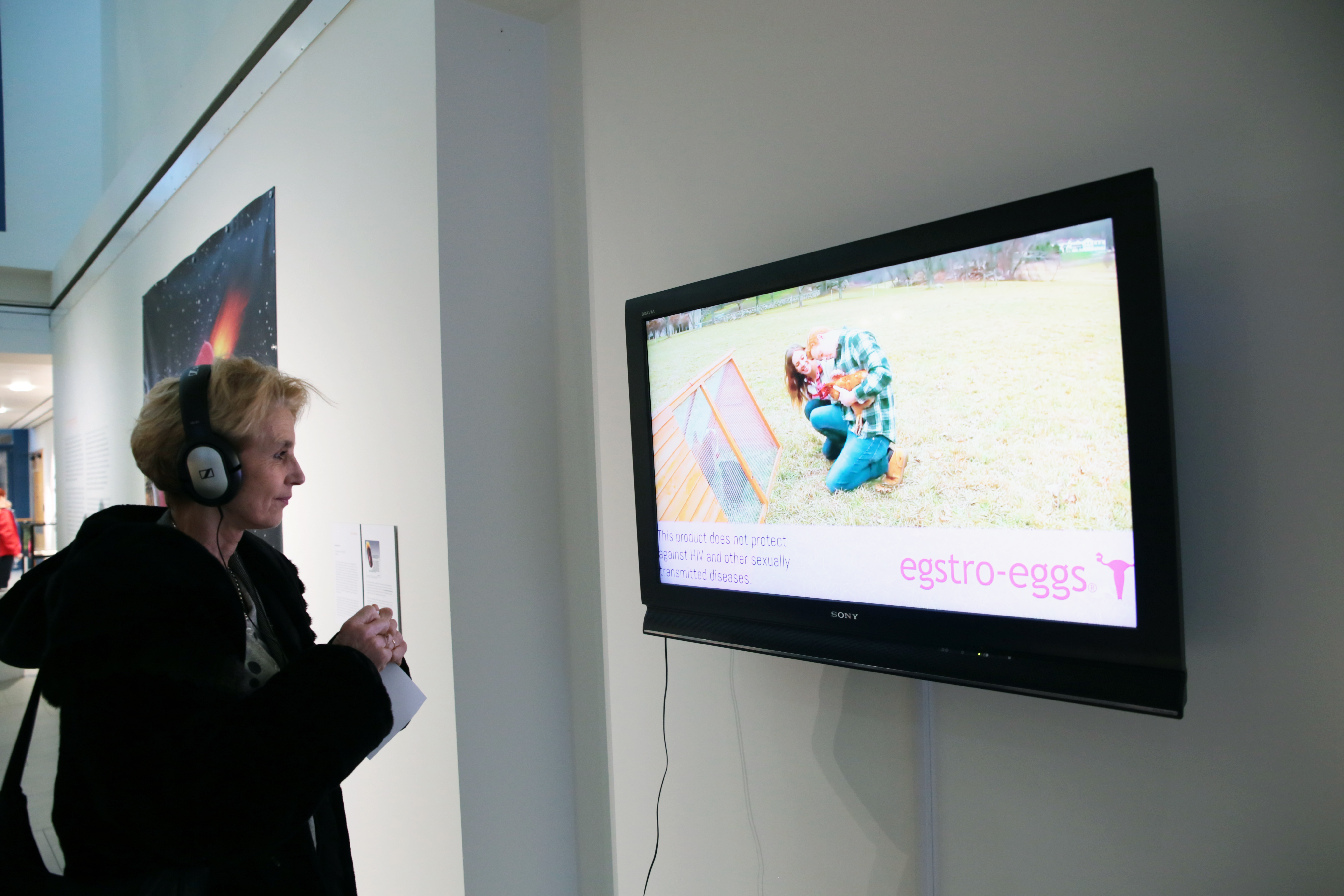 Installation view of Mary 'Maggic' Tsang's work in Hormonal. Photo Kathryn Rattray
Tsang is also showing Egstrogen Farms, a fictional company that produces genetically modified chickens that produce a cocktail of gonadotropins in their egg whites. These Egstro-eggs would be sold in the traditional egg cartons, as routinely as the now mainstream omega 3-enriched eggs. Because gonadotropins stimulate the production of estrogen by the ovaries, these eggs are marketed towards women who are trying to ovulate more frequently, whether they've been trying to get pregnant, or make a living as egg donors for the fertility industry.
The goal of the project is to draw a connection between women and chickens as raw commodities for the biotech industry, as well as perform ways in which women are targeted for bio-consumerism. (…) As avian transgenic technologies become further researched, is it possible to imagine a confluence of the chicken-agro industry and the pharmaceutical industry? In the commercial, farm product language such as"farm-fresh, all-natural" and pharmaceutical caution language such as "this product does not protect against HIV and STDs" are combined together. Egstro-eggs may cause ovarian cancer, but at least they come from happy, healthy, cage-free chickens.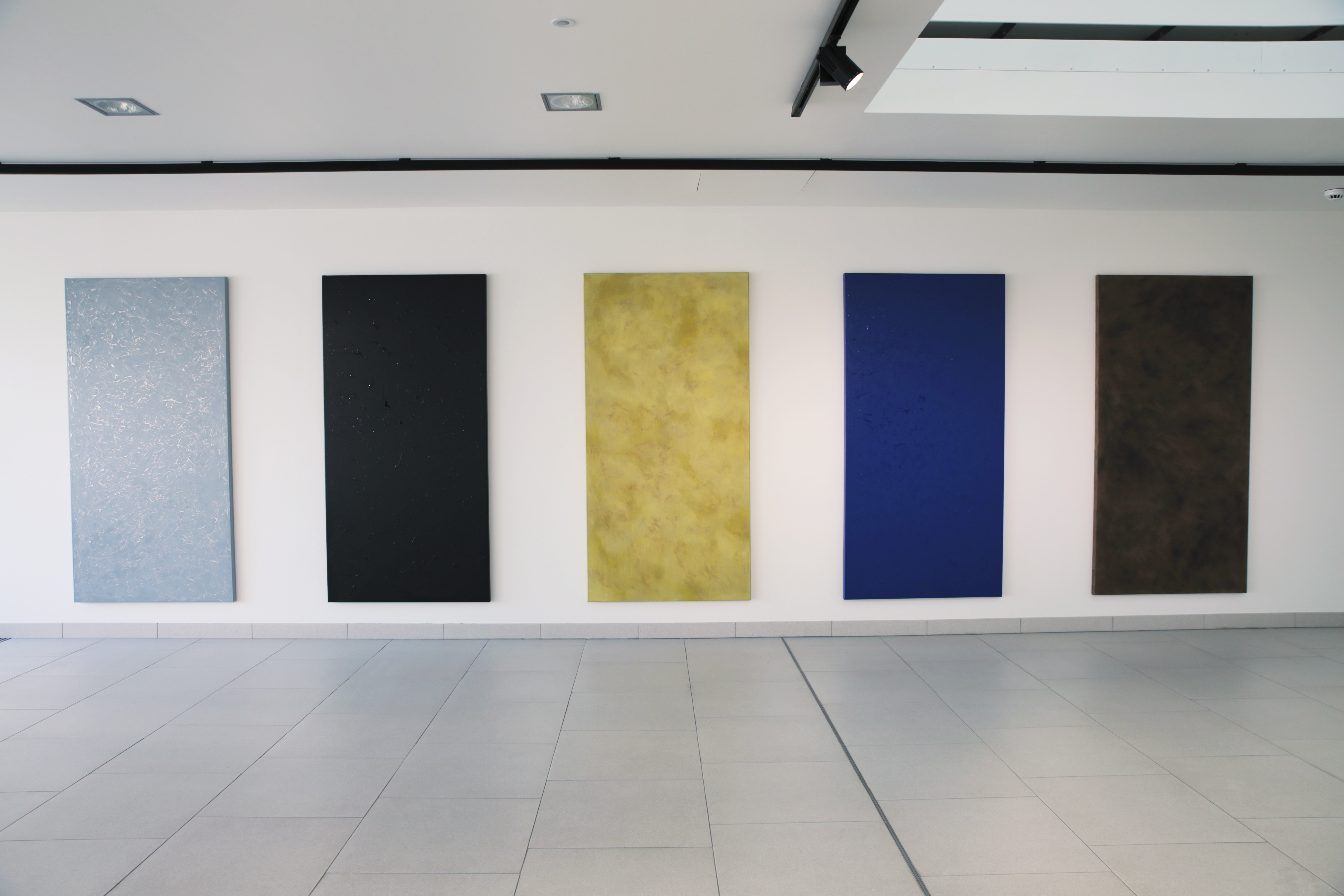 Juliette Bonneviot, Xenoestrogens Series, 2015. Photo Kathryn Rattray
Juliette Bonneviot is showing three of her Xenoestrogen monochrome paintings. Bonneviot's works look like your average minimalist work until you read the list of the components used to make them. The pigments were created by the artist from elements found in the environment: soy beans, recycled plastic, silicone, soft PVC, linen fabric, contraceptive pills, personal care products, pesticides, food colouring, lacquer, recycled plastic, etc. What these organic, synthetic or mineral 'ingredients' have in common is that they all contain xenoestrogens, a group of chemicals which mimics oestrogen. Bonneviot sorted them by colour, grounded them into a powder, mixed them with PVC and silicone and poured the blend onto canvas.
Xenoestrogens are believed to disrupt the endocrine systems of mammals by mimicking the effects of oestrogens, potentially influencing gender and behaviour. Male fish, for example, are showing signs of being feminized due to the increased presence of xenoestrogens in the environment.
The materiality of the paintings is almost anecdotal once you consider the many biological, cultural and philosophical implications of xenoestrogens. If these now ubiquitous hormone disruptors can indeed affect gender and behaviour, it means that we, human and non-human animals, are shaped not only by nature and culture but also by factors such as the industrial production.
That's probably nothing totally new for women who have been chemically altering their biological make-up since they started taking the pills in the 1960's.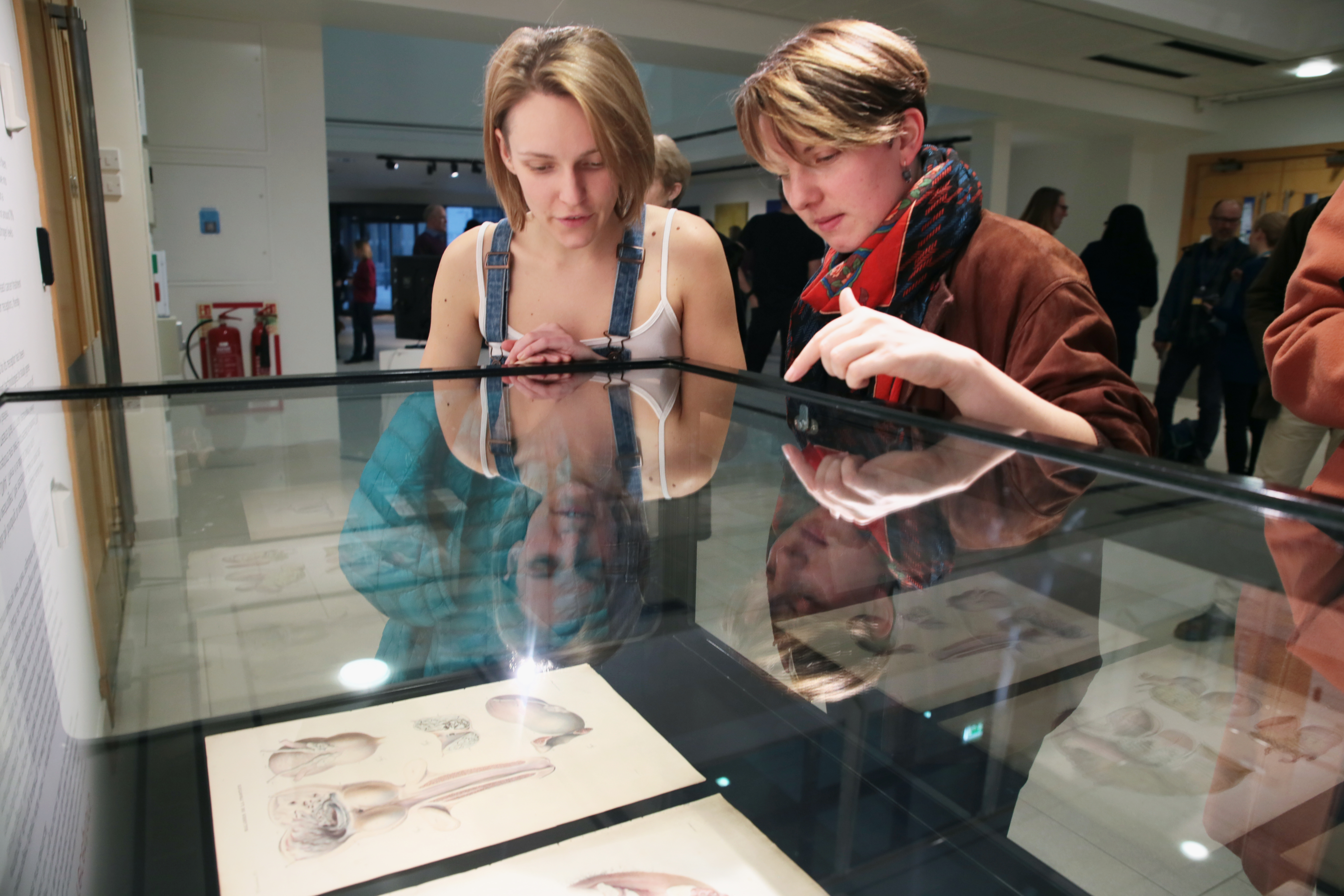 Artefacts from the University of Dundee's Collections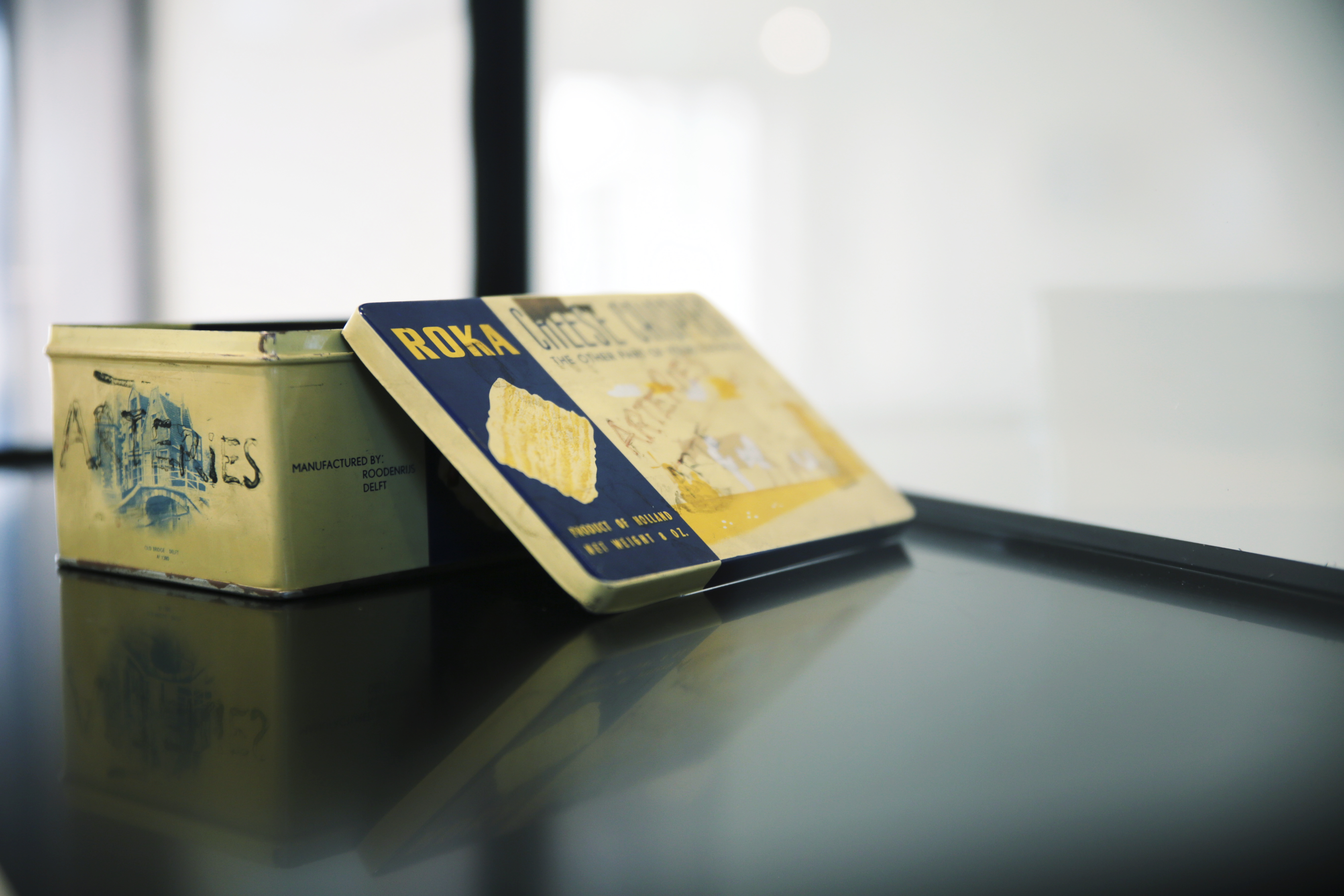 Artefact from the University of Dundee's Collection selected by Juliette Bonneviot. Tayside Medical History Museum Collection, DUNUC 4385
The exhibition also brings the issue of oestrogens into a broader, more historical context. Juliette Bonneviot selected a few artefacts from the University of Dundee Museum Services to accompany her paintings. One of them is a collection of sections of tumours kept inside a biscuit tin and individually labelled by Alan C. Lendrum, Professor of Pathology 1947-72.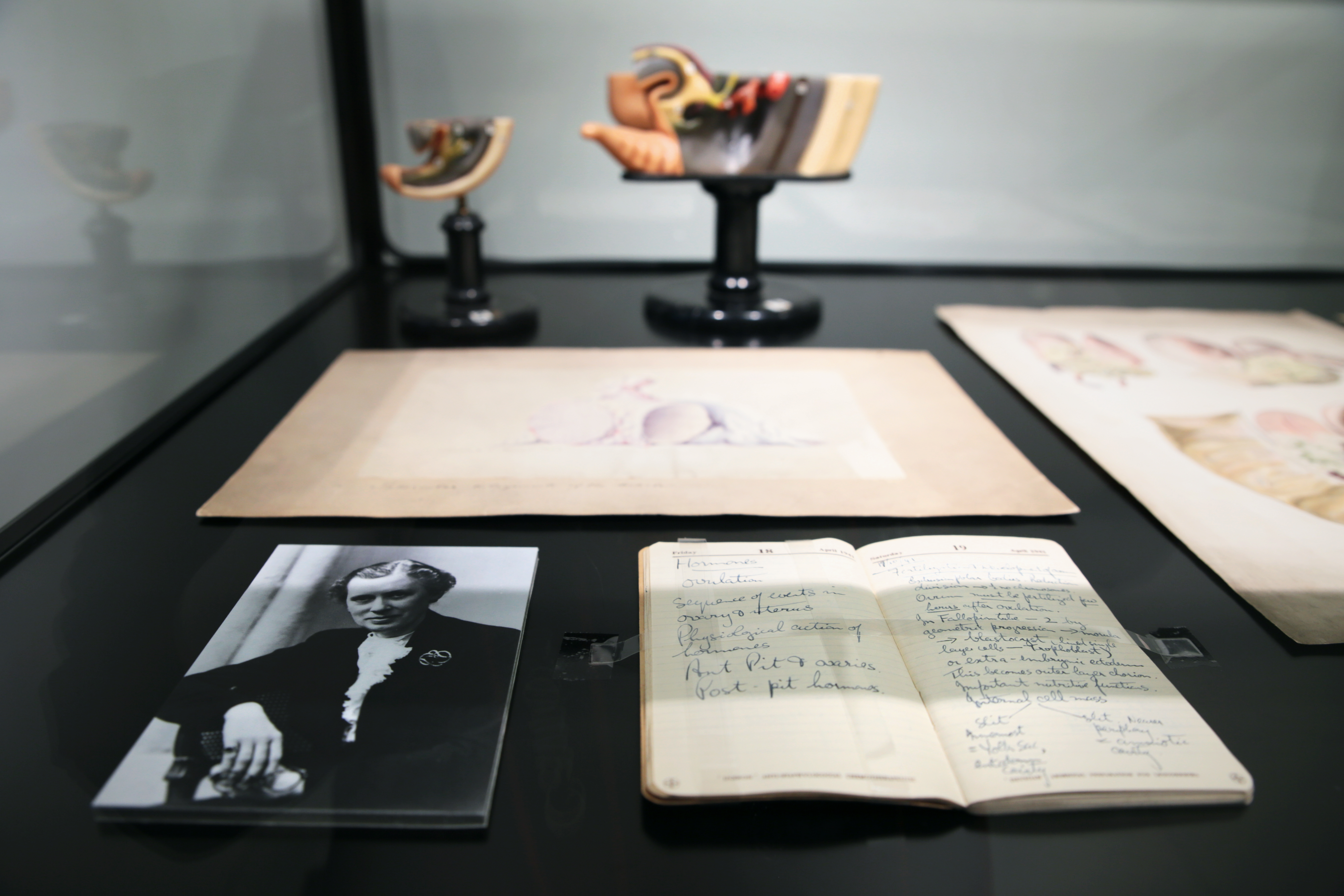 Artefacts from the University of Dundee's Collections
Another series of objects paid homage to Dundee obstetrician Dr. Margaret Fairlie (1891–1963).
Fairlie, who spent most of her career working at Dundee Royal Infirmary and teaching at the medical school at University College, was one of the pioneers in the treatment of ovarian cancers.
Inspired by her visit of the Marie Curie Foundation in Paris in 1926, she started looking into the clinical applications of radium. She used it in the treatment of malignant gynaecological diseases and thus pioneered its clinical use in Scotland.
Fairlie is also an important figure in the history of women and science because in 1940, and despite the reluctance of some (male) members of the academic community, she became the first woman to hold a professorial chair in Scotland.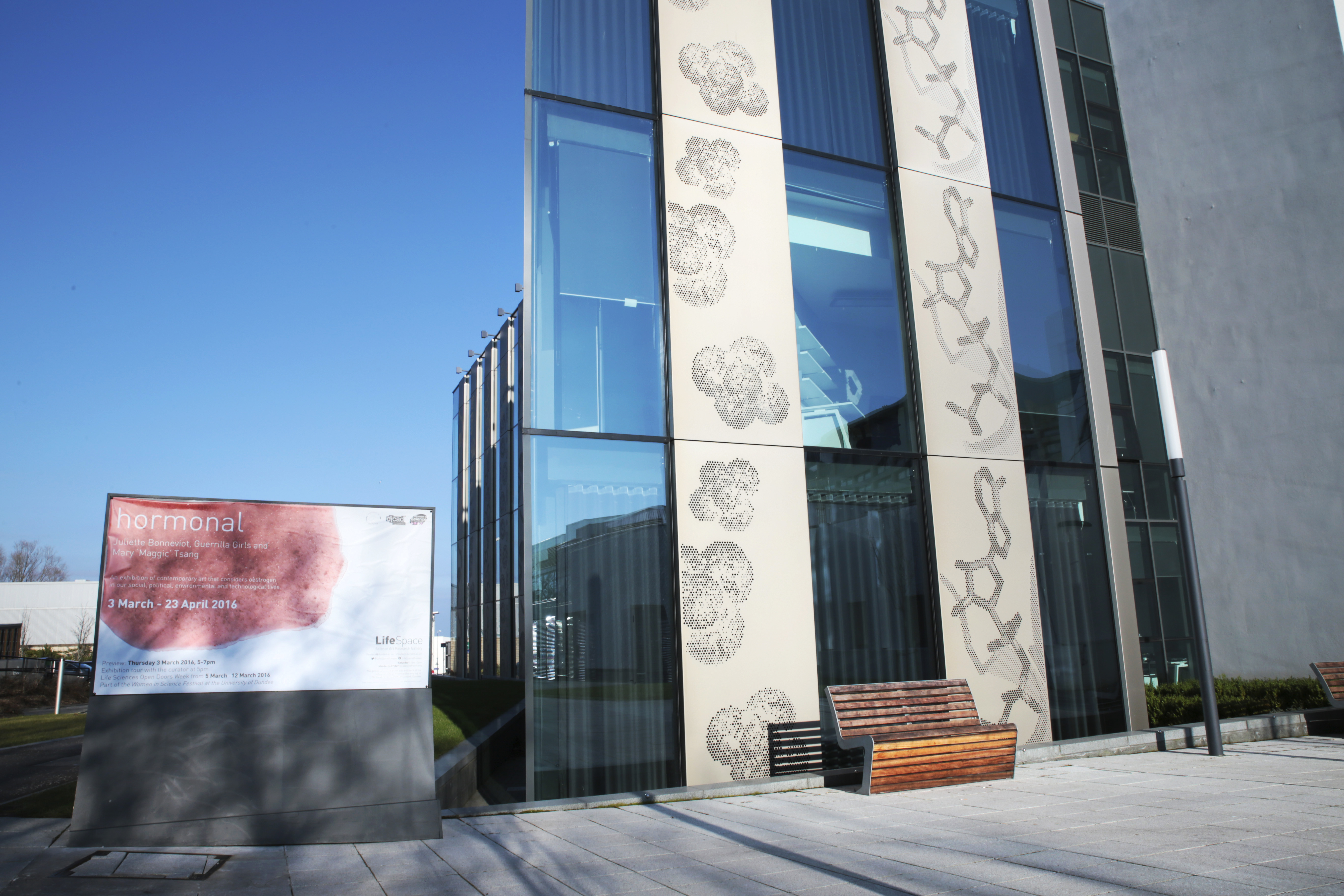 Professor Elaine Shemilt, Scales of Life on the facade of the building

General view of the exhibition at LifeSpace
Hormonal was curated by Sarah Cook. The show runs at LifeSpace in Dundee, Scotland, until May 28th. The gallery is open every Saturday from 11am-5pm or by appointment.
LifeSpace is a research-driven gallery space and programme that seeks to engage artists and scientists in dialogues and communicate the broad spectrum of life sciences research. This gallery space is curated as a collaborative partnership between researchers from Duncan of Jordanstone College of Art and Design and researchers from the School of Life Sciences.