Art collective POSTGEN is looking for politically motivated artists who would like to join forces to express themselves on a show at Track 16 Gallery in Santa Monica, on Friday October 1st.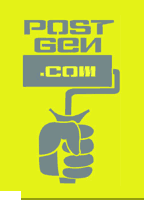 The idea is to allow artists to express their political (or anti political) views: love bush, hate bush, (not) gonna vote, love kerry, hate kerry, love nader, hate nader, don't care, scared, etc.
They need 50-500 copies of artists's work to distribute during evening festivities. Works may include offset posters, stickers, music CD, videos, pictures, letter press, teporary tattoos, wood cuts and whatever artists have duplicated.
Deadline to submit the work is September 27th.