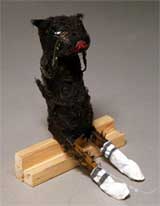 You left me no other action / cool off whiner, 2004

After Aix en Provence i'm in Turin for Artissima, the contemporary art fair. Not as exciting as the previous years but there're still a few discoveries i'd like to share with you.
Starting with Canadian artist Jon Pylypchuk whose psycho puppies were pretending to behave kind of decently on the floor of the Alison Jacques Gallery booth.
The fugly pets are made using mostly trash materials: scraps of wood, bits of fabric, felt, fake fur, glitter, and glue.
erections pointing at stars and angels, 2004