NTT Communications and Tmsuk have begun testing the RFID-guided shopping assistant robots at a shoping mall in Fukuoka. The robots read RFID tags embedded in the floor to get information about their location . They also carry your shopping bags and provide related sales information when they arrive at their destination.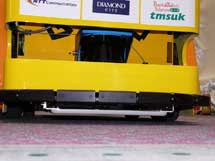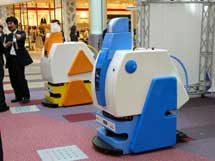 Once you've selected a store on the touch panel, the robot accompanies tyou there, reading some 5,000 smart tags embedded in the floor and relying on its sensors to detect and avoid other shoppers. Some sales items in stores have individually RFID-tagged, allowing the shopper to get product information by holding the item near the robot display. Shoppers carry active tags that announce who they are, and the robot reads the information from the tags and responds only to valid registered shoppers. In addition, shoppers can put their belongings in the robots security box and the active tags are used to lock/unlock the box.
Online shoppers will be able to interact with store personnel via a camera on the robot to get a better understanding of the merchandise offered and communicate with the sales persons through videoconferencing. When a sales agents show a sales item to the robot, the robot recognizes the product and shows a relevant information on the screen of the remote shopper.
Plenty of images.
Via RFID in Japan, and more details about how it works.