It might appear that London doesn't spare much thought for art & technology. The capital doesn't host any institution specifically dedicated to art & technology, like FACT in Liverpool. Nor does it have a media art festival with an international reputation such as FutureEverything in Manchester, or the AV Festival in the North East of England.
But look closer, and you'll realize that there's no reason to despair: Furtherfield has recently moved to Finsbury Park and has inaugurated its programme of exhibitions with Being Social (i should come back to it soon-ish), Arts Catalyst does a remarkable job of facilitating the meeting of artists and scientists. Speaking of which, you should check out Hexen 2.0 at the Science Museum.
But the best thing about London is that this week you can get your art & tech fix in several galleries. They don't label themselves nor their artists as 'new media' and that's nothing i'm going to complain about.
So here's a handful of exhibitions i saw last week: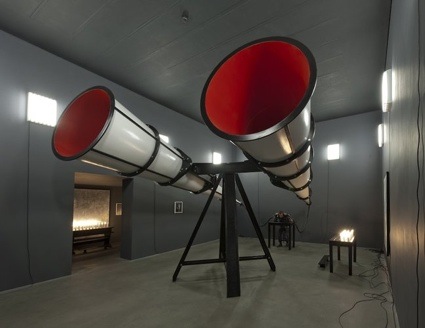 Thomas Zipp, POLYMORPHOUS ORATORY, 2012
For his exhibition 3 Contributions to the theory of mass-aberrations in modern religions, Thomas Zipp has filled one of the rooms at Alison Jacques Gallery with oversized conical ear tubes. Place yourself at the back of the room, grab the ear pieces and try to figure out what the sound can be or where it comes from.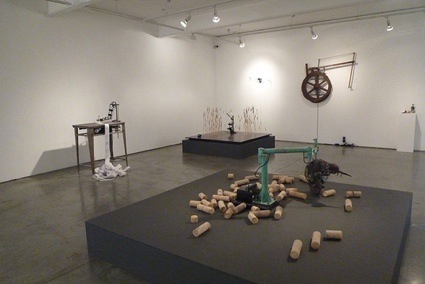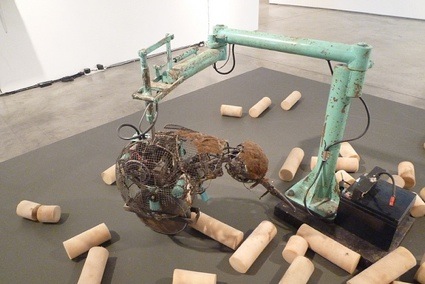 Tim Lewis, Jetsam, 2012
I've been waiting for the exhibition Tim Lewis – Mechanisms at Flowers since i discovered his work at the Kinetica Art Fair. Most of his kinetic sculptures are worth the trip to Kingsland Road but i particularly liked Jetsam, the kiwi bird quietly picking bits of foam to build its a nest. Solely encompassed in its own world it does not react to human interference. However, Jetsam is aware of its position/location within the limit of its circumference which is defined by the radius of the robotic arm. Establishing its coordinates and stumbling across found materials which Jetsam then relocates in a pre-defined spot.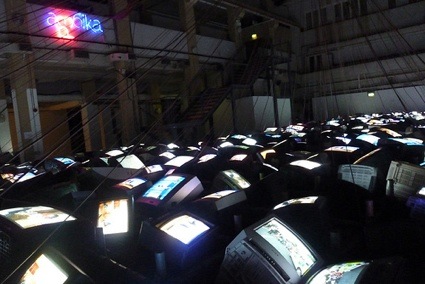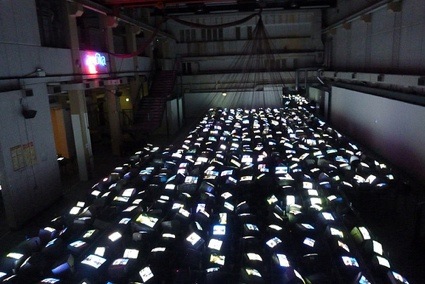 David Hall, 1001 TV Sets (End Piece), 1972-2012
Right now everyone in town seems to be talking about David Hall's show at ambika p3, in particular an installation which celebrates in the noisiest way the last days of analogue TV in the UK.
The video art pioneer 's new work, 1001 TV Sets (End Piece), contains 1001 cathode ray tube TV sets tuned to one of five analogue channels still being broadcast from London's Crystal Palace. I happened to visit the exhibition while soap opera and cooking shows were on. The ménage à trois unfolding on some of the screens was fairly amusing, but seeing bits of onions and bacon chopped on dozens of screens completely put me off lunch. The cacophony won't last however, the end of the analogue signals in mid-April will gradually change the utterly deranged soundscape into a hiss of white noise.
Raqs Media Collective is at Firth Street Gallery with a show which, behind its serene and polished appearance, has political undertones and discusses measures, control, gestures, signals and politics.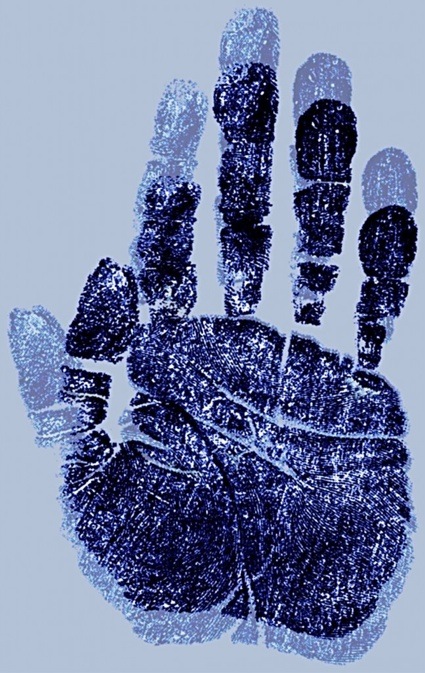 Raqs Media Collective, Untold Intimacy of Digits, 2011
One of the four works on show, Untold Intimacy of Digits, is an animated facsimile of the handprint of a Bengal Peasant, Raj Konai. Nothing peculiar about a handprint… Except that this is one of the earliest impressions of the human body taken by a person in power with the explicit purpose of using the trace to identify and verify a human subject.
The handprint was taken in 1858 under the orders of William Herschel, primarily as a means for enforcing contracts. The British officer then sent the print to Francis Galton, a London eugenicist and pioneer of identification technologies. The image of Raj Konai's hand became the cornerstone of the edifice of the identification technology that would in time, be associated with fingerprinting and various anthropometric operations. With the setting up of the infrastructure of the Unique Identification Database three years ago, the government of India, seeks to repeat this attempt to know, map and control a turbulent population, this time through a database containing biometric and other data.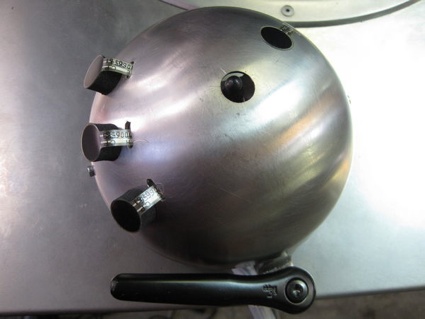 Laura Maes, Oorwonde (Earwound). Detail
Wait! That's not all! There's also Oorwonde (Earwound). I haven't seen that one yet but it's up at the Usurp Art Gallery until 22 April.
Tim Lewis – Mechanisms remains open at Flowers until 14 April 2012.
David Hall: End Piece is on at Ambika P3, until 22 April.
Raqs Media Collective: Guesswork is at Frith Street Gallery, until 12 April 2012.
Thomas Zipp: 3 Contributions to the theory of mass-aberrations in modern religions is at Alison Jacques Gallery until 31 March.
Also on view in London until the end of the month: John Wood and Paul Harrison: Things That Happen at the Carroll / Fletcher gallery.