Raise your hand if you know where Aalst is! Aalst is a city of some 80 000 inhabitants in the North of Belgium. It's a pretty charmless and very quiet place. Yet, that's the city where you should go this Spring if you want to visit a fantastic exhibition on sound art.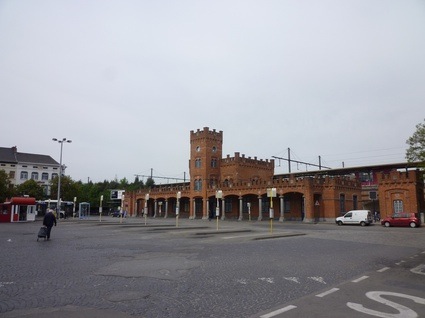 Aalst train station
Musik für Barbaren und Klassiker, at netwerk Center for Contemporary Art, breaks the traditional boundaries between concerts, sound installations, sculpture and music. The exhibition creates as such a place where the dynamic of exchange between performance and spatiality. Only 5 artists or group of artists participate to the show but together they form an exhibition that balances perfectly the entertaining, the meditative, and the immersive. Distributed over 3 luminous and spacious floors, the works come with powerful visual qualities as well.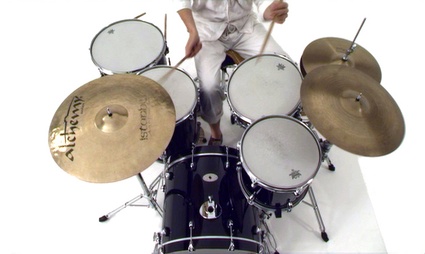 Sean Dower, Automaton 2006. Production still © The artist 2006
If you believe that sound art is absolutely not your cup of tea then i suggest you get locked in a room with Sean Dower 's work. You might not want to get out.
Specially made for the exhibition, his Ground Control installation greets visitors as they enter netwerk. The white car with fluorescent green painted glass is trembling and shaking due to low frequency sounds emanating from a soundsystem inside. The result is an unlikely mix of elements from different subcultures, aligning surprising parallels between noise, DIY and car tuning.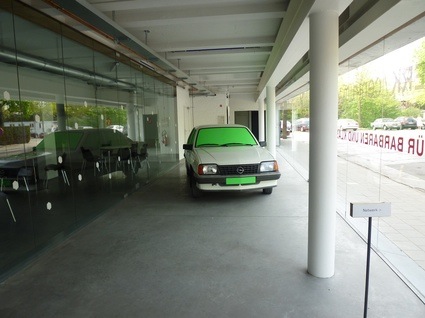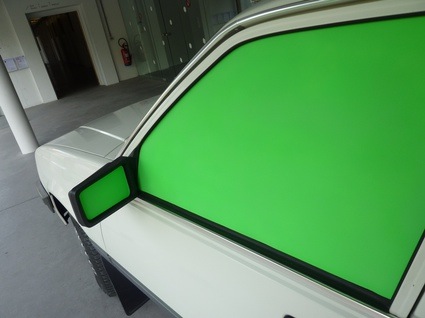 The Brown Sound is a 12″ 45 rpm brown vinyl record with sound frequencies so low at times they are no longer audible to the human ear. Yet many a musician would tell you that they have an impact on the human body. The so-called Brown noise is supposed to make humans lose control of their bowels and causing nausea, due to resonance, and is presented here as a scatological counterpart to the more polished Stendhal Syndrome (a fit of hysterics because of the overwhelming beauty of art).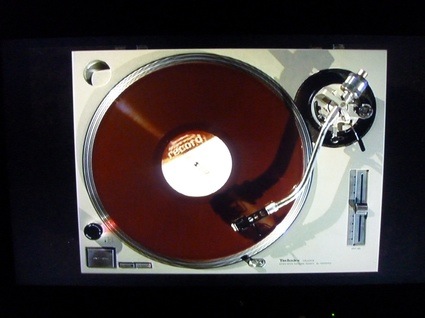 The Ultrasound of Therapy involves visitors body in a very direct and way. The work is an improved version that the ever-creative and quirky Staalplaat Soundsystem was invited to create for a building that used to be a hospital, a former 'salle des malades' in Lille, northern France.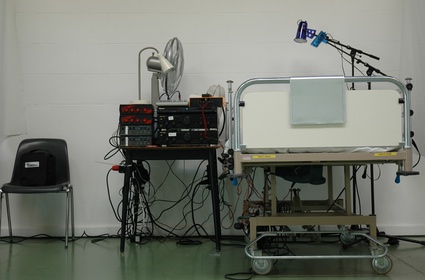 Digital Sunami. Photo by Staalplaat Soundsystem
On entering the waiting room of the infirmary, each patient fills in a questionnaire about their habits, implants, diet, etc. The 'doctor' establishes a diagnosis, points them to one of the beds in the hospital and submits them to one of the therapies. As i was told when i wanted to try one bed after the other, he patient is allowed to follow only one therapy alas!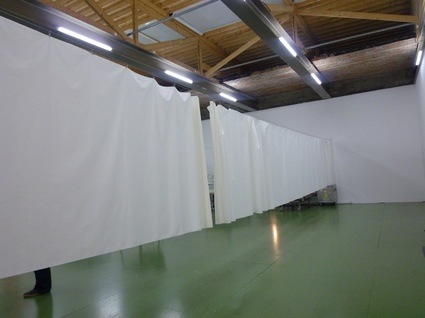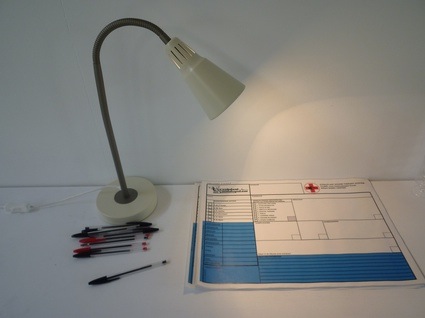 Each bed is used for a different acoustic and sensory treatment which envelops and engages the whole body. The treatments, designed by Staalplaat Soundsystem and invited artists, vary according to your needs: some have a relaxing effect, others produce energetic responses. Hot Shaking for example, is a treatment with an electric blanket, a 1000W theatre lamp and a blindfold. The blanket is equipped with audio transmitters that play excerpts from the repertoire of vocalist and composer Adham Hafez. The Electro Pattern therapy, where electro-massage pads are placed upon the patient so that the rhythmic patterns from pieces of music by Ryoji Ikeda, can be experienced through body and muscles. I was submitted to the Digital Sunami therapy, the bed was shacking, the wind was blowing on my face and the soundscape evolved from kids laughing to the sound of rain and wind.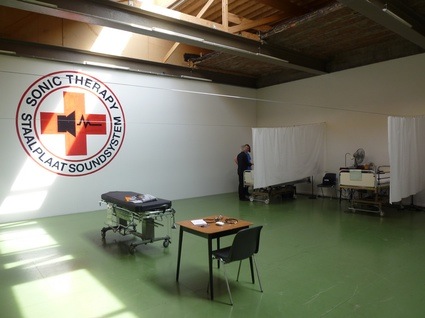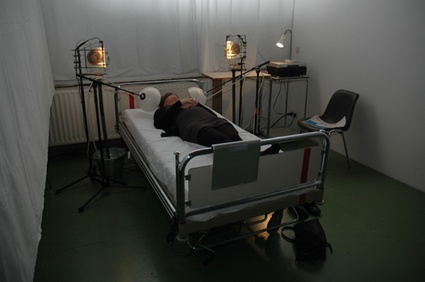 Aqua elise +Kozo comlex. Photo by Staalplaat Soundsystem (more this way)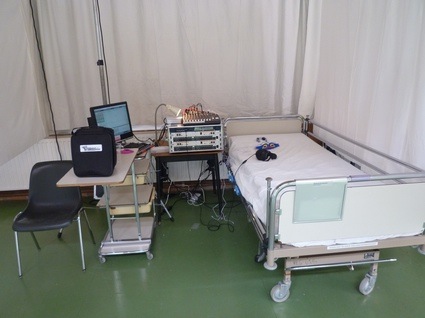 The work of Joris Van de Moortel was probably the best surprise in the show for me.
The artist presents two works at netwerk, Hit the snare, don't you dare, is a drum kit locked in a tight white and glass box.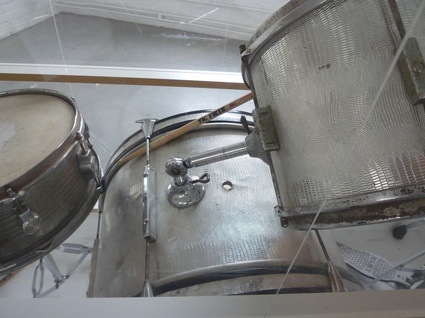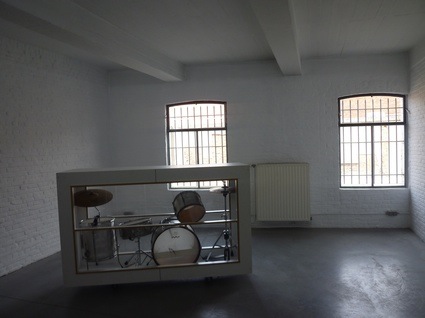 The second sculpture, One hit makes it split, encloses an amplifier inside a glass case. The case is completely shattered after the amplifier exploded with a big bang. Both pieces are completely silent but their power to suggest noise, energy and disruption is unmissable.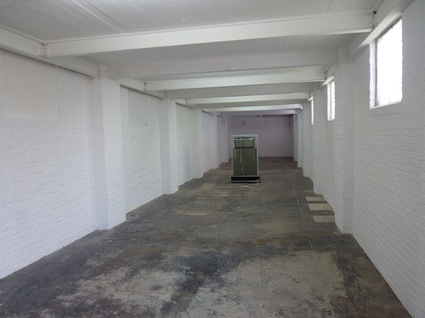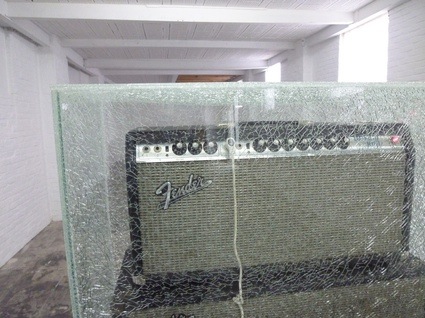 This pendulum between destruction and protection, between opening up and shuttering, gives his work a strong autonomous character.
All my images.
Musik für Barbaren und Klassiker is on view at netwerk on Aalst, Belgium until June 12, 2010.