Two projects presented at the Mobile Music Workshop paper session were related to graffiti culture.
Audio Bombing, by Mike Fleming, Kang Chang and Kyle Millns from the University of Illinois at Urbana-Champaign, uses magnetic audio tape as its medium. Here's how the system should work: after having recorded on a cassette any information you want, you remove the tape and cut out the segments to be used. Then take your tape segments and go tag whatever you want in urban space. You can listen to the tag by running an augmented playhead spray over the magnetic tape.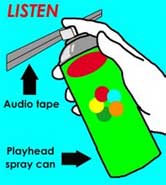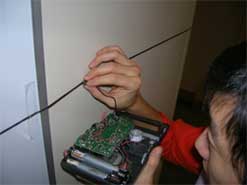 Since the graffiti is less visually obstrusive (a thin black strip), it can infiltrate spaces traditional graffiti can not such as office buildings, under tables, elevators, schools, coffee shops, etc.
The prototype consists of a hacked cassette player. The casing was removed, the play head dismantled from the circuit board to allow it to function externally.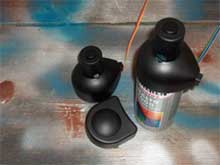 The second project dealing with graffiti and sound is Chia-Ying Lee's Sonic Graffiti: Spraying and Remixing Music on the Street. The system enables artists to create and geo-tag music in the urban space with real spray cans. A sound cap has to be snapped on the top of spray cans to spray out sounds and manipulate sound with gestures. A controller is used for listening to the music with earphones when creating, and positioning sounds. A recording part collects sound samples from the city, or records vocal performances.
The guys from Audio Bombing were not arrived at STEIM yesterday when i looked for them so i don't know how far they are in the implementation of their project. Chia-Ying Lee was there and explained me that she is going to do a trial of her tagging system at the end of June in Taipei.