The Haptic Gloves allow their wearers to create musical compositions by linking hands together.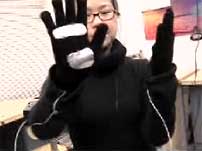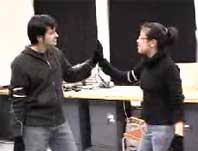 Each participants wears the gloves, headphones (through which they can hear their personal music) and a clip-on box housing circuits. As soon as they touch the gloved hand of another, they can hear their own music mixed with the other person's sound. The more people holding hands, the more sophisticated the track.
The interaction through physical touch attempts to physically bring people together even if they don't speak the same language.
The Haptic Gloves are a work in progress by Kaho Abe and Jung Sin.
Video on the website.
More sound gloves: Saturday, Remote VJ control.