Motorola has issued the Cross-Technology PoC (Push-To-Talk over Cellular) for users to have "push-to" connectivity across and between GPRS, CDMA2000 1X, and WiFi networks.
Several characteristics of Cross-Technology PoC solution could help operators expand the availability of PoC service to meet the increasing interest from consumers:
– operators with networks on different technologies can secure subscribers on all of their networks the possibility to stay connected with the push of a button.
– operators negociating network interconnection agreements can augment roaming areas, which would allow customers on different networks to have "push-to" connectivity over a wider area.
– enterprises with WiFi networks can expands PoC roaming coverage into their premises.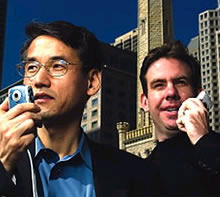 More in Telecom Paper