Previously: Community Performance in Google Street View.
Last week i introduced briefly Manipulating Reality, a show that ran until January 17 at CCCS in Florence. This truly enjoyable exhibition explored the theme of the manipulation and reconstruction of reality through photographic images and videos.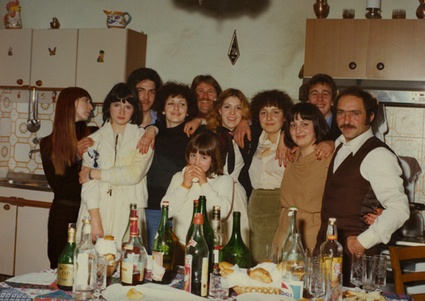 Moira Ricci , Da nonna – "20.12.53 – 10.08.04", 2004-2009
One of the artists whose work i discovered while visiting Manipulating Reality is Moira Ricci, a photographer and video artist who gained fame and critical respect for a series of photos she never shot. 20.12.53 – 10.08.04, which appears to have been born out of the artist's desire to investigate her personal past and memory, embodies the views put forward by Roland Barthes in his celebrated Camera Lucida: photography endows the past with a certainty so solid as to be equivalent to the present, thus blurring the boundary between reality (what was) and truth.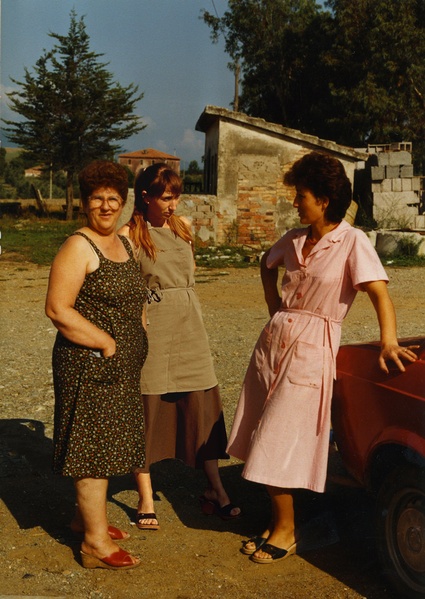 Moira Ricci, Mamma e Zia Carolina – "20.12.53 – 10.08.04", 2004-2009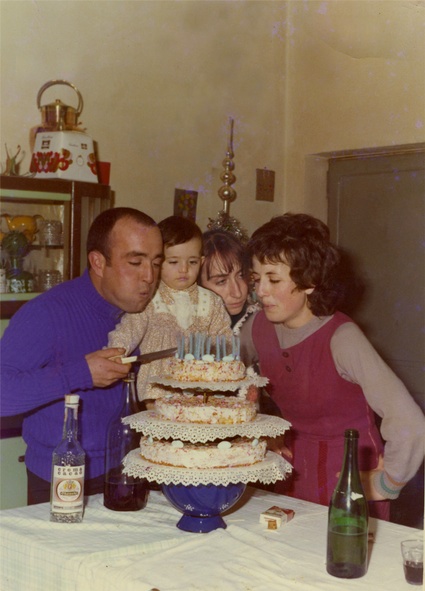 Moira Ricci, Zio Auro, Cla e mamma – "20.12.53 – 10.08.04", 2004-2009
A series of amateur photographs from a family album are lined-up on the walls of the gallery. They star the same people whose fashion style evolve as the photographs turn from b&w to coloured by hand to slightly yellowed colour. As your eyes go from one image to another, you realize that two women keep appearing. An elegant woman with black hair who parties, goes to Milan with her fiancé, makes babies and gets older and a slim young woman with a long sad face alla Modigliani, upon whom time seems to leave no trace.
The young woman is Moira Rossi. In the images she stands slightly aloof and stares intently in the direction of the other woman, as if she'd hope that the lady would turn and acknowledge her presence. That other woman is her mother who died in 2004. On 10.08.04 to be precise. Hence the title of the series.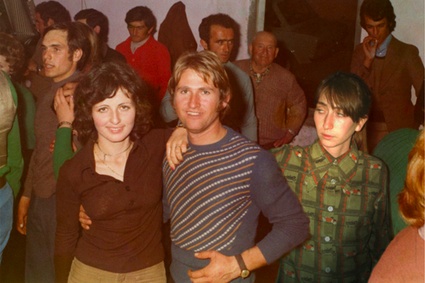 Moira Ricci, Fidanzati – "20.12.53 – 10.08.04", 2004-2009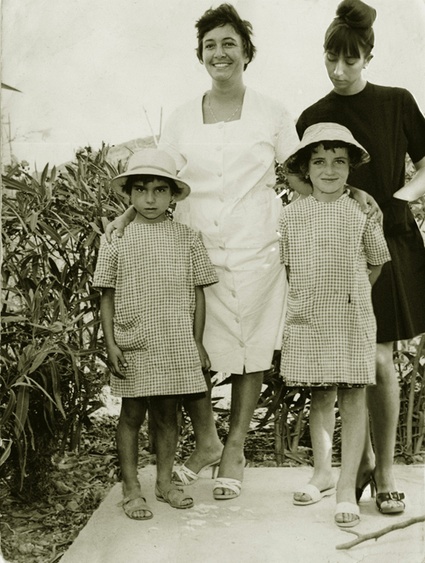 Moira Ricci, Mamma con maestra – "20.12.53 – 10.08.04", 2004-2009
Digital processing of the old photographs of her mother's life enabled the artist to appear beside and observe her mother in the moments that, at the time, were thought worthy to be 'immortalized.' Ricci carefully chose her clothes so that they would match the fashion of the time, she adjusted the lighting to fit unobtrusively in the portraits and cast herself as a shy figure at the edge of the photo.
The reconstructed images manipulates both the present and the past, building a bridge that enable her to try and reach out to her mother virtually in various moments of her life.
To be continued…