Last week or so, the story that researchers at the University of Warwick, in association with PVAXX and Motorola, had devised a new way to recycle discarded mobile telephones – bury them and watch them transform into the flower of your choice – was all over the blogosphere.
It reminded me of something. Couldn't place it though.
Then it came back to me (with a little help), I had heard of a similar project nearly one year ago!
Belmer Negrillo had investigated the consumption of electronic objects (ex.: a bread-lamp – Paneluce and DolceRadio, a radio with an edible shell and buttons made of chocolate) and, in particular, a project-scenario where a mobile phone could be planted as an alternative discard method and become a flower (Mobile.Seed).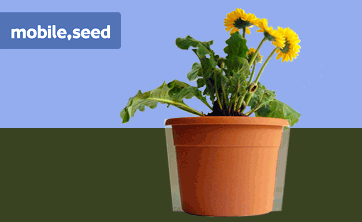 Mobile.Seed was envisioning a fully-biodegradable mobile phone that contains a visible seed inside that sprouts if planted. The idea suggested how designers could use their influence on our appetite for technology to stimulate behaviours that steer development towards a common culture of well-being.
What University of Warwick developed so far (a seed in the phone cover) is the first stage Negrillo had already planned towards the fully biodegradable mobile phone. All the other ideas, like the visible seed, the mechanics and the arguments, are also included in his thesis (check out the PDF, from p.91). The thesis went further, and explored emotional, motivational and marketing aspects of this solution.
So, are we really in front of two nearly identical projects genuinely developed in parallel?
Video scenarios.
Thanks for refreshing my memory, Belmer.