An article on Telefonica website revealed that Spanish advertising could grow by around 4% this year, which is allowing many companies to start looking for new development concepts that would involve channels little explored so far: presence online or the technical innovations on mobile phones.
Of course, the use of mobile phones to send a certain type of televisual or advertising content is nothing new.
Attempts have been made to create mobile phones that include televisual and advertising content. Nokia is testing a new handset that will allow users to watch television.
The first multimedia advertising campaign via mobile phone in Spain was carried out last December by carmaker MG Rover, Telefónica Móviles España, the interactive media agency Zenith Interactive and the interactive marketing agency MyAlert Marketing Interactivo (MAMI).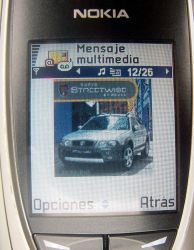 The campaign was based on the use of MMS: the user received 3 animated pictures of the inside and the outside of the Rover Streetwise, followed by the MG Rover logo, an interactive text message inviting the user to test the driving pleasure of the vehicle and a song by pop idol Alejandro Sanz as an audio animation.
Results of the campaign were quite encouraging: a surprising 71% of the users remembered correctly the message and the launch of the new car.
Furthermore, more than half of those who received the ad showed it to 3,6 people, increasing thus the strenght of the message and many stored it on their mobile.
The main objectives of the campaign were to generate traffic and visits to sales outlets. By sending the text message "Rover + postcode", the user received a call from their nearest Rover dealership to fix a meeting to test drive the car and entered the competition to win a Streetwise jacket.