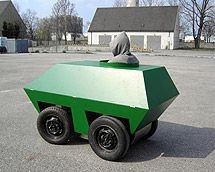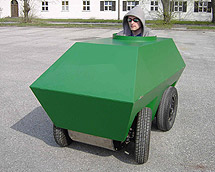 Stanislav Vajce is currently showing two of his amazing robotic pieces as part of the informARTics-exhibition at ZKM Karlsruhe. The first one, "Matchbox 2005" is a very reduced and tiny light tank, which in fact is an autonomous vehicle that will continously explore a mock-up battlefield. It's got a lifesize puppet of the artist sitting in the hatch, too. For Vajce, light tanks are the technical achievement where great mobility meets maximal destruction and disruption of the social fabrics they come across.
The second piece works a play on military technologies as well: "Judas" comes with the slogan "Digital is better" (Tocotronic?) and is a six-legged robot stuffed into a cute blue jumpsuit. It as well will roam its surroundings, but what looks like a head is an array of sensors which enables it to recognize patterns, letters and allegedly even read. It looks cute in its "dogishness" (Vajce) but actually it's a "little snitch" that will eventually "send an army of light tanks" your way.
Don't miss his hilarious website Maschinismus.
Related: Tom Sachs' Island.