The White Room are photographic prints resulting from an in-game photo shoot that documents a series of constructed disasters.
The interiors were set up by artist John Paul Bichard on the basis of the videogame Max Payne 2.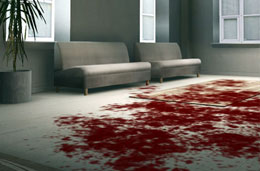 By transforming the game environment into a ready-made urban studio space, the objects and interiors were altered using the in-game weapons with the gore from dead enemies being used to 'paint' the sets before being unceremoniously blasted out of view and the scene captured.
Bichard's work plays with the boundary between the "protected real" space such as the police evidence space and the "digital made real", where the games space is (re)constructed in a "real" environment.
The work is shown at the Towner Art Gallery, in Eastbourne till December 5, 2004.