The Maison Européenne de la Photographiein Paris is currently hosting the 10th edition of the Festival @rt Outsiders. (Un)Inhabitable? – Art of Extreme Environments explores the meaning of living in extreme environments.
These environments are either those that were, until recently, uninhabited by human beings and that contemporary science and technology is turning into "inhabitable" places (Antarctica, underwater world, outer space, deserts); or they are those that the consequences of man's actions have ruined and made "uninhabitable" for himself but also for other species.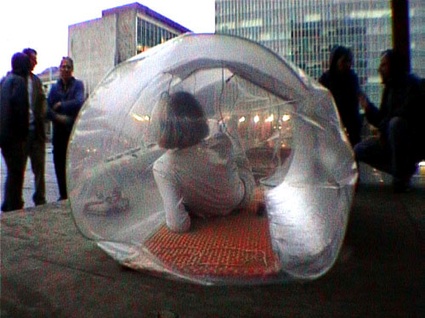 Ana Rewakowicz, SleepingBagDress Prototype II
It seems that every single European city is coming up with its own global warming-infused exhibition. @rt Outsiders was smart enough to narrow the focus of its show and to present a couple of artworks that stand out for their complexity, beauty and sense of involvement with the subject.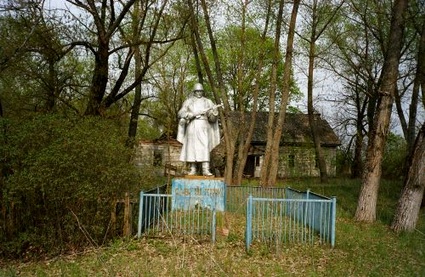 Sounds from Dangerous Places, Chernobyl, 2006-2009 © Peter Cusack
One of them is Sounds from Dangerous Places, Chernobyl, by sound artist Peter Cusack. Since the nuclear catastrophe of April 26, 1986 nature at Chernobyl seems to be thriving. As humans were evacuated from the exclusion zone around the nuclear power station over 20 years ago, animals moved in. Existing populations multiplied and species not seen for decades began to return (although not every scientist agrees with the statement that the benefits for wildlife from the lack of human activity outweigh the risks of low-level radiation.)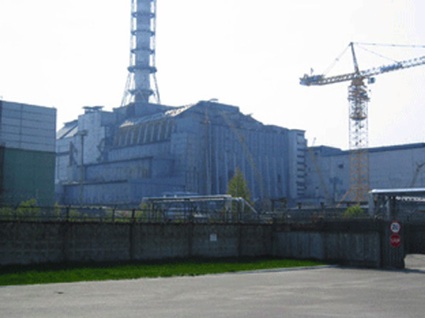 Sounds from Dangerous Places, Chernobyl, 2006-2009 © Peter Cusack
Sounds from Dangerous Places, Chernobyl is part of a broader project by Cusack to collect sounds from sites which have sustained major environmental damage. Impressed by the natural sounds of springtime in the Ukrainian city –dawn chorus, nighttime concert as well as frogs and nightingales– the artist coupled photographs taken at and around Chernobyl with sound recordings. The sound of birds singing, the view of lovely old houses and wild flowers contrast with the sinister image we have of dilapidated buildings and the invisible radioactivity crackling through Geiger counters. This is one of the most striking works in the show as it's one of the rare artworks that explores Chernobyl without stopping at its potential for spectacularity and drama. As Cusack writes:
There is, often, an extreme dichotomy between an aesthetic response and knowledge of the 'danger', whether it is pollution, social injustice, military or geopolitical. The project asks, "What can we learn by listening to the sounds of dangerous places?"
The project also provides us with a further opportunity to reflect on some governments and industry suggestion that nuclear power is one of the greenest fuels available right now and that it would allow us to cut carbon dioxide emissions and keep climate change at a tolerable level.
Audios of Chernobyl Dawn and Chernobyl Frogs.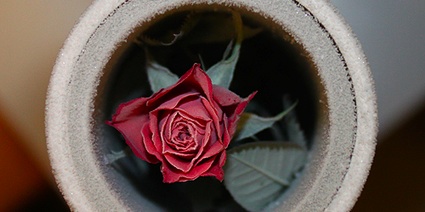 Rose after Martian environmental exposure. Photo credit: c-lab; 2009
Howard Boland & Laura Cinti presented a new version of The Martian Rose, an experiment about life on Mars. A series of roses were exposed to Martian conditions using a planetary simulation chamber specifically built for Mars.
The fragile floweres were placed inside a biochamber that simulates most of the extreme conditions found on Mars. The low pressure, the hard penetrating UV-light and the chilling temperature.
The roses emerged, dark red, frozen, their shape intact. The project reminds us that no matter how many spaceships we build and launch into outerspace, no matter how much we want to adapt and explore new planets, space is still a pretty unhospitable place for men.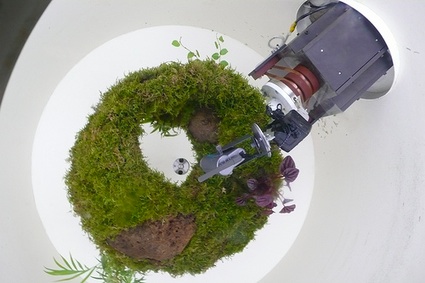 Shiro Matsui, EP04 Dewey's Forest, 2009
EPO4 Dewey's Forest, by Shiro Matsui, was inspired by Silent Running, a sci-fi movie that depicts a future in which all plant life on Earth has been made extinct, except for a few specimens preserved in a fleet of space-borne freight ships. The artist designed a garden for weightlessness. An experiment of the garden should be sent to the International Space Station during the Autumn 2009, in collaboration with JAXA, the Japanese Space Agency. The garden looked fit and healthy when i visited the show. I'd be curious to see what the plants look like in a month or two.
Plants are locked in a rotating machine, behind a porthole and thus unreachable, allowing the vegetation to grow in all directions, like in weightlessness. A camera is filming the garden from inside, capturing the audience looking at it. Visitors cannot enter the garden anymore that astronauts can go outside.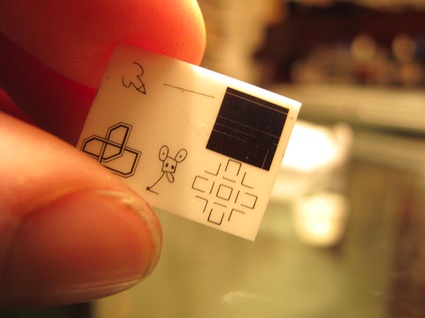 Moon Museum, 1969 © Forrest Myers
If a garden can thrive in space? How about art?
On July 20, 1969, Armstrong steps onto the surface of the Moon. This same year, Forrest Myers invited 6 leading contemporary artists of the day to create an artwork for our natural satellite. Robert Rauschenberg drew a straight line; David Novros, a black square; Claes Oldenburg, Mickey Mouse; Andy Warhol expanded his signature into a penis; John Chamberlain drew a template like the ones used to produce paintings done with automobile lacquer and Forrest Myers, a computer drawing. The result is a Museum for the Moon made of drawings miniaturized on a ceramic tile (1,9 cm x 0.60cm). Several of them were made but only one tile was (secretely as NASA never answered Myers' letters) attached to the Landing Module of the November 1969 Apollo 12 mission.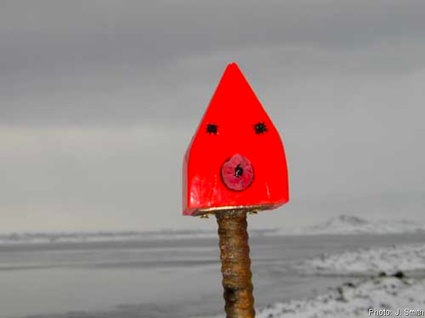 Steve Eastaugh's 'Headhome in Antarctica', 2003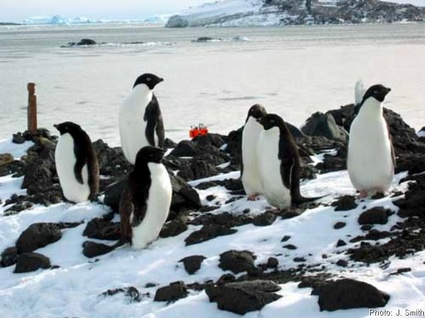 Moulting Adelie penguins overlook the statue garden
In 2003, while he was an artist in residence at the Australian Antarctic Base of Davis, Stephen Eastaugh created a sculpture garden between the meteorology building, a usually-frozen sea and a public mostly made of penguins. The sculptures look like small totems. Inspired by a wooden head planted in a pile of rocks years ago by an unknown explorer, they compete with the antennas, flagpoles and windsocks distributed around the station.
My pictures, c-lab has more images as well as a review of the exhibition.
The 10th edition of the Festival @rt Outsiders, curated by Annick Bureaud and Jean-Luc Soret, runs until October 11, 2009 at the Maison Européenne de la Photographie in Paris. If you're in Paris on Wednesday don't miss the conference and debate that will focus on the economic and political challenges in the Arctic territories, an area coveted for its reserves of oil, gas and other materials buried deep under the
ocean floor.
Related: Lucy + Jorge Orta's Antarctica expedition, Interview with Laura Cinti and Howard Boland (c-lab).