Lufthansa and Siemens has successfully tested a biometric process for check-in and boarding at the Airport. The system identifies passengers from their fingerprints.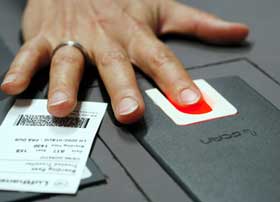 After a passenger's finger is rolled over an optical reader unit, the system converts the fingerprints' characteristics into a 2D code which the reader prints on the boarding pass. Just before boarding, the fingerprints are again scanned by a reader and compared with the barcode. The data is erased after the passenger checks in.
Meanwhile in New Zealand…
Auckland International Airport have begun shopping for self-service border control kiosks that would automatically check the identity of travellers, using software to match people against their passport photos, while ensuring passengers weren't on wanted lists.
The computerised entry checks will be offered first to "registered passengers" who volunteer to use biometric kiosks to avoid queues at manned Customs booths. However, a request for information jointly issued by Customs and Auckland International Airport suggests the use of the kiosks will eventually be the norm for all passengers.
Details in Stuff.