In Korea (but this goes for other markets), makers are now promoting MP3 players as a fashion accessory.
Many Korean celebrities are seen on television with MP3 players around their neck. The crowd is following and is now wearing MP3 players as a fashion statement, a cool, and not to mention expensive, piece of jewelry.
Reigncom (owner of iRiver), a Korean maker of MP3 players, released the N10, two months ago and has already sold more than 70,000 players. Weighing only 22 grams, the small music player is like a necklace pendant. When the device is turned on, the liquid crystal display flashes various colours.
Another mini MP3 player made by Samsung has all the technology, including FM radio and voice recording, but is light enough (24 grams) to be worn around the neck as an accessory.
Products made by smaller companies such as Cowon Systems, Iratech and Mpio are also incorporating similar concepts. Mpio's "Carat" models are mini MP3 players that have panels that come in ruby, sapphire or amethyst colors.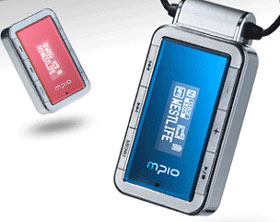 Contrary to expectations, the fashion appeal has been adapted quicker by men who are coordinating the players on leather necklaces or silver chains.
From JoongAng Daily.