This is not going to be my favourite project by Wafaa Bilal (and you know how much i like his work) but if tattoo is what it take to get people's attention on the issue then he has my full support.
Whether he becomes the target of a paintball machine that could be triggered by any keyboard across the world or whether he hacks his way into an al-Qaida game to play the role of a suicide bomber, Bilal knows better than many artists or activists how to drag people out of what he calls "their comfort zone" and make them face issues they might otherwise not be willing to engage with.
His latest project addresses the issue of the invisibility of Iraqi civilian deaths during the war.
Wafaa Bilal's brother Haji was killed by a missile at a checkpoint in their hometown of Kufa, Iraq in 2004. Bilal feels the pain of both American and Iraqi families who've lost loved ones in the war, but the deaths of Iraqis like his brother are largely invisible to the American public.
…and Counting addresses this double standard as Bilal submits his body to a 24-hour live performance. His back will be tattooed with a borderless map of Iraq covered with one dot for each Iraqi and American casualty near the cities where they fell. The 5,000 dead American soldiers are represented by red dots (permanent visible ink), and the 100,000 Iraqi casualties are represented by dots of green UV ink. During the performance people from all walks of life read off the names of the dead.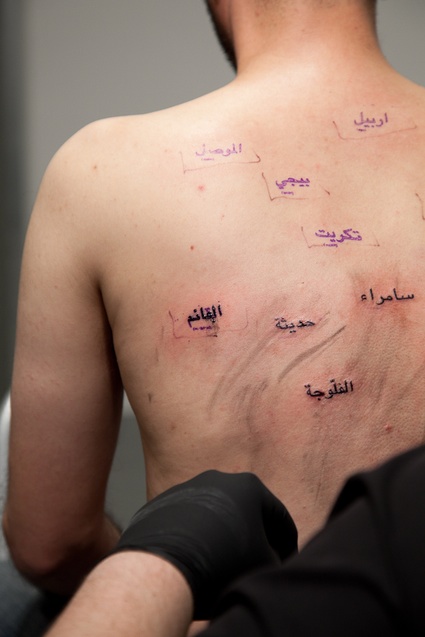 The performance will take place at the Elizabeth Foundation for the Arts in New York on March 8th at 8pm. Bilal is asking visitors to donate $1 which will go to the group Rally for Iraq, to fund scholarships for Americans and Iraqis who lost parents in the war.
Previously: Positions in Flux – Panel 1: Art goes politics – Wafaa Bilal, Book Review – Shoot An Iraqi, Art, Life and Resistance Under the Gun and A few words with Wafaa Bilal.
Related entry: Baghdad Calling: Reports from Turkey, Syria, Jordan and Iraq.