Last week i visited the Paul McCarthy exhibition at the S.M.A.K. in Ghent (Belgium.) I knew little of his work, all i had seen before was his Santa merrily carrying a buttplug outside the Boijmans Van Beuningen museum in Rotterdam. Then i heard about the Ghent exhibition, saw the images in the press kit, learnt that it featured a mechanical pig, a rabbit with a 12-metre long rubber penis, some fierce-looking pirates, image of Osama bin Laden wearing a Guggenheim turban, etc so i thought; "Yesss, this is going to be a nice & easy & fun little exhibition".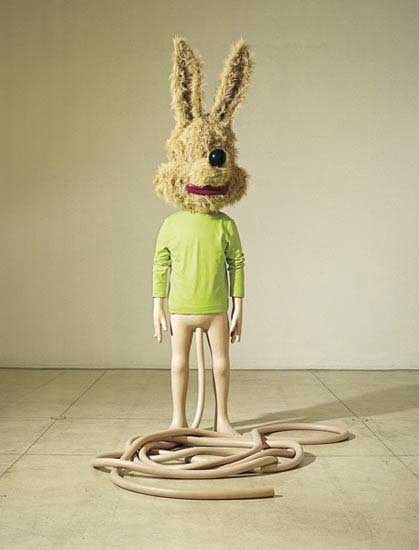 Spaghetti Man, 1993 (collection FRAC)
It's nothing of the kind. At all! The Head Shop / Shop Head exhibition is rough, abject, violent, it grabs you by the guts, hovers between bad Hollywood slapstick and the restroom, it's a carnival of the vile and filthy but it is fascinating and mind-blowing. In fact, it must be one of the best exhibitions i've seen this year (together with History Will Repeat Itself (Part 1 and 2) which is currently running at the KW in Berlin.)
McCarthy's work throws at our face the dark side of The American Dream and western consumer society. S.M.A.K. presents a selection of the works he produced between 1966 and 2006, plus a series of new works which premiered in Ghent.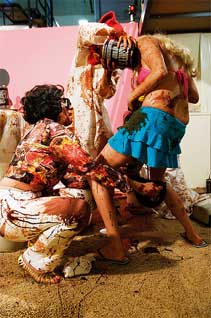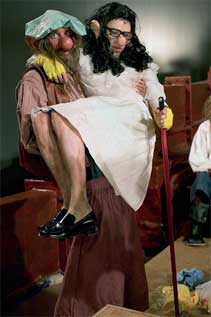 Caribbean Pirates, 2001-05. Both Courtesy Hauser & Wirth Zürich London
The Pirate Project was by far the most appealing/repulsive body of works for me. The artist's studios are in Los Angeles and one can feel the references to Hollywood. It's not so much a critique of the "dream factory" as a parody of it. Caribbean Pirates for example is inspired by the Disneyland attraction and movie Pirates of the Caribbean, only that there's nothing glamour and entertaining, it heads straight to the gore and soft porn.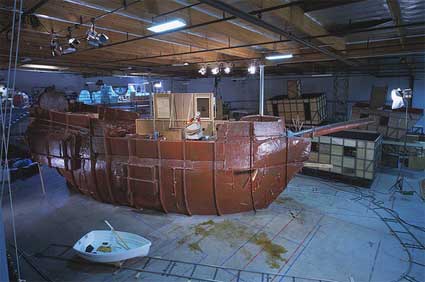 The Frigate, 2001-05. Collection of the Artist, Courtesy Hauser & Wirth Zürich London
The center piece is an imposing 5 meter high pirate ship made of fiberglass. The deck of this brownish-red hull is strewn with objects and smeared with chocolate sauce, ketchup and fake blood. The Pirate Party videos projected on the walls surrounding the ship reveal the obscene and brutal scenes which took place on board. In the movies, thirty actors, some of them wearing oversize carnival heads, simulate the invasion of a village, complete with rape, mutilation, violence and the public sale of the village women.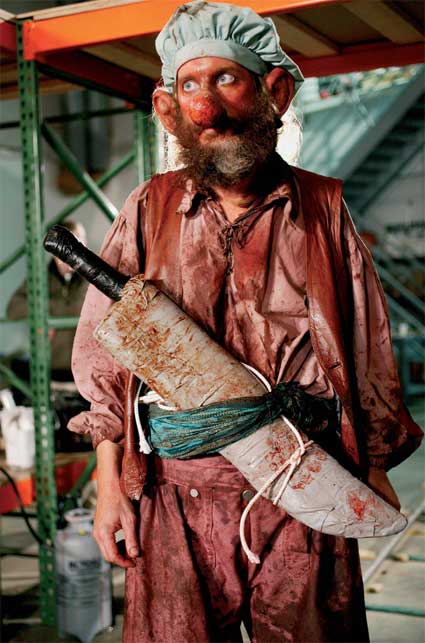 Caribbean Pirates, 2001-05. Courtesy Hauser & Wirth
There's so much fake blood/ketchup in his work that some critics have compared it to Viennese Actionism. However, McCarthy said: "The use of ketchup and masks grew out of my work and not out of being conscious of their work. I was pretty aware that certain artists were doing stuff like that. I think I found out about the Viennese in the early 1970s. Vienna is not Los Angeles. My work came out of kids' television in Los Angeles. I didn't go through Catholicism and World War II as a teenager, I didn't live in a European environment. People make references to Viennese art without really questioning the fact that there is a big difference between ketchup and blood. I never thought of my work as shamanistic. My work is more about being a clown than a shaman.�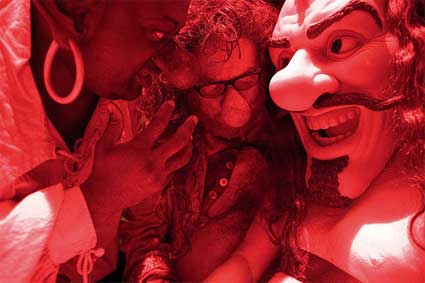 Caribbean Pirates, 2001-05. Collection of the Artist, Courtesy Hauser & Wirth Zürich London
Beyond the farce, the masks and the grotesque spoof horror movie scenes, McCarthy's Pirate work makes also some references to the US invasion of Iraq, some scenes have been said to allude clearly to Abu Ghraib and the abuse of prisoners.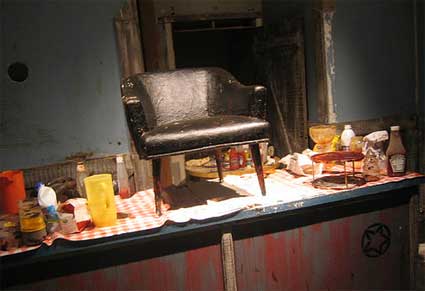 In 1991, McCarthy outfitted himself in a chef's costume and Alfred E. Newman mask and performed a cooking-show parody on a set –a hamburger stand– once used for the TV sitcom The Hogan Family. But now the set is exhibited as an installation smeared, damaged and sullied with the remains of the artist' Bossy Burger performance: dried splotches of ketchup, a feeling of squalor and furniture in disorder are clues that a bloody gastro-massacre has been going on there. Outside the production set, a monitor screens the performance.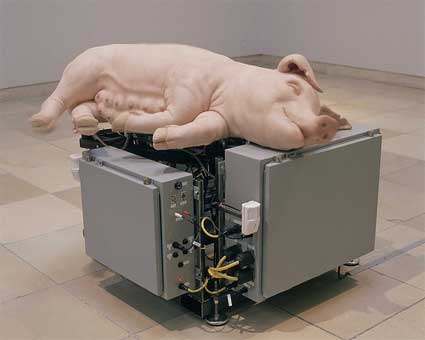 Mechanical Pig, 2003. Collection of the Artist, Courtesy Hauser & Wirth Zürich London
The Garden features sets from Bonanza, a cowboy TV series from the 1960s. Seen from a distance, the artificial forest glade looks quite innocent, but walk closer and you'll spot two life-size mechanical male figures – an upright and pathetic "fatherâ€? fucking a tree and a "sonâ€? giving the same kind of attention to a hole in the ground.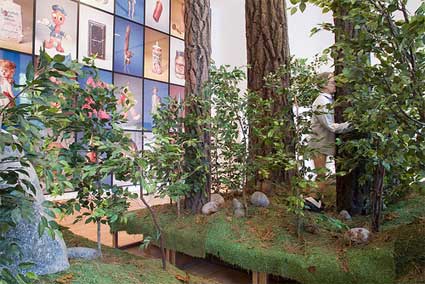 The Garden, 1992. Courtesy Jeffrey Deitch, Deitch Projects
Trailer of the exhibition:

I now realize that this might be a very unsuitable post for xmas days but i loathe carols and i had no moose in store for you. Besides, 4 days after having seen the exhibition i'm still filled with the same feeling of bewilderment and wonder. The McCarthy retrospective made me happy like only art can make me happy when it is rare, challenging and good. What else could i ask for come the end of the year?
I took quite a few images.
The exhibition runs at the S.M.A.K. in Ghent, Belgium until February 17, 2008.