Who would have thought i'd end up blogging about a splatter movie on wmmna? I'm not talking about any horror flick, i'm talking "gay-porn zombie film", a genre which i assume is under-represented in contemporary art. Written and directed by Bruce LaBruce and starring porn actor François Sagat, LA Zombie is on view at the Peres Projects gallery in Berlin, along with a dozen new works on canvas.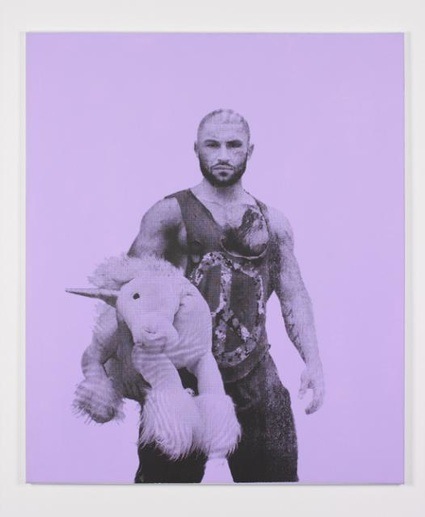 Bruce LaBruce, LA Zombie 10, 2010. Painting – Silkscreen on Canvas
It was a bit of a hard core spectacle for someone like me who has no interest nor experience in the genre(s). I'm still wondering how i'll manage to convey the happiness and sense of beauty that the film gave me. There's something respectable about a porn movie that you watch inside a renowned art gallery. You might be shocked but you're never ashamed. Bruce Labruce's other queer cinema horror film Otto; or Up With Dead People debuted at the 2008 Sundance Film Festival, the artist has contributed to magazines such as Vice, Index, and BlackBook, he also has a star on the Hollywood Walk of Fame. Even his main actor, a muscular porn star recognizable by a tattoo designed to give the illusion of a hairy scalp has gained some gravitas when he was asked by fashion designer Bernhard Willhelm to model the 2007 Spring Summer collection. The film itself was inspired by The Gleaners and I by experimental French film maker Agnès Varda.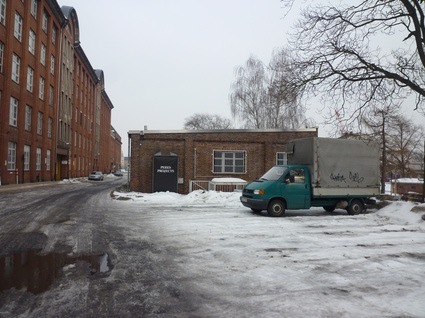 Outside view of the gallery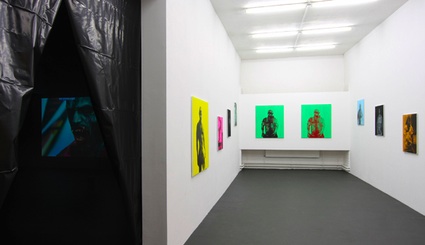 View of the exhibition space (image Peres Projects)
I doubt LaBruce bothers much about making you and me and other art lovers comfortable. Just like Murakami delights in selling his art in both prestigious art galleries and shops merchandising fugly brown monogram bags, LaBruce doesn't seem too eager to drawing a line between art and porn. He told Salon: "All of my work has been about that line. You can situate yourself on either side of the line without really altering the work itself. I could take a picture for Honcho magazine, but can take the same image and put it in a frame in an art gallery, and it becomes art. For me that speaks to the arbitrary nature of those labels." A soft-core version of L.A. Zombie will tour film festivals this year. You can expect to find the hard-core DVD gracing the shelves of your favourite sex shop in the spring.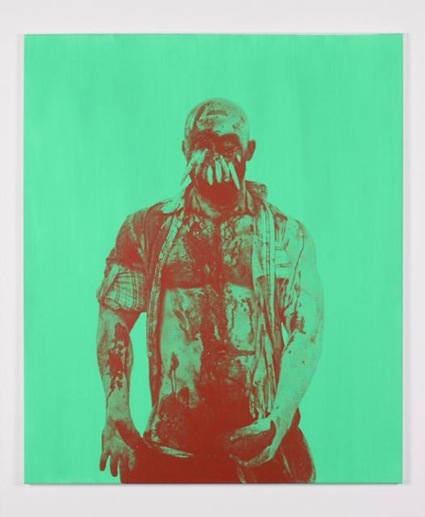 Bruce LaBruce, LA ZOMBIE 05, 2010. Painting – Silkscreen on Canvas
LA Zombie was shot in Los Angeles. Guerrilla-style. With almost no budget. The main protagonist rises from the sea, with as much clout and allure as Ursula Andress herself in that famous Bond scene. He's a zombie or maybe he's just a bit deranged and fancies himself as an undead creature. He sports canine teeth and is dressed like a homeless. Good looking young guys get killed or die in accidents. He finds them, gives them the fuck of life right into their wound, they open their eyes. They have become zombie too and lead the life of tramps around LA. People don't seem to even notice their presence.
The trailer:
Bruce Labruce LA Zombie: The Movie That Would Not Die runs at Peres Projects in Berlin until April 24, 2010.