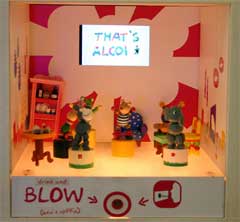 Just for your information and entertainment, here are the projects selected by TODO for the BIP festival for interaction design (more about the competition):
– Alex Beim's Zygote giant colour balls that visually react to touch, floating all over the dancefloor.
– Rinotchild (Michal Rinott & Michal Rothschild)'s Laughing Swing,
– That's Alcohol, a project by David Boardman, Roberto Pansolli, Peter Alan Knocke. I find that one very puzzling. The designers propose to suggest the use of puppet ethylometers to italian police in order to prevent drunk-driving.
– iRagazzidellaPrateria's Move it Forward, a Lego stop-motion recording tool, complete with a miniature stage and a set of Lego pieces.
– and of course no interactive event could exist without a couple of tables: VIP, by the Master in Digital Environment Design, which creates a representation of the contemporary body in both its digital (databody) and physical components and the ueber-celebrated Reactable.
All the fun in Florence on July 20th and 21st 2007.