Intimate Game Controllers, by Jennifer Chowdhury (she of The Cell Atlantic CellBooth!) and Mehmet Sinan Ascioglu, is a platform where game controllers are built into undergarments so that players must physically touch one another to play.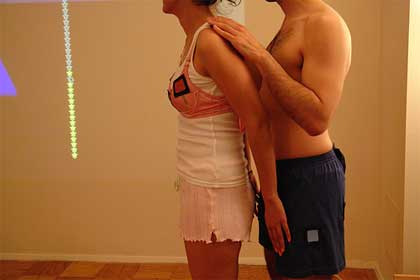 Jenny started her research by crafting a pong controller made from a bra. Touching the left breast made the pong paddle go left and the right breast made the paddle go right. I then found out about a phenomenon called gamer widowhood where men essentially abandoned their wives to play video games night and day. I wanted to create a type of video game play that would center around a couple's intimacy and where two people would touch each other in order to play the game.
The woman's controller is a bra with 6 sensors. The man's controller has 6 sensors as well but in a pair of shorts. Man stands being woman and each has access to others sensors. The project will be presented at the ITP show on May 8 and 9, but with mannequins so visitors can try the interface out without having a partner with them.
Loads of videos on the project website.
Related: The Pong Dress or the little black dress as erotic playground for pong.