Second episode of the series dedicated to Medialab Prado's Interactivos? Garage Science (for number 1 press here), a workshop which mixed and matched software, hardware and biology and took place in Madrid a few weeks ago.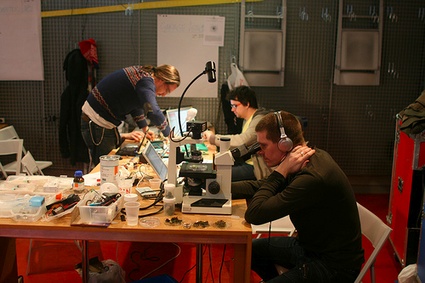 With Garage Laboratory, Andy Gracie (whom i interviewed back in the day when i was a diligent and industrious little blogger) wanted to examine the effects of electromagnet fields and radio waves on microbial species collected and cultured from the urban environment.
Using some DIY laboratory equipment, Andy's team developed a system of variable strength magnetic field generators and related apparatus which allowed them to observe the organisms as they were exposed and responded to various magnetic fields.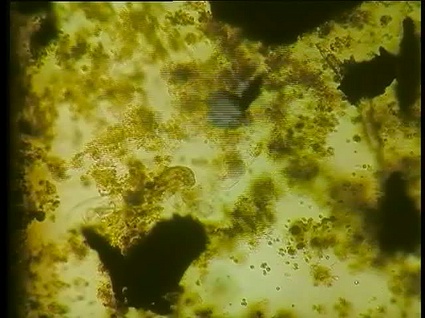 Can you tell us something about the cute micro-organisms you selected for the project? Why did you choose them? What have they done to deserve this?
Originally I planned to experiment with three different organisms; tardigrades, nematodes and magnetic bacteria. The project is based on and refers to the relatively new science of astrobiology and some species of nematodes and tardigrades have already been flown into space. It was important that the organisms used had already some connection with astrobiology or the general exploration of space.
Nematodes have been used to study how prolonged space flight can affect human aging, tolerance to cosmic ray exposure and muscular deterioration from weightlessness. They have always seemed quite poignant as they were the only living survivors of the Columbia space shuttle disaster in 2003. The nematode canisters apparently hit the ground with an impact 2,295 times the force of the Earth's gravity.
Tardigrades are polyextremophiles, which is to say that they can survive a range of extreme environments or conditions and can regenerate after entering cryptobiosis. In 2007 some were packed on to a Foton-M3 spacecraft and exposed to the vacuum of space to test their ability to endure extreme heat, frigid cold, cosmic rays and deadly levels of solar ultraviolet radiation without air, water or food. On returning to Earth a large percentage of the animals regenerated and even continued to breed without showing any signs of harm.
The magnetic bacteria, Magnetospirillum gryphiswaldense, have magnetosomes in their cells with allow them to migrate along magnetic field lines. Recently, ultrafine-grained magnetite particles from a Martian meteorite, which resembled the magnetosome crystals of recent bacteria, have been cited as putative evidence for ancient extraterrestrial life.
In the end we focused on the tardigrades because they are, as you point out, the cutest. They are also fascinating creatures for a number of different reasons, which unfortunately for them will mean I will be forced to experiment on them in a number of different ways.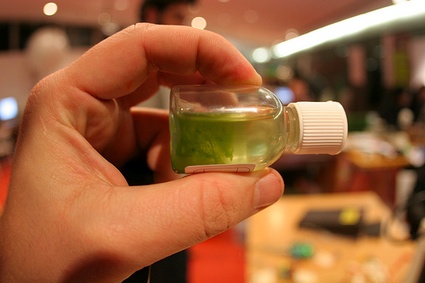 The project examines the impact of electromagnetic fields and radio waves on microbial species cultured from the urban environment. What did you find out during the experiments? Can we as human beings be worried about the effects of EMF and RW on micro-organisms? or are we just so much bigger it doesn't really matter?
The project was using magnetic field data sourced from the Pioneer and Voyager probes to generate corresponding magnetic fields inside the cultures of organisms. There just wasn't the time or resources during 'interactivos?' to study the results in any depth so we only made visual observations. When the tardigrades were first hit with strong magnetic fields they pretty much stopped moving and seemed to enter a sort of catatonic state. Normally after about an hour they would begin to move around quite freely again. I began to get the impression that the recovery time and the depth of shock was less each time, so maybe they were building up a tolerance. I really need to do some more work on that to be sure though.
There is still a lot of research being carried out on the effects of radio waves and magnetic fields on human health, and of course there is a lot of contradictory claims. It goes without saying though, that assessment of possible health effects from exposure to these kinds of fields is important because human exposure to such fields is increasing due to new and emerging technologies. Low frequency magnetic fields are suspected of being carcinogenic and an association is likely for breast cancer and cardiovascular disease, recent research has indicated that an association is unlikely. There also less well documented or medically researched conditions such as electrical hypersensitivity which are interesting.
In the animal world there is research into problems with migratory birds, bats, certain fish and insects, that are strongly dependent on magnetic fields for orientation or migration and also into sharks, rays and other fish that possess electric sense organs. Stress signals have been found in many plants that grow next to power transmission lines.
These associations are important as we immerse ourselves in an ever richer soup of radio and magnetic waves and fields and it is a relevant context for this project without being in any way its primary focus.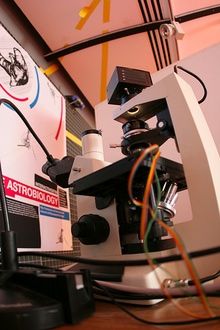 What was the biggest challenge you met with when developing the project and how did you overcome it?
I would say there was an accumulation of many small challenges rather than any especially big one – although lack of time became an increasing factor. Working late and drinking an inhuman amount of coffee went some way towards solving that one.
My work has always been on quite a large scale – even if i am working with very small organisms – so coming up with a device that would fit under a microscope was a new kind of challenge for me. Luckily I had a great set of collaborators and Marc Dusseiller, Georg Kettele and Martin Kern came up with some great hardware and software solutions which made the whole thing possible.
Using a form of silicone called PDMS allowed us to come up with some really cool devices that could contain the elecromagnets, other electronics and the organisms. It was a real breakthrough and has given me lots of new ideas about casting with resins and silicones as a way of building devices.
You mentioned during the presentation at Medialab Prado that Garage Astrobiology is part of a larger project. Can you elaborate on this?
Yes. I am currently developing a larger project of which the work we did at Medialab was just a small part. This project aims to use environmental data picked up from a wider range of deep space probes to allow me to create some form of corresponding environment within a range of different organisms which have some relationship with astrobiology. I intend to develop a way of getting meaningful data out of the reactions within the organisms and then use that data to generate a form of A-Life which would be hypothetically ideal for survival in deep space and alien environments. I am currently talking with the Deep Space Network and various people within NASA to see if I can get the live data directly from the space probes. I am also trying to develop connections with astrobiology labs to see if they can help me with getting information out of the organisms and with creating alien conditions on a budget.
As is usual with my projects it will be a combination of the functional and the dysfunctional, the utopian and dystopian. I like the idea of getting data from vehicles launched in the early 1970s, the time of utopian and romantic ideas of space exploration, and bringing them back to a current era of discussion where space exploration is a lot more pragmatic – a lot more 'down to Earth'.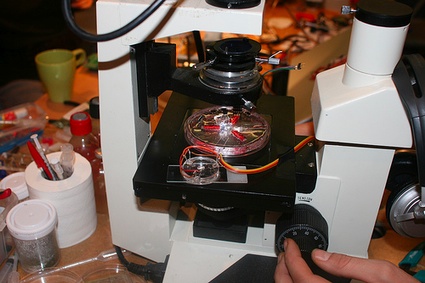 Do you plan to push the project further? If yes, what would be the next steps?
That question is pretty much answered above. The project has a lot further to go and there is a lot of work to do. Thanks to the work we did at 'Interactivos?' I think the larger project has a much bigger chance of success and will go in some directions I hadn't originally intended. That's all good.
For other work I have some exciting new ideas about using new materials and new approaches to developing devices and robotics in conjunction with organic systems. And maybe even making work that is small scale. That would be quite radical for me.
Thanks Andy!
Images from the Best of Astrobiology set.
Related: Interview with Antony Hall.