Three sites aggregating the bloggers' convention coverage:
– ConventionBloggers,
– Politics.feedster,
– Politics.technorati.
Via Cyberjournalist.
On Meccapixel, Michael Cosentino shows his photographs of New York. Now, he's proving how angry New Yorkers –and others– are about the RNC.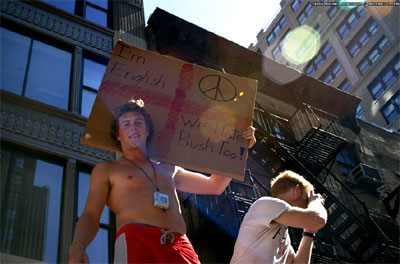 Axis of Eve, a women's rights group, is planning a 10-minute mass panty flash to protest the policies of the Bush administration.
Over 100 women will flash panties emblazoned with anti-Bush slogans like "give Bush the finger," "cream Bush", "drill Bush, not oil", "Ballot Box," "My Cherry For Kerry," etc.
Appointment is on Wednesday, September 1st at 6pm sharp (rain date Sept 2nd)
at the Robert F. Wagner Park.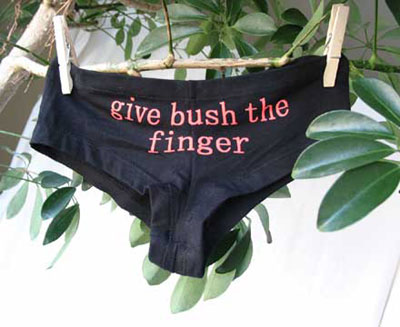 Via Sexblo.gs.
Ruckus is coordinating and sending text alerts to your mobile phone on breaking news and logistical updates from the streets of New York City during the Republic National Convention 2004.
From SmartMobs, via Eyebeam ReBlog.