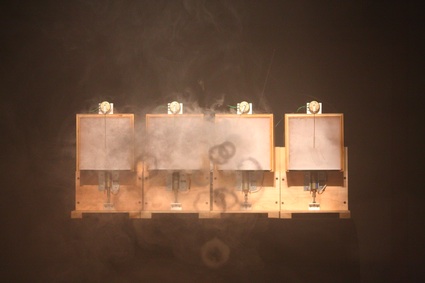 Image courtesy Laboral Centro de Arte y Creación Industrial
I'm having a fairly busy week but i promised myself i wouldn't abandon my blog as i tend to do when i'm on the road. So… quick post about an installation i was hoping to see earlier this month at Vooruit's festival Almost Cinema in Gent. Sadly, i couldn't make it to Belgium that week. But, youpiiie! Feedforward. The Angel of History, the exhibition that LABoral which opened last Thursday, gave me a second chance to finally get to see Smoke and Hot Air.
Designed by Iranian artist Ali Momeni and Robin Mandel, with participation of artist Matthew Brackett, Smoke and Hot Air reflects Momeni's concern about the relentless threats that Iran has been receiving from many other countries in recent years.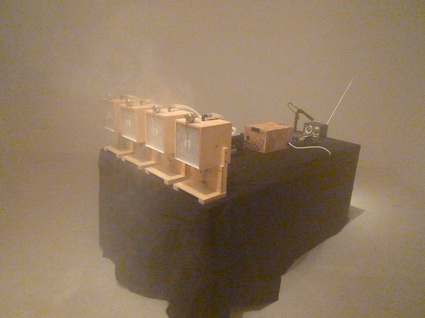 The system searches for sentences including the words "attack Iran" on Google News. The sentences go through a text-to-speech synthesizer. The voice is in turn picked up by a microphone, analyzed, and translated into rhythmically corresponding smoke rings from a quartet of wooden smoke ring makers.
Reflecting on the perception of countries as they are shaped by the news and media landscape, Smoke and Hot Air reverses the general view of Iran, which is frequently depicted as aggressor. The recent global support for the uprising after the 2009 Iranian election showed how quickly the general attitude towards a country can shift. Translating the news into old-fashioned smoke signals, Momeni's and Mandel's project illustrates how the complexities of national and political identity can get reduced to false impressions, deceit, and posturing.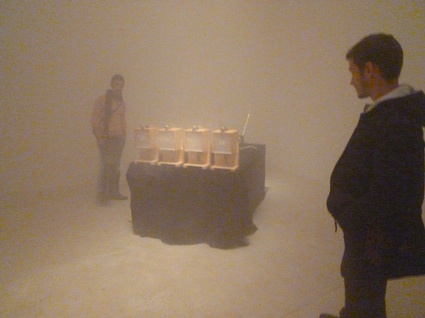 I found the artwork particularly moving. Is simplicity can only be equaled by its efficiency and its peacefulness by the distressing political situation in the Middle East. The quiet and smoky atmosphere incites you to make a pause and reflect on the issue at stake.
Also in the exhibition: Instances of Use of United States Armed Forces Abroad 1798-2006.

FEEDFORWARD – The Angel of History is on view until April 5, 2010 at Laboral Centro de Arte y Creación Industrial in Gijón, Spain.