I had read about Blast Theory's new project a few months ago. But i thought i'd wait for more details and images before blogging it.
But José Luis (who knows everything and everyone in the new media art world) gave me some details and the project website has been recently updated.

Day Of The Figurines is set in a fictional town that is underpinned with steady decay.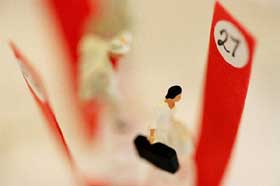 The game unfolds over 24 days, each day representing an hour in the life of the town that shifts from the mundane to the cataclysmic: the local vicar opens a summer fete, Scandinavian metallists play a gig at the Locarno that goes horribly wrong and a gunship of arabic troops appears on the High Street. How players respond to these events and to each other creates and sustains a community during the course of a single day in the town. Up to 1,000 players roam the streets, defining themselves through their interactions.
On a vast model town – installed in a public space and created using photographic collages overlaid with computer graphics – 1,000 small plastic figurine represent the players and are moved by hand every hour for the duration of the game.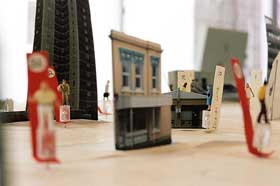 Players create their own figurine: name it, answer questions about its past and how it is represented to other players. Players receive a minimum of one text message a day updating them on the progress of their figurine and are invited to make increasingly challenging decisions over the fate of themselves and other players in response to deteriorating circumstances. The artwork is situated within players' daily lives and can be accessed at any time.
Visitors to the model town can check the changing topography of the town and eavesdrop on player activity via video displays. A live website tracks events as they unfold during the course of the game.
In June 2005, a 24 day public test was hosted at Laban and the group's studio in Hackney. In September 2006, Day Of The Figurines will premiere in Germany followed by an international tour.
The project uses emergent behaviour and social dynamics as a means of structuring a live event. It invites players to establish their own codes of behaviour and morality within a parallel world. It plays on the tension between the intimacy and anonymity of text messages.

Images, Copyright Blast Theory. Photo: Nicola Dove.