I discovered the Art Safari tv series last year. One of the episode was shown in a retrospective of Wim Delvoye's Cloaca Machines at the Casino de Luxembourg. I saw the Murakami episode in a Madrid gallery a few month after. The episodes are fast and witty. Filmmaker Ben Lewis sets to meet some of the most discussed contemporary artists and challenge their work with the kind of provoking questions you can expect from someone who recently penned an article titled Who Put the Con on Contemporary Art? He confronts them with his harmless pair of glasses, soft elocution and the air of a well-meaning student. Lewis has uploaded snippets of the BBC Four series on You Tube but i just discovered that dearest UbuWeb has the full version of a couple of episodes. That doesn't seem to make Lewis weep with happiness but it made me want to buy his DVDs.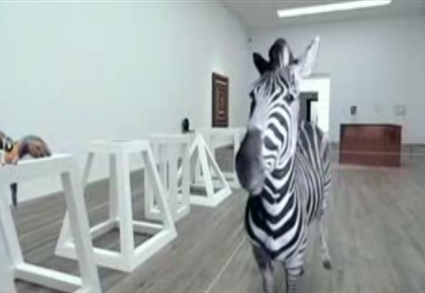 Art Safari goes for flashy, controversial names: Maurizio Cattelan, Takashi Murakami, Matthew Barney, Santiago Sierra, Sophie Calle, Gregor Schneider and Wim Delvoye.
My favourite in the series is Art Safari – Relational Art: Is It An Ism? (2004). Lewis takes a copy of Nicolas Bourriaud's Relational Aesthetics on the road, meet some of the artists of the Relational Art 'movement' (Philippe Parreno, Carsten Hoeller, Rirkrit Tiravanija, Michael Elmgreen & Ingar Dragset) and asks them how they feel about Relational Art and whether this is the new 'ism'.
Ubu also hosts Art Safari: Matthew Barney (2005) which focuses on the Cremaster Cycle and i guess you won't need my introduction on this one.
In the episode dedicated to Takashi Murakami – Toying with Art (Part 1, 2 and 3), Lewis keeps asking critics, curators and collectors what are their theories about Murakami. Is it as superficial as it looks? He doesn't seem much convinced by their savant answers.
Oi! Bonus!
There's also a programme on photographer Andreas Gursky and what it means to live in (or create) a Gursky World.
Image on the homepage: Matthew Barney, The Cremaster Cycle, 1994-2002.