Design students at the University of the Art in Berlin were asked to create an interactive extension for a simple Ikea chair.
The Unprepossessed, by Martin Frey, has speakers mounted on each side of the backrest.
When you sit down the system starts: two different voices are telling different "stories". Both stories discusses the same subject but represents opposed opinions.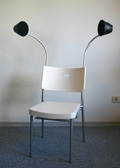 By sitting straight on the chair, you can hear both voices from left and right. But if you move your ear to one side, the voice of the decided side turns down. So it is unpossible to understand it. The only way to follow the tales is by hearing both voices, both opinions…
Sitting Out, by Monika Hoinkis, is an illuminated chair. At the beginning, the chair is completely lit. But the longer and more often a person is sitting throughout the day the faster it loses its brightness. Eventually all the light is used up and requires a rest to recharge. When the chair is lit again the cycle starts over.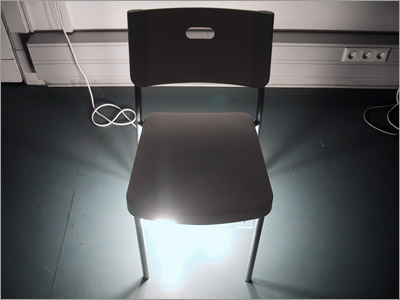 Video.
But the students also created a series of devilish chairs:
The Problem, by Markus Lerner, has a lamp that lights up when you touch the chair back, and the stronger you lean back, the brighter the light becomes.
But don't relax too much as the light flashes than goes off and smoke comes up from under the chair, spreading an unpleasant smell. The system won't work any more for a few minutes making you believe you destroyed it.
Janek Jonas ' Locked Herman chair is a private chair. If someone sits down without permission an alert lamp blinks and a loud siren yells. It also works in the other way: you can lock persons on the chair, if they now stand up the siren starts to yell.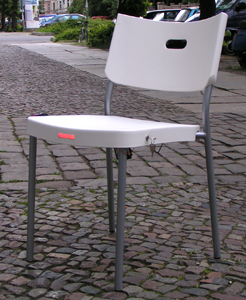 Movie.
The Waiting for Godot chair project by Magdalena Kallenberger, must be the most irritating (though hilarious) of the lot. As a person approaches the chair, a motion sensor triggers a voice module inviting him/her to take a seat and "wait for Godot". As the person sits, the pressure of the bodyweight activates the pressure sensor, which in turn triggers the Walkman to play a voice that says "Have a seat, please… please wait a little …Godot is coming soon… please wait a little…". If the person rises from the chair, the voice goes "What a shame to leave now… Godot will be here in just a few more minutes!" and then repeats itself again with the words "Have a seat, please… please wait a little …Godot is coming soon… please wait a little…"