'Ere Be Dragons, by Nottingham-based Active Ingredient, is the prototype of a game for PDAs that takes you into a virtual world created by your own heartbeat.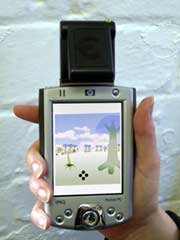 As players travel through the landscape the physical and physiological changes in their body help to create a different world. The game responds to the location and physical activity of the players, measured by pedometers and heart-rate monitors.
At the start of the game you set your ideal heart rate range, go above or below this range and the world will begin to fade, only walking and maintaining your heart rate at a steady pace can keep the world alive. Throughout the game there is the sense of being chased. When you do well, the landscape blossoms, if you do badly then a mist appears and the landscape darkens.
'Ere Be Dragons aims to encourage people to exercise by walking and to learn more about their body.
More in BBC Nottingham.