We've had a fantastic and very inspiring first day at the Mobile Music Workshop today in Amsterdam (a blog that documents the event if you're curious.) I'll start my own report soft and fun with Hearing Sirens, a performance project for portable, big and yellow horn loudspeakers.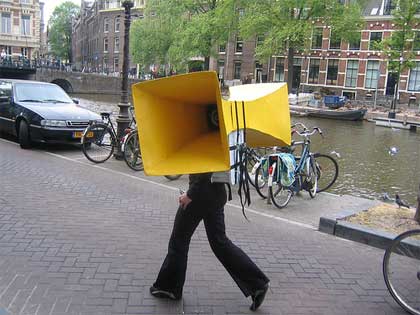 Cathy van Eck took us for a walk from the Waag Society where the workshop kicked off this morning to STEIM where the performances and demo sessions were taking place in the afternoon.
Throughout her walk people were staring, stopping to take pictures, smiling. I was expecting the sound performance to be heavily techy, something like a location-based project, maybe with sounds that get modified when she chooses a particular route or accelerates the pace. Not at all, it is much simpler than that and that's why i found it brilliant. The horns are just big loudspeakers. The exact opposite, as Cathy explained me, of the headphones. She was carrying in her pocket an mp3 players with the music she had just composed and was sharing the sounds with passersby.
A previous version of the work is performed by three dancers, each wearing a speaker that broadcasts a different sound composition. Lalya just sent me a video of the performance for three dancers (choreography by Teresa Rotemberg and the dancers are Jessica Billeter, Helena Zwiauer and Samuel Meystre):
More images.