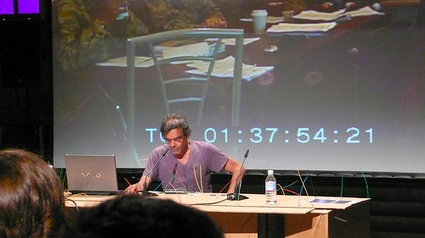 While in Barcelona for the LOOP festival, i had the wonderful opportunity to attend a talk by Harun Farocki, an independent filmmaker who has spent the past decades investigating the relationship between technology and our representation and understanding of the world. I only got to discover his work at Documenta XII where 12 screens were showing in real time different views of the 2006 World Cup final (France – Italy), some were surveillance camera footage, some focused on isolated players, others overlaid the game with graphic and statistical analysis of ball direction and player speed. Titled Deep Screen, the installation provided an excellent case of 'too information kills information.'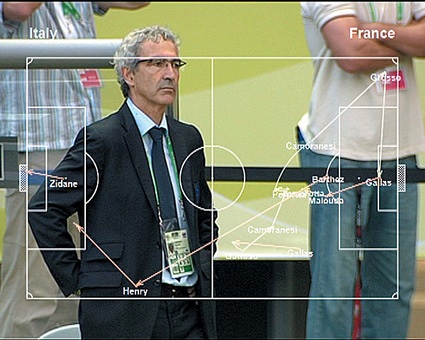 Deep Play, 2007 (photo)
Harun Farocki's presentation in Barcelona focused on two of his short experimental documentaries which, each in its own way, explore the status of new technical images.
I Thought I Was Seeing Convicts (video extract) is a two-screen installation. On the first screen are images from the maximum- security prison in Corcoran, California. A surveillance camera shows a concrete yard where the prisoners are allowed to spend half an hour a day. The camera suddenly zooms in on a fight between two prisoners. Those not involved lay flat on the ground, arms over their heads. They know that fires rubber bullets are coming if the convicts ignore the warning calls. If the fight continues, the guard shoots real bullets. The pictures are silent. The camera and the gun are right next to each other. This video also emphasizes the social relationship between the one who fires and the one who films, between the one with force and the one who takes shots. After that, it takes nine minutes before the convict is taken away on a stretcher. Farocki explained that in the course of 10 years, guns went off 2000 times in the prison. Hundreds of inmates were wounded, a few dozen heavily injured, five were shot dead.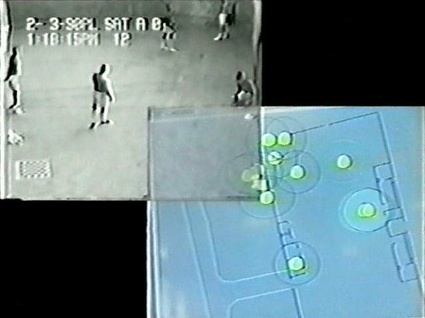 I Thought I Was Seeing Convicts, 2000
The second screen displays found sequences, images generated by computers that track shoppers as they move through the aisle of the supermarket.
Unlike the prison sub-genre that the cinema industry produces, the images that surveillance camera churn out are excruciating to watch. There's no artificial condensation of time nor space that even the cheapest tv show can create, no close-up, no director trick that would shorten time, no possibility to re-install the camera, sometimes the images have such a low definition they are hard to read. What these images have however is a high level of authenticity, of believability.
Farocki pointed us to Prison Focus, a Californian organization which, in virtue of the Freedom of Information Act, makes prison surveillance images public.
Check also this interview of Farocki about I Thought I was Seeing Convicts.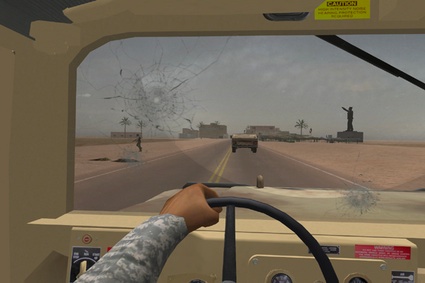 Immersion (2009)
The second film, Farocki discussed was Immersion (2009). He recently attended a workshop where films war veterans undergoing therapy for their Posttraumatic Stress Disorder at the Institute for Creative Technologies, a research centre that develops and uses virtual reality and games to recruit and train the soldiers, but also to treat them. The traumatized soldier has to done a head mounted display and immerse himself into the first person shooter game while a psychotherapist coax them into re-living the most traumatizing moments of their war experience.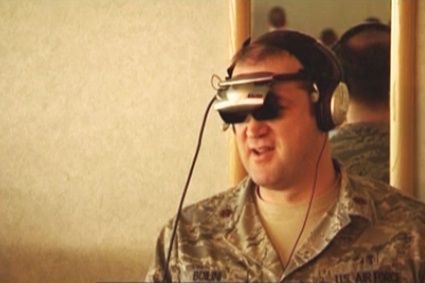 Immersion (2009)
What interested the film maker was the fact that if in the past an image was a direct reference, today it is in competition with images generated by computer science. The computer image have now acquired a higher status of believability because scientists have worked together to tune it and make it as close to the reality as possible. These sophisticated models are now competing with 'the real thing.'